NYOS 2024 Applications Now CLOSED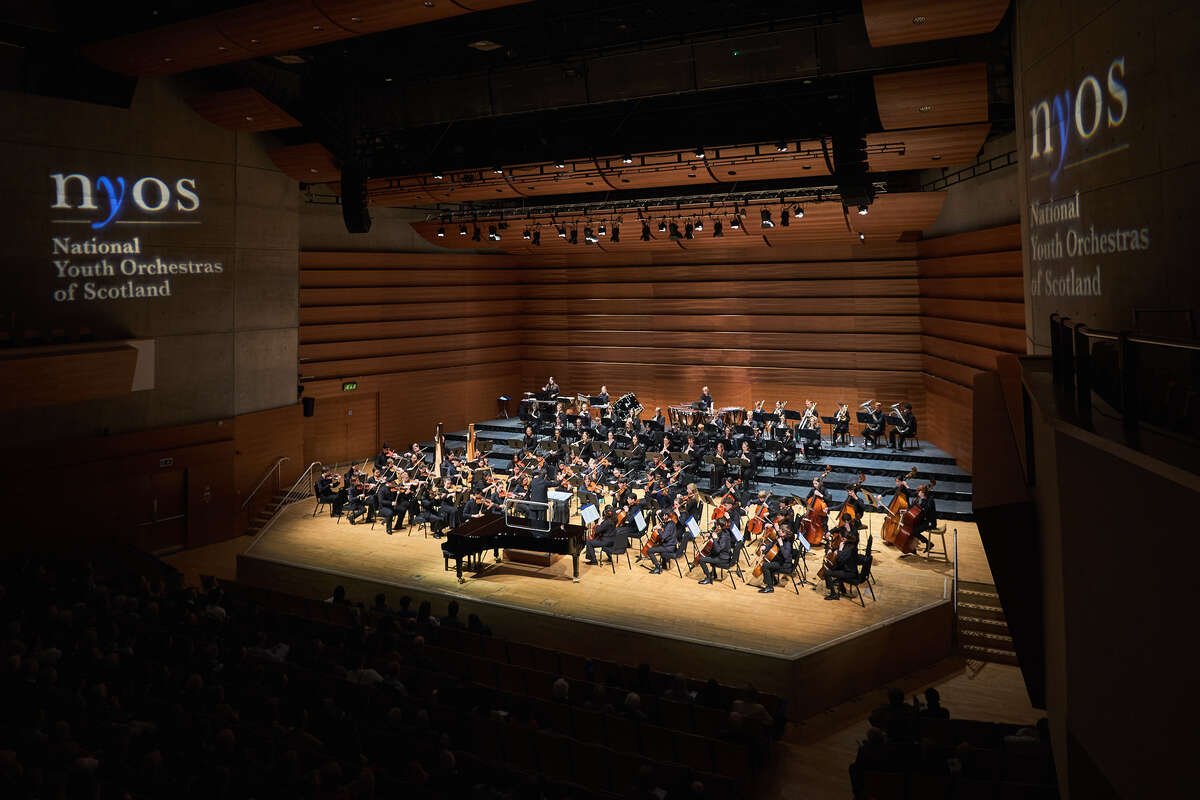 NYOS invites aspiring young musicians to apply for our 2024 orchestras, to join our thriving community of outstanding young players, and perform diverse and ambitious programmes alongside world-class conductors and soloists.
Applications will open for our two national orchestras on Tuesday 5 September. NYOS, formerly called NYOS Symphony Orchestra, is open to musicians aged 14-22 years playing at Grade 8 standard upwards. NYOS Development returns for its sophomore year and is looking for applicants aged 11-18 years playing at Grade 5-8 standard. Auditions are free and bursaries for up to 100% of fees are available.
NYOS is Scotland's national youth orchestra - 100 talented young musicians, performing at an exceptionally high level under the guidance of expert tutors and internationally renowned conductors and soloists. In Spring, Catherine Larsen-Maguire, our newly appointed Music Director, will conduct an American-themed programme featuring works by Gershwin, Bernstein, and Jennifer Higdon. In Summer, under the baton of Teresa Riveiro-Böhm, the orchestra will present a world premiere of a piano trio concerto by Swedish composer Andrea Tarrodi performed by the Amatis Trio, as well as Stravinsky's Petrushka.
NYOS Development, for those keen to develop their orchestral experience in the company of other highly motivated young musicians, welcomes back Natalia Luis-Bassa to build upon the fantastic work she did with the ensemble in 2023. The brilliant young Scottish-Nigerian trumpeter Aaron Akugbo, fresh from his performance at the King's coronation, will join the orchestra in Spring to perform Tomasi's Trumpet Concerto, alongside works by Verdi, Missy Mazzoli and Arturo Márquez. In summer, the orchestra performs another challenging programme, centred around Sibelius's soaring Symphony No. 1.
Young musicians interested in applying to be part of NYOS or NYOS Development can find full details here.
Those auditioning for NYOS Development must submit a pre-recorded audition digitally. Those who wish to audition for NYOS also have the option to submit a pre-recorded audition or can audition in-person in Glasgow, Edinburgh or Aberdeen. Auditions are free and we have a small discretionary travel bursary fund to support those in financial need who wish to audition in person.
For 2024, as our costs continue to rise, we have had to increase our fees but we still subsidise all course fees by 66%, keeping them as low as possible. We also have a robust financial support scheme that offers bursaries covering up to 100% of course fees. No young person who successfully auditions for a NYOS orchestra will miss out due to financial circumstances, and we encourage all applicants to look over our Financial Assistance information.
Full dates of courses and concerts can be found here, and tickets for performances will go on sale in the new year.