NYOS Symphony Orchestra Summer Course & Concerts 2022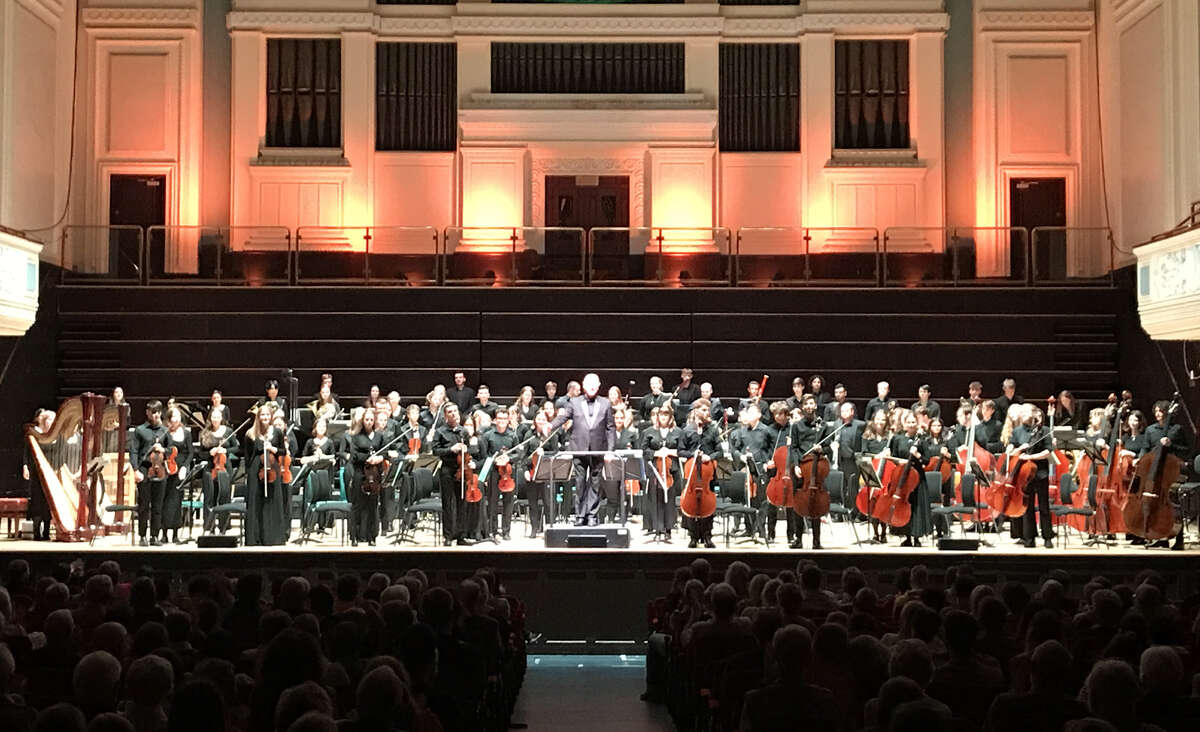 It was wonderful to welcome our Symphony Orchestra members back to Strathallan for the last of our summer courses in 2022, rounding off our first full summer season in over two years.
The hard work began immediately with a morning of sectional rehearsals before the Orchestra met conductor, Jac van Steen. Jac and the Orchestra hit it off immediately and we could already see a rapport starting to develop. We made full use of the lovely weather, ending the first day with a game of rounders outside in the evening.
In between intensive rehearsals there was time for games, teambuilding, socialising and much hilarity. We also included a wellbeing session led by Lee Holland from Mental Note Performance. Lee's presentation to the orchestra members focussed on the three emotional system model - Drive, Soothe and Threat - and explained that these systems are often out of balance and what this looks like for musicians.
View this post on Instagram
On day four the Orchestra met BBC New Generation Artist and violist Timothy Ridout for the first rehearsal of Bartok's Viola Concerto. In the evening Timothy joined us for a fun quiz!
On our last day at Strathallan before travelling north to our first concert date in Aberdeen we had a productive day of intensive full rehearsals followed by everyone's favourite evening – NYOS ceilidh night. Always the perfect way to round off any residential course.
NYOS Symphony Orchestra, Music Hall Aberdeen, 4 August | Caird Hall, 5 August 2022
NYOS Symphony Orchestra performed two dates this summer. First stop the Music Hall, Aberdeen on Thursday 4 August and then onto Dundee's Caird Hall on Friday 5 August. Both concerts were well attended by enthusiastic audiences and the Orchestra sounded stunning in these two wonderful acoustics.
The programme opened with a selection from Prokofiev's masterpiece of musical storytelling, his ballet, Cinderella, and it was a masterful performance to match. Conductor Jac van Steen was magnificent throughout and the rapport between musicians and maestro was clear for all to see.
The Orchestra were then joined on stage by award-winning violist Timothy Ridout in Bartók's Viola Concerto, a commission from the famous Scottish violist William Primrose. The orchestra allowed Timothy to shine, and his performance was mesmerising from start to finish.
What a fantastic first half performance here @CairdHallDundee with NYOS Symphony Orchestra & conductor @jacvansteen performing excerpts from Prokofiev's enchanting Cinderella and Bartók's mesmerising Viola Concerto alongside award winning violist @RidoutTimothy 👏👏👏 #NYOS2022 pic.twitter.com/DbGCnjom7w

— NYOS (@NYOScotland) August 5, 2022
Each concert concluded with suites from Ravel's 'vast musical fresco' Daphnis et Chloe, rich with impressionist harmonies and exquisitely orchestrated. Again, the Orchestra rose to the challenge, guided by conductor Jac van Steen, and delivered a scintillating performance. The perfect way to end our first summer season in over two years.
Outstanding performance tonight from NYOS Symphony Orchestra with conductor @jacvansteen at Aberdeen's Music Hall @APAWhatsOn. Here's a clip form the finale of Ravel's Daphnis et Chloé. Bravo! 👏👏👏 Join us tomorrow night @CairdHallDundee #NYOS2022 pic.twitter.com/gE1dw2PKoe

— NYOS (@NYOScotland) August 4, 2022
NYOS Symphony Orchestra, Caird Hall, 5 August 2022
Dundee Courier Review by Stephen Fraser
"Timothy Ridout is the most skilled and talented soloist I've ever worked with. Amazing!"
NYOS Symphony Orchestra Member
"It was a really fun experience and I got to know so many more people" NYOS Symphony Orchestra Member
"Confidence has been boosted and I've learned a lot from other people in my section. Inspiring" NYOS Symphony Orchestra Member
"I thought the course was a triumph, I just wanted more! I also noticed that the jazz orchestra had a four-concert tour, and I thought the idea of a tour sounded really fun!" NYOS Symphony Orchestra Member
"Thank you very, very much for an amazing week, can't wait to see next year's programme!" NYOS Symphony Orchestra Member