History
In 1979 The National Youth Orchestras of Scotland (NYOS) presented its first series of concerts in Falkirk, Aberdeen and Dundee during which over 100 young instrumentalists took part. At the time, the organisation consisted of just one flagship orchestra.
Today NYOS provides orchestral experiences in classical and jazz music for over 600 students per year aged between 8 and 25, through its comprehensive pathway of orchestras, jazz bands, training ensembles and an ever-expanding outreach programme.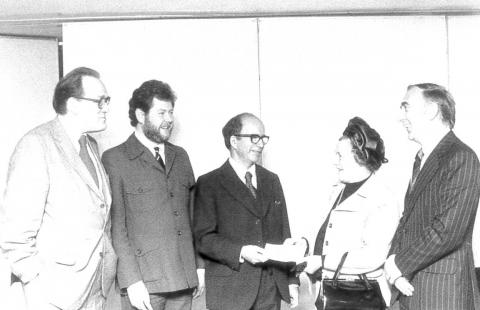 1 December 1978
The founding of the organisation is formally announced when Chairman Professor Donald Pack receives a cheque for £5,000, the first instalment of a £20,000 pump priming grant from Carnegie UK Trust.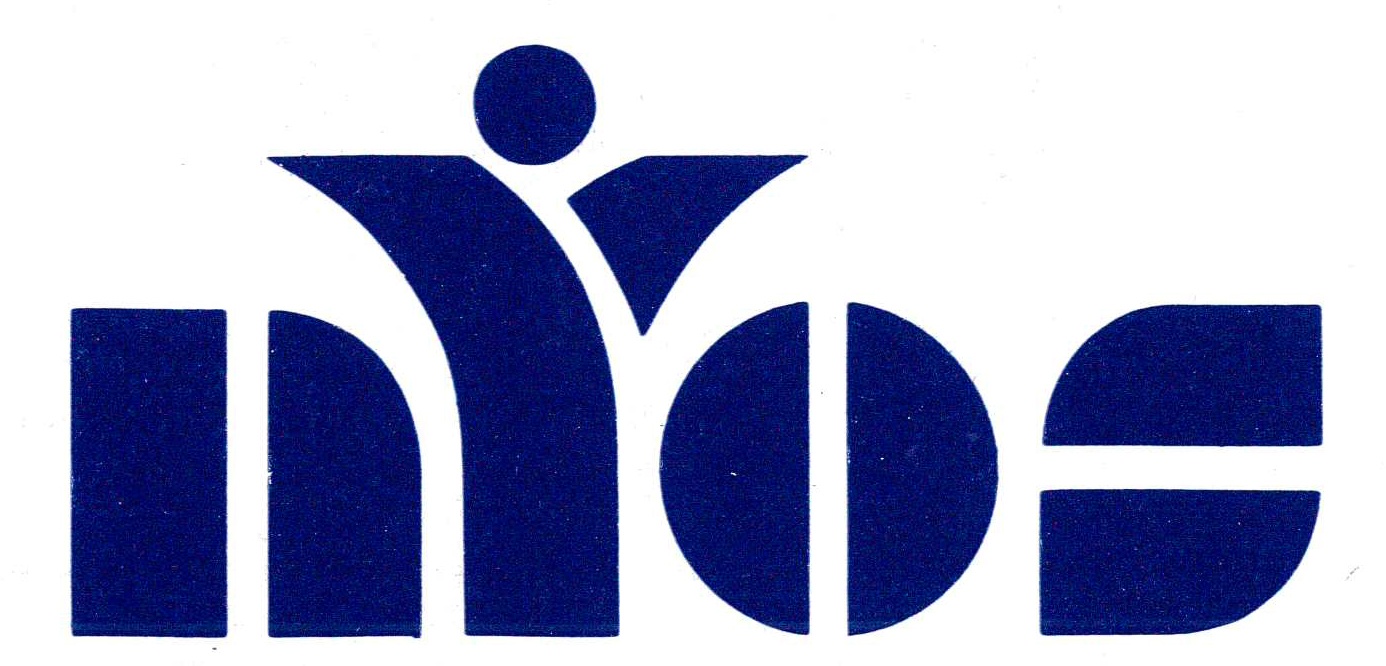 1 January 1979
First logo for the organisation, originally known as The National Youth Orchestra of Scotland.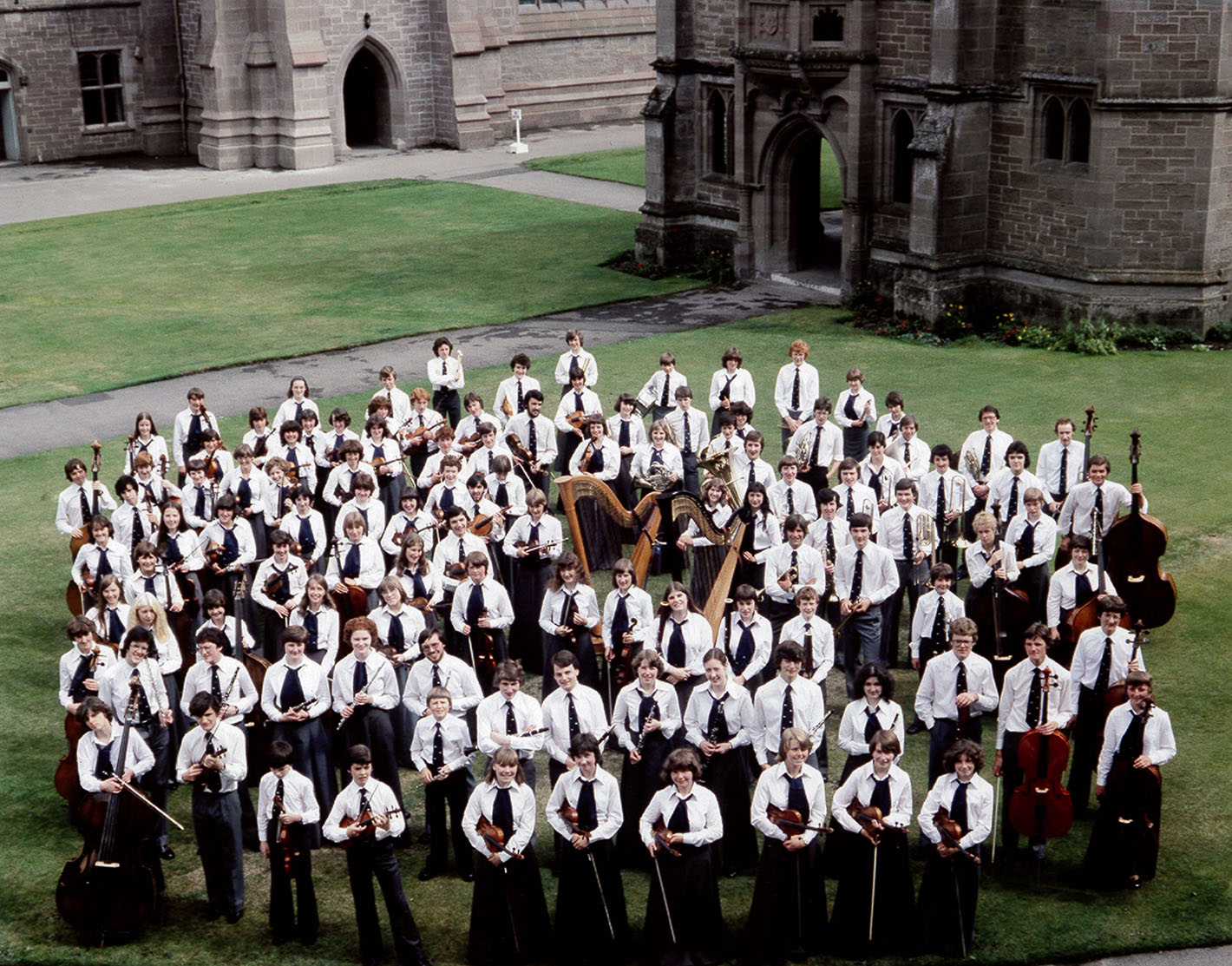 1 August 1979
First orchestral course at Trinity College, Glenalmond, conducted by Nicholas Braithwaite, with concerts in Falkirk, Aberdeen and Dundee.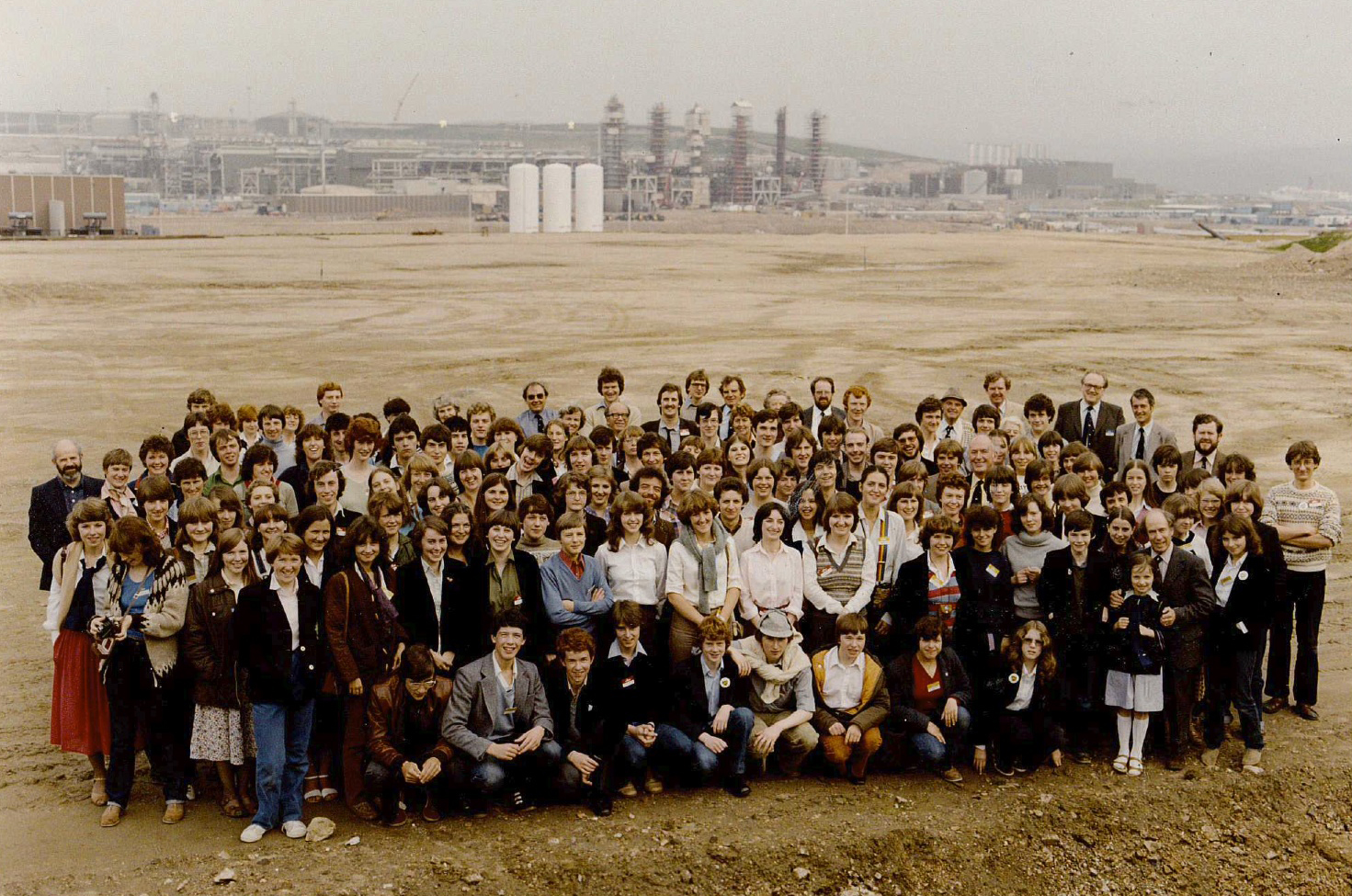 3 August 1980
Tour of the Highlands and Northern Isles with a concert at Sullom Voe Oil Terminal, which set a record for the farthest point north at which a symphony orchestra had performed in the United Kingdom.
1 December 1981
Up and coming violinist, Nigel Kennedy, performs as soloist in a tour of Glasgow, Edinburgh and Perth. He would return the following year for the Viking Tour.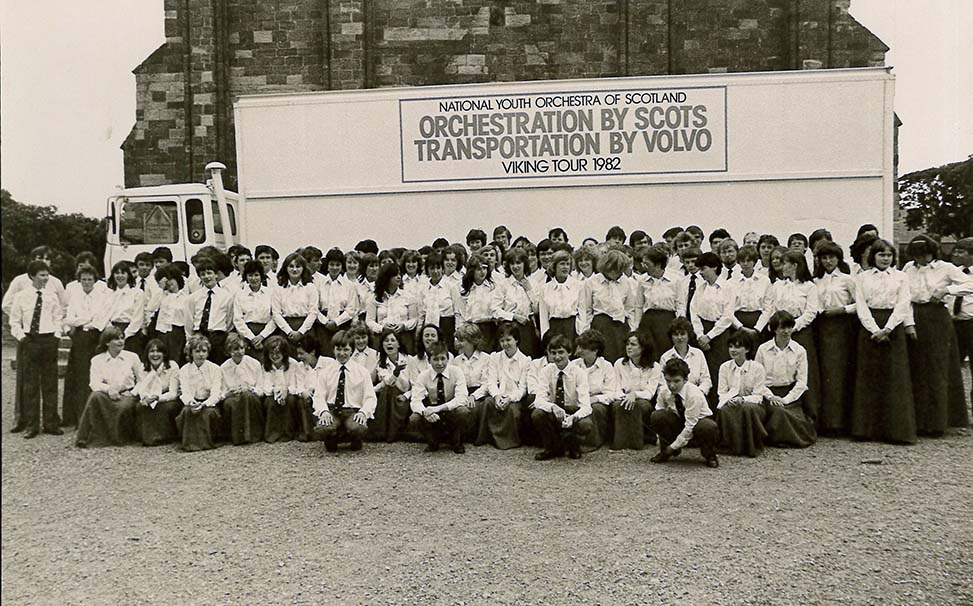 28 July 1982
The Viking Tour of Orkney, The Faroe Islands, Norway, Sweden and Denmark begins, with the support of Volvo transportation.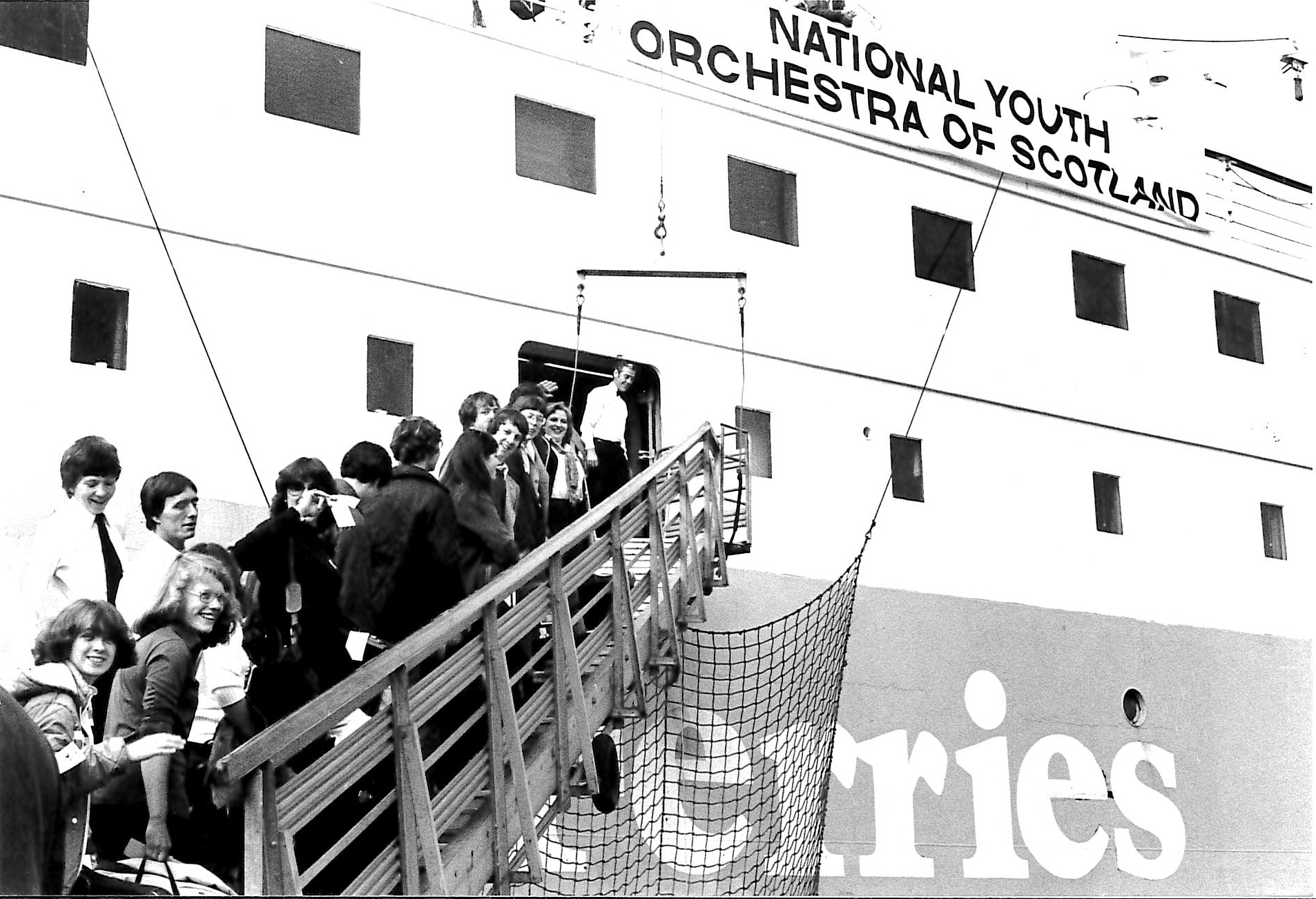 30 July 1982
The Viking Tour continues on board P&O Ferries.
1 August 1982
A BBC documentary is made for the programme Spectrum, following the orchestra throughout the Viking Tour of Orkney, The Faroe Islands, Norway, Sweden and Denmark.
3 August 1983
The orchestra perform at the Usher Hall as part of Edinburgh International Festival under the baton of conductor Sir Alexander Gibson.
8 August 1985
The orchestra celebrate European Music Year with a summer tour to Germany and Luxembourg, conducted by Nicholas Braithwaite. The programme included John McCabe's Tuning, Dvořák's Cello Concerto and Tchaikovsky's Piano Concerto No.1.
3 August 1986
The orchestra embark on a return tour of Scotland, Norway and the Faroe Islands, conducted by Sir Alexander Gibson with soloists Krzysztof Smientana (violin) and Murray McLachlan (piano).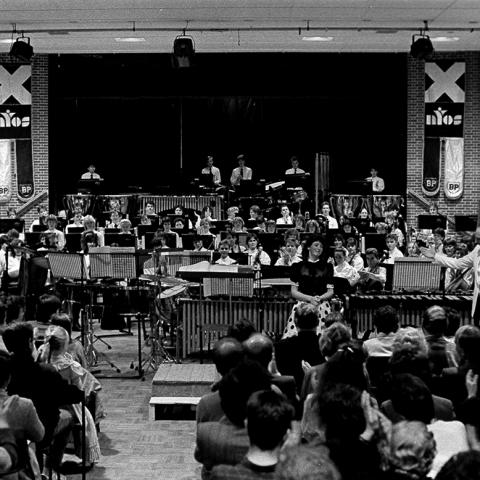 10 January 1987
Percussionist Dame Evelyn Glennie featured as soloist in John McLeod's Percussion Concerto, which is conducted by the composer.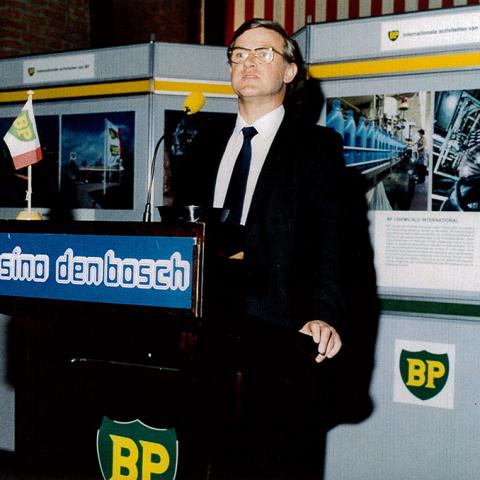 1 November 1987
Richard Chester joins as Director of the organisation, a post he held for 20 years.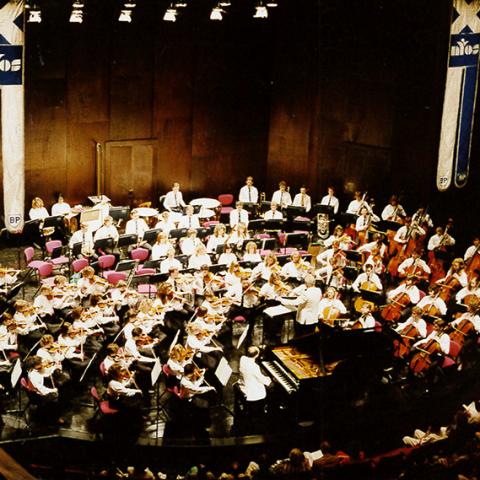 3 August 1988
The orchestra makes its Proms debut at the Royal Albert Hall, London following a tour to the Netherlands.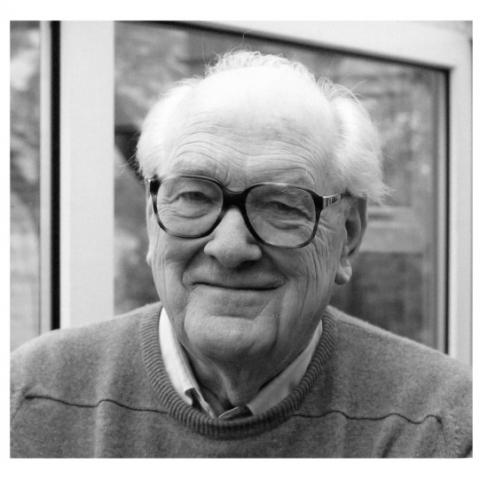 11 November 1988
Colin MacLean becomes Chairman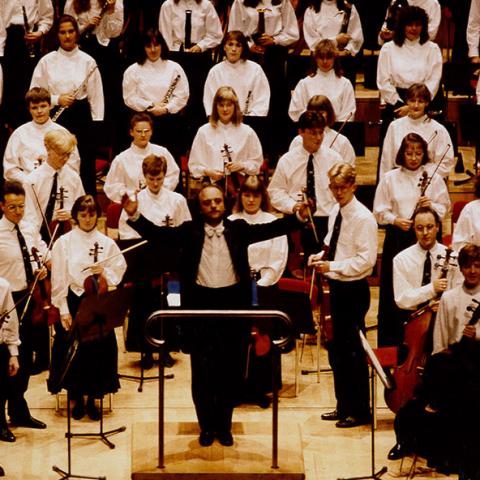 1 January 1991
The orchestra perform in Liverpool, Fort William and Glasgow with pianist Peter Katin under the baton of Sergey Vlasov.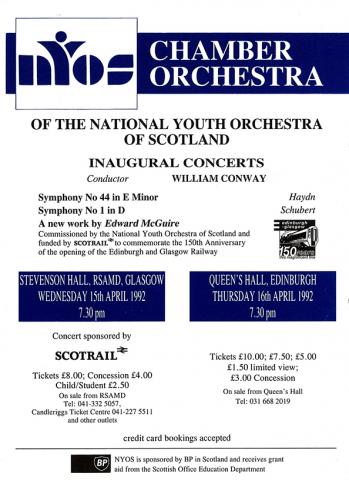 2 April 1992
NYOS Chamber Orchestra is formed, and makes its debut in Edinburgh and Glasgow with a programme which includes a world premiere by Scottish composer Edward McGuire.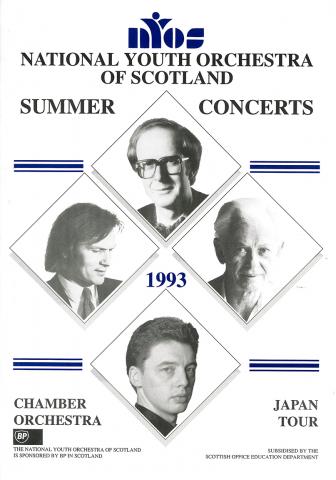 1 August 1993
NYOS Chamber Orchestra embarks on a tour of Japan, performing at the World Youth Orchestra Festival with conductor William Conway.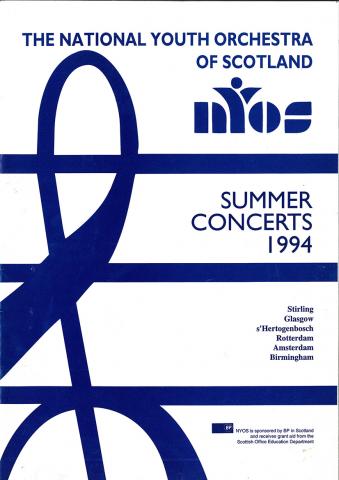 1 August 1994
The flagship orchestra return to the Netherlands with performances in Amsterdam, Rotterdam and s'Hertogenbosch. The programme of Stravinsky, Ibert and Tchaikovsky conducted by Japanese conductor Jun'icki Hirokami features soloist William Bennett.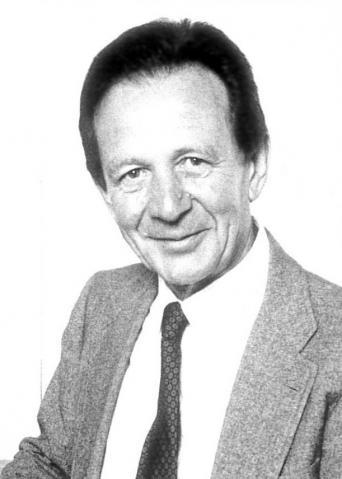 11 November 1994
Iain Harrison becomes Chairman.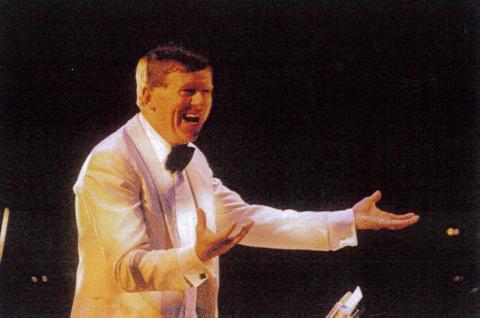 12 July 1996
First public performance of the Jazz Orchestra at the Macrobert Centre in Stirling, directed by Richard Michael.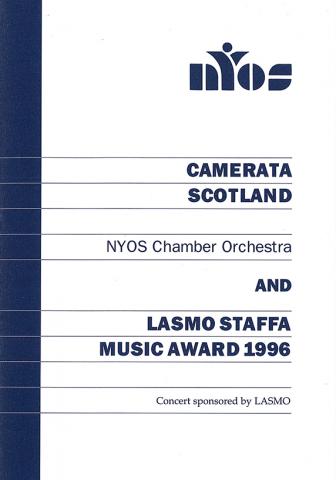 1 April 1996
NYOS Chamber Orchestra is re-named Camerata Scotland.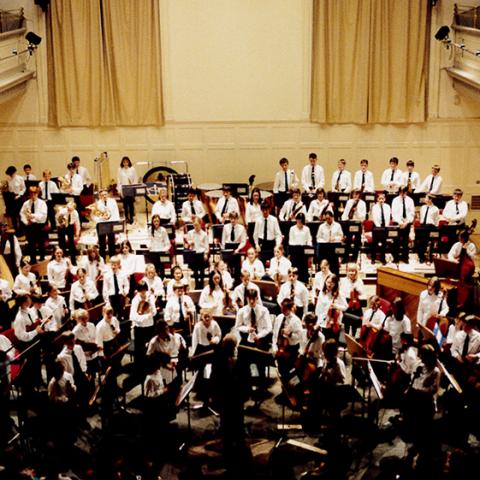 11 April 1997
First public performance of the National Children's Orchestra of Scotland in the Queen's Hall, Edinburgh conducted by James Durrant with the young Nicola Benedetti as orchestra leader.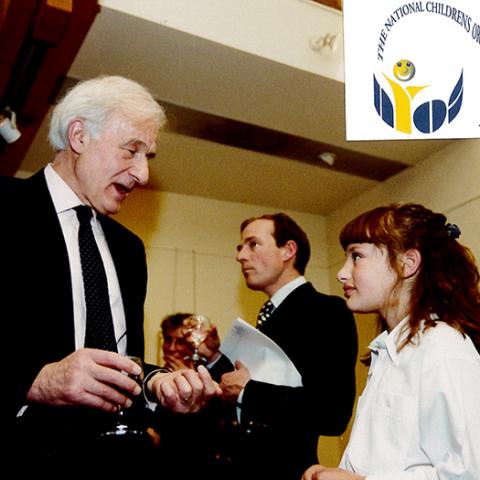 11 April 1997
Nicola Benedetti meets Lord Wilson, Chairman of Hydro Electric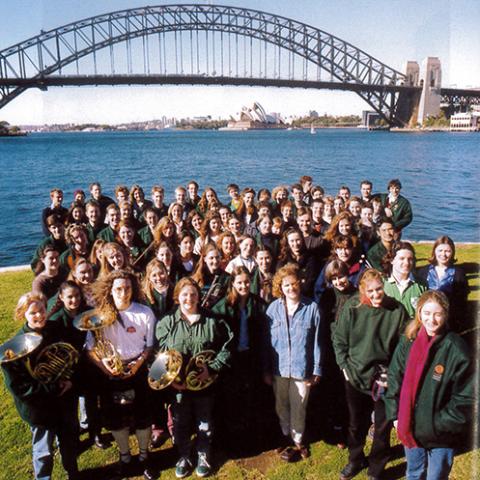 7 July 1997
Camerata Scotland tours Australia in collaboration with Camerata Australia.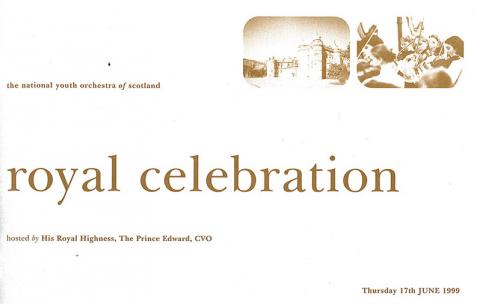 17 June 1999
A Royal Celebration is hosted by HRH Prince Edward at Holyrood House to celebrate the achievements and the 21st anniversary of The National Youth Orchestra of Scotland.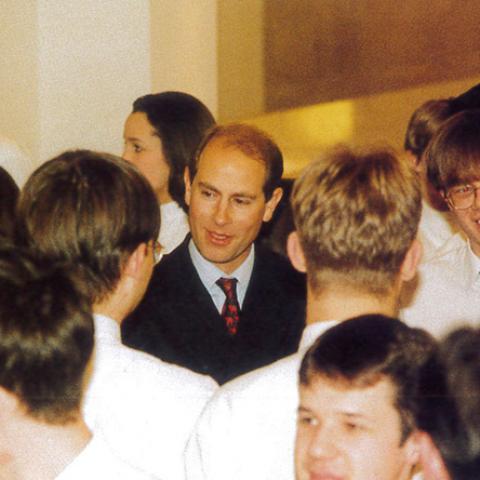 17 June 1999
HRH Prince Edward at Holyrood House chatting with members of the orchestra
3 August 1999
Members of the National Youth Orchestra of Scotland warming up before the concert in a café opposite Glasgow City Halls.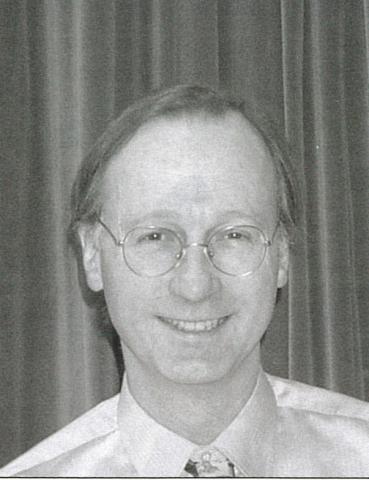 1 February 2000
Alan Simpson becomes Chairman

1 April 2001
The National Children's Orchestra of Scotland summer course is established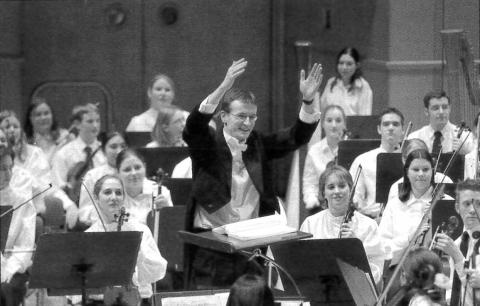 1 January 2002
Garry Walker conducts the flagship orchestra on New Year's Day. Garry was a cellist in the flagship orchestra from 1990 to 1992, and went on to perform with Camerata Scotland before making his conducting debut.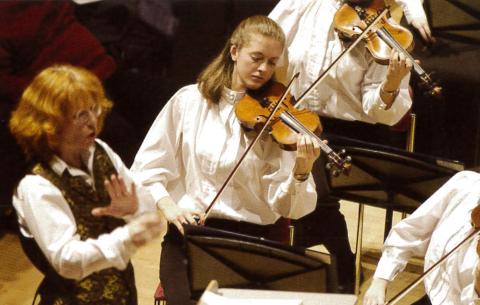 1 January 2003
Sian Edwards conducts the flagship orchestra in Edinburgh's Usher Hall and Glasgow Royal Concert Hall.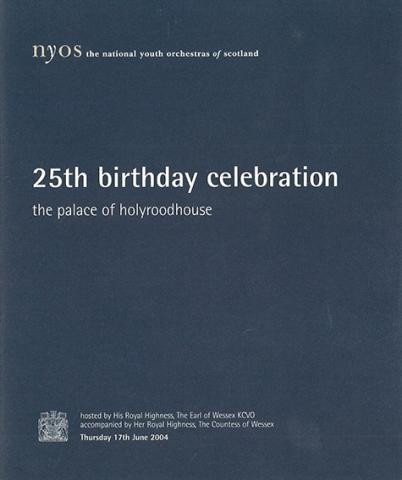 17 June 2004
NYOS celebrates its 25th anniversary at Holyrood House. The event coincides with the release of Nurturing Talent by Ex-Chairman Colin MacLean, a book which reflects on the context for NYOS and the people who gave life to the organisation in its first 25 years.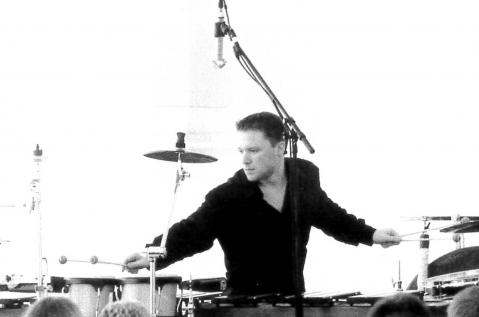 1 January 2005
Colin Currie performs the world premiere of Thea Musgrave's 'Wood, Metal and Skin' with the Symphony Orchestra. Colin was a member of the orchestra's percussion section from 1990 to 1994, and in 1994 became the first percussion finalist in BBC Young Musician of the Year.
10 August 2007
The Symphony Orchestra perform in Berlin as part of the Young Euro Classics Festival.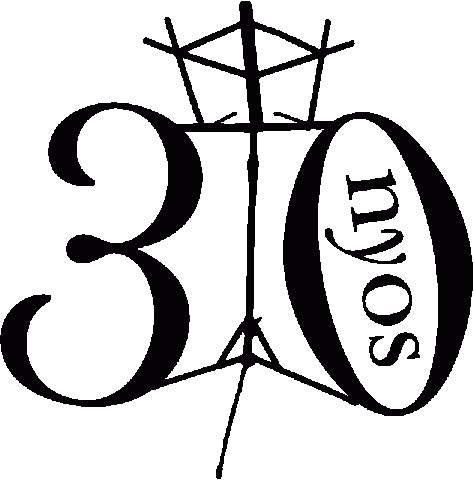 1 August 2009
NYOS celebrates its 30th anniversary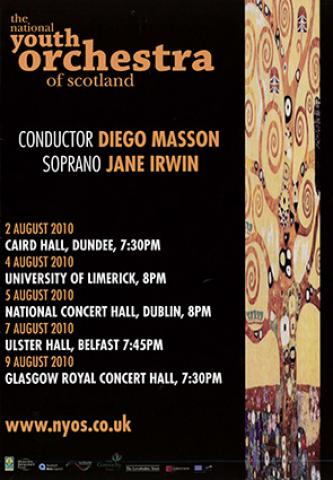 2 August 2010
The Symphony Orchestra tour to Northern Ireland and the Republic of Ireland for the first time, with performances at the University of Limerick, Dublin's National Concert Hall, and Belfast's Ulster Hall.
1 July 2011
String players from the Symphony Orchestra collaborate with the Jazz Orchestra in a unique recording at Castlesound Studios in Edinburgh.
2 September 2011
NYOS Camerata perform and record Rory Boyle's 'That Blessed Wood', conducted by Tecwyn Evans and featuring bassoon soloist David Hubbard.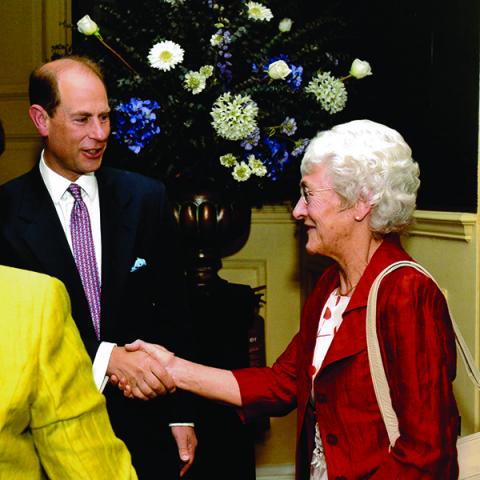 1 November 2011
Professor Marjorie Rycroft becomes Chairman
1 May 2012
Incoming Chief Executive Joan Gibson launches three-year strategic plan and working model for the NYOS Pathway of musical education.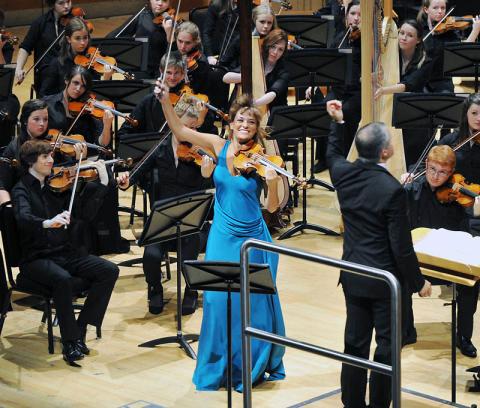 2 August 2012
NYOS Symphony Orchestra tour of Perth, Glasgow, Gateshead and London for the BBC Proms with the BBC SSO, featuring alumna Nicola Benedetti.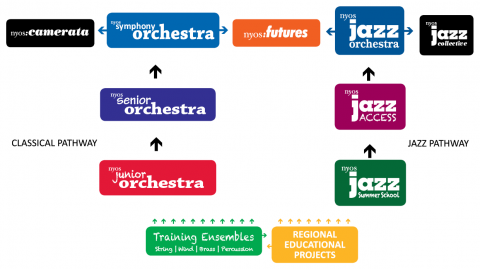 1 October 2012
NYOS introduces its vision for a new educational pathway based on annual membership, staged development, and nurturing young musical talent in Scotland. The vision:
To create a clear journey of musical development from primary school to pre-professional with various entry and exit points.
To nurture talent by providing the best possible training and tutors.
To enhance the musical education experience by providing more opportunities to learn and perform.
To continually improve the level of playing in all orchestras.
To deliver this, NYOS made the following significant changes:
The National Children's Orchestra became NYOS Junior Orchestra
The Senior Orchestra was launched, filling the gap between Junior and Symphony levels
The upper age limit for the Symphony Orchestra was raised to 25
9 April 2013
NYOS Senior Orchestra performs its inaugural concert at Greyfriars Kirk in Edinburgh to critical acclaim.
10 April 2013
NYOS Futures in collaboration with London Sinfonietta perform Steve Reich's 'Variations for Vibes, Pianos and Strings' with the composer in attendance.
14 April 2013
NYOS Junior Orchestra performs its inaugural concert at Sage, Gateshead to a wonderful reception.
21 July 2013
NYOS Jazz Orchestra celebrates its 21st anniversary with a party and outdoor performance at Dundas Castle with outstanding vocalist Liane Carrol.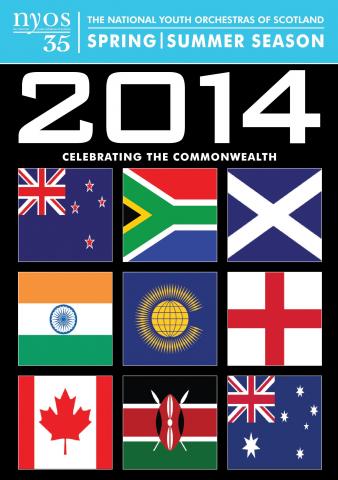 3 February 2014
As the City of Glasgow gears up to host the 20th Commonwealth Games, NYOS celebrates the occasion with a themed programme across all its ensembles. Arts organisations across the city were preparing, planning and rehearsing for a cultural extravaganza.
2 August 2014
The organisation celebrates its 35th anniversary with a Gala Concert attended by its Patron, HRH The Earl of Wessex, in Edinburgh's Usher Hall. The Symphony Orchestra was joined on stage by extraordinary trumpet player Håkan Hardenberger.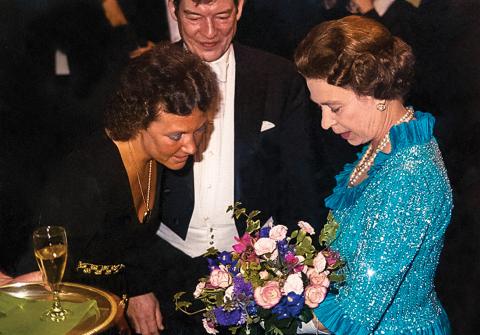 20 August 2014
Thanks to the generous legacy bequest ofJudith Worthington (nee Betteridge), NYOS is able to purchase the upper two floors of its exisiting premises in Glasgow to create performance, rehearsal and audition spaces.
As a violist, Mrs Worthington spent her professional life performing with the Scottish National Orchestra (now RSNO), as well as tutoring aspiring musicians.
Image reproduced here with kind permission of the Royal Scottish National Orchestra archive.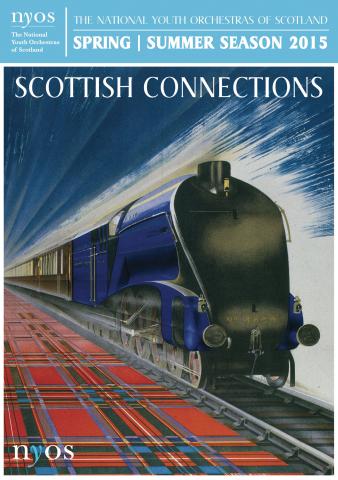 24 January 2015
NYOS announces a year of music themed around Scottish Connections, and announces a welcome return to the international stage with the Symphony Orchestra touring to China in the summer.
1 June 2015
The roof of the recently purchased top floor of the NYOS building begins to leak, eventually leading to the collapse of the ground floor ceiling, prompting renovation works to begin in earnest.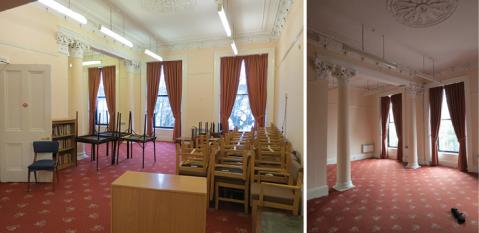 2 July 2015
First floor of NYOS building before refurbishment works
2 July 2015
Second floor and landing of NYOS building before refurbishment works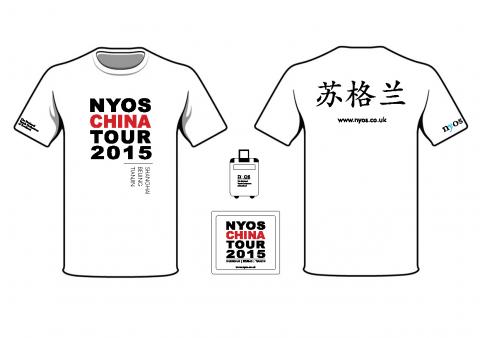 3 August 2015
NYOS Symphony Orchestra embarks upon an ambitious tour of China, performing in world-class venues in Beijing, Shanghai and Tianjin.
1 August 2015
The Symphony Orchestra perform a 'bon voyage' concert in Perth concert hall before their tour of China.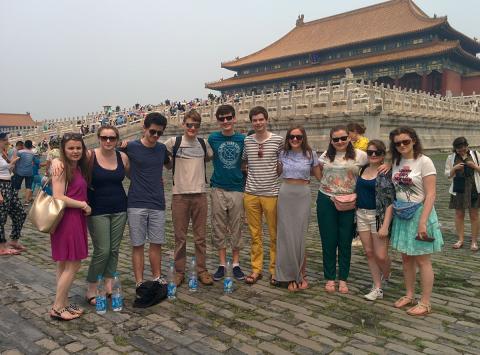 5 August 2015
NYOS Symphony Orchestra musicians blog about their experience during their tour of China, published in the News Section of the website.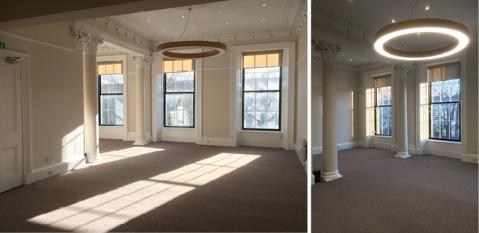 15 February 2016
First floor of the NYOS building after the refurbishment works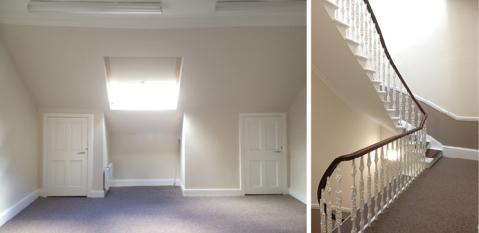 15 February 2016
Second floor and landing of the NYOS building after the refurbishment works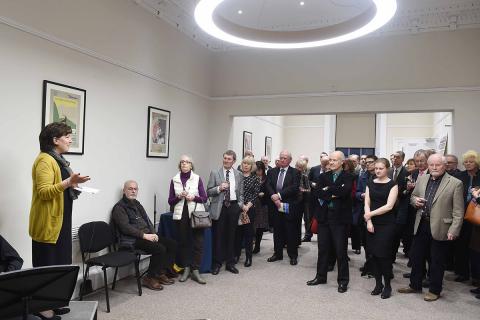 25 February 2016
Invitation to the Dance is the theme for all NYOS ensembles. The season launch event doubled as the unveiling of the newly refurbish NYOS building, with performance and audition spaces. Guests were treated to performances from a wind quintet and jazz trio.
5 August 2016
In a truly landmark year, both the NYOS Symphony Orchestra and NYOS Jazz Orchestra give stand-alone performances at the BBC Proms in the Royal Albert Hall. The Jazz Orchestra welcomes back two of its most celebrated guest artists; Iain Ballamy and Liane Carroll.
7 August 2016
NYOS Symphony Orchestra perform alongside outstanding pianist Pavel Kolesnikov at the BBC Proms, with a programme featuring 'Two Eardley Pictures' by NYOS alum Helen Grime. The piece won Best Large Scale Work at the New Music Scotland awards the following year.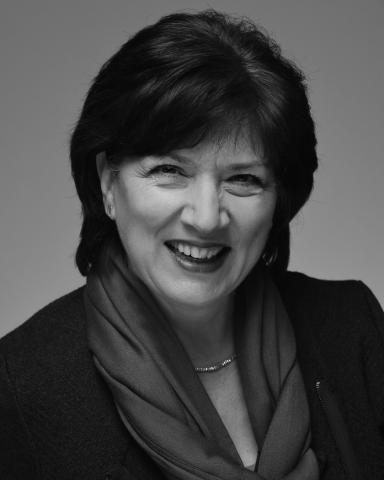 1 November 2016
Chief Executive & Artistic Director Joan Gibson announces her retirement after five successful years at the helm of NYOS.
6 February 2017
Nicolas Žekulin becomes new Chief Executive & Artistic Director.
5 August 2017
Colin Currie returns to perform Andrew Norman's Percussion Concerto Switch with the Symphony Orchestra, under the baton of returning-conductor Michael Francis. The orchestra's summer tour includes a performance as part of the Aberdeen International Youth Festival.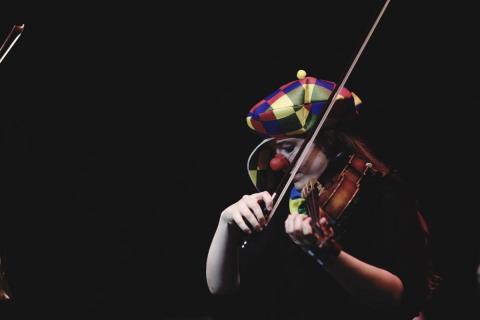 27 August 2017
NYOS Camerata make their debut at the Edinburgh Fringe, performing Concerto for Comedian and Orchestra with Vikki Stone at the Pleasance Grand.