Premiere of new Commission 'Microscopic Dances' by composer Oliver Iredale Searle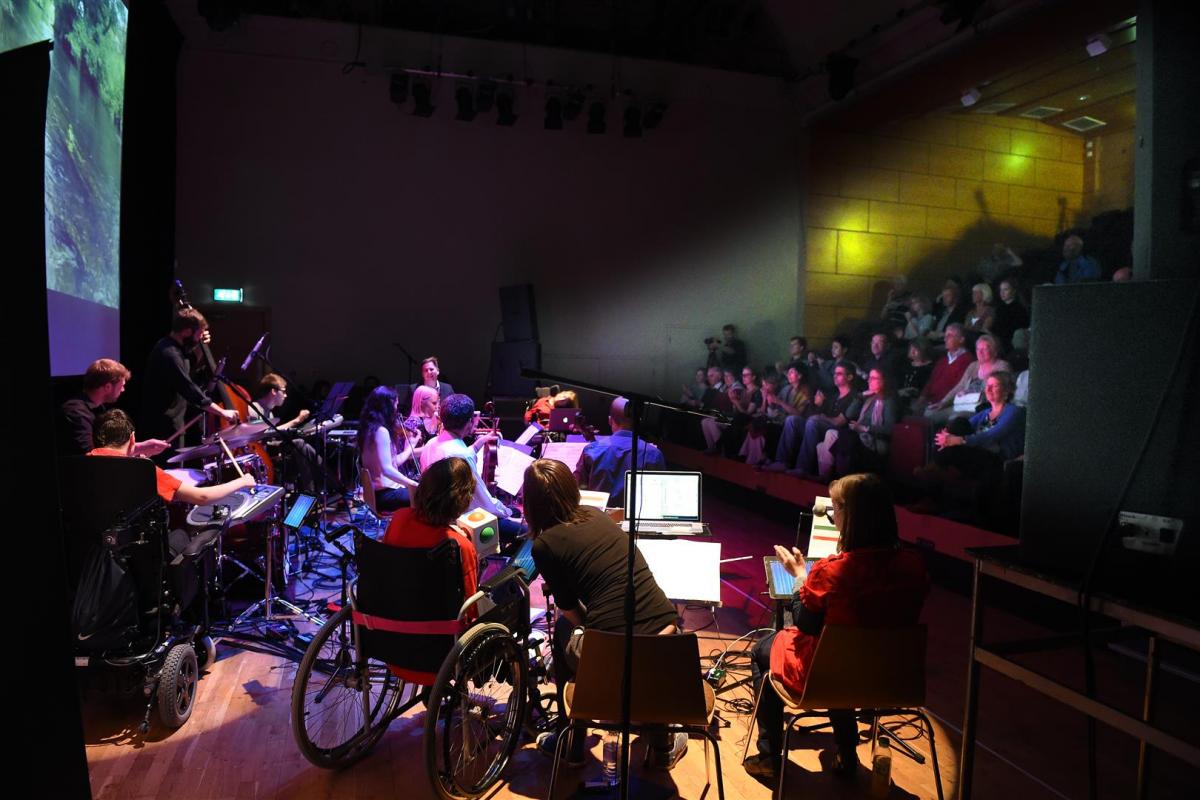 10.08.2017
A collaboration between Drake Music Scotland, the National Youth Orchestras of Scotland (NYOS) and the composer
Saturday 12th August at 4pm
Venue: The Tom Fleming Centre, Erskine Stewart's Melville School, Queensferry Road, Edinburgh EH4 3EZ
It is Rehearsal Day 1 and iPad players Stephanie Forrest and Andrew Giffin from Edinburgh swipe the surface of their instruments in an 'Overly Energetic' style as the score of 'Microscopic Dances' instructs. Stephanie giggles and gestures with her hand to indicate her flourish is finished. The focus of the piece moves on as NYOS's vibraphone player Fraser Sharp attempts the next cluster of notes. Stephanie and Andrew are long-standing members of Drake Music Scotland's Digital Orchestra, an ensemble of young disabled musicians who create and perform a unique new repertoire using digital music technology controlled by tiny head and hand movements, eye control and brainwaves. They are joined for this project by the NYOS Futures ensemble consisting of some of the most experienced players from NYOS Symphony Orchestra.
The tiny movements involved in playing the digital instruments - and those of their NYOS Futures peers on conventional orchestral instruments and a kitchen-full of percussion - are defined by composer Oliver Searle as 'Microscopic Dances', the title of his new work. His music captures the neurological processes, bursts of electrical activity and snapping synapses involved in producing and controlling musical sounds. The relationship between electrical activity in the brain and rhythm, for example, is a complex one. For a young person with cerebral palsy with difficulties in motor control, playing a strict rhythm with exact timing is a challenge so for the composer, the task is to create a score that interrogates and embraces these divergent capabilities.
This is of course what makes the resulting work so fascinating. The evocative titles of the movements such as 'Jimp Jitterbug', 'Peerie Passacaglia', 'Molecular Hornpipe' and 'Miniscule Mosh' with colourful musical directions like 'In the style of 1970's Funk' and 'Unforgiving' (the aforesaid Mosh) give intriguing hints of the manic gyrations we can expect to hear in Drake Music Scotland's second collaboration with Oliver Searle. The first was 'Technophonia' which toured to London as part of the 2012 Cultural Olympiad, and was nominated for a British Composer Award and a Royal Philharmonic Society Award. It is the second time they have collaborated with NYOS, Scotland's national youth orchestras organisation.
Saturday 12th August at 4pm
Venue: The Tom Fleming Centre, Erskine Stewart's Melville School, Queensferry Road, Edinburgh EH4 3EZ
To book tickets please click here