NYOS 2024 | Meet The Artists | Catherine Larsen-Maguire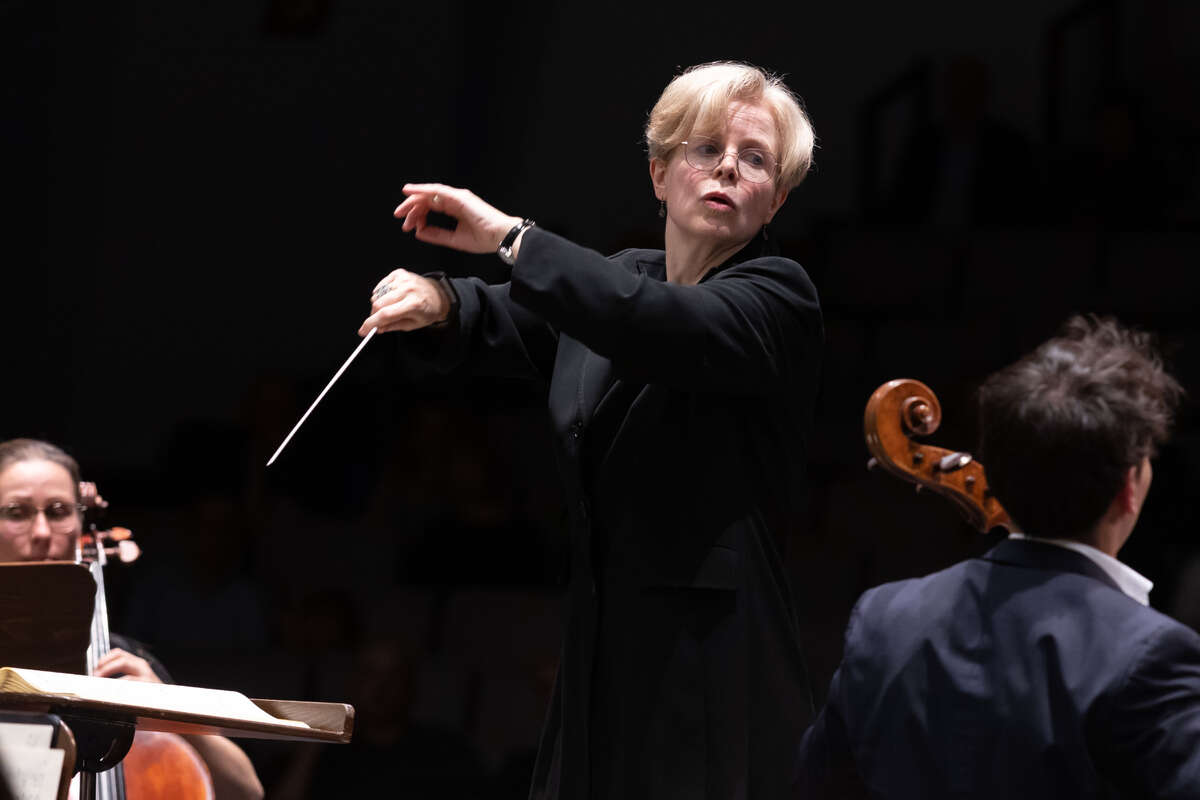 Following her appointment as the first Music Director for the National Youth Orchestras of Scotland, Catherine Larsen-Maguire returns in her conducting role to lead NYOS in 2024, as part of her three year term.
With a passion for mentoring the next generation of musicians, Catherine Larsen-Maguire places great emphasis on working with young people, both as conductor and educator. In July 2023, following a highly successful series of concerts she was appointed the first-ever Music Director of the National Youth Orchestras of Scotland for the period 2024-2026. Catherine will be conducting the orchestra for the spring concert.
You can read more about Catherine's appointment below:
> Catherine Larsen-Maguire becomes NYOS Music Director
A consummate artist who combines an innate musicality with a superlative technique, and an astute musical ear with an infectious dynamism on the podium, Catherine Larsen-Maguire has become a sought-after conductor throughout Europe and in Central and South America.
Her performances have been praised by critics as 'charged with recreative energy, flexible tempi, scrupulous balance and interpretative reach' (The Arts Desk) and 'difficult to think of a more committed, deeply involved and precise direction than that of Larsen-Maguire' (Scherzo). Particularly in demand for the clarity she brings to the romantic British repertoire, she remains supremely versatile, equally at home with Haydn, Brahms, Elgar or Mahler as with works by the composers of today.
The closeness of the relationships she forms with orchestras and their audiences is reflected in the frequency of Catherine Larsen-Maguire's re-invitations; in the 2022-23 season she returned to the Scottish Chamber Orchestra, Orquesta Sinfónica de Tenerife, Slovenian Radio Symphony Orchestra, Orchestre de Chambre de Genève and Orquesta Filarmónica de la UNAM in Mexico City, and made a number of spectacular debuts, most notably with the Orquesta Sinfónica de Galicia, Mecklenburgische Staatskapelle, Orquesta de Extremadura and Filarmónica de Jalisco. 2023-24 sees returns to the Mecklenburgische Staatskapelle, Deutsches Kammerorchester Berlin, Orquesta Sinfónica de Xalapa and Orquesta Filarmónica de la UNAM and the same season includes debuts with the Staatsorchester Rheinische Philharmonie, Orquesta Sinfónica de Navarra, Orchestre de Chambre Nouvelle-Aquitaine and Jerusalem Symphony Orchestra.
Catherine Larsen-Maguire has in recent years also conducted orchestras including the London Philharmonic, BBC National Orchestra of Wales, Royal Northern Sinfonia, Orchestre National du Capitole de Toulouse, Mecklenburgische Statskapelle, Göttinger Symphonieorchester, Deutsches Kammerorchester Berlin, Orquesta Sinfonica Nacional de Colombia, Orquesta de Córdoba, Belgrade Philharmonic, and Orchestre de Chambre Fribourgeois.
A musician's musician, she has successfully collaborated with a diverse array of soloists in recent seasons, including Carolin Widmann, Edgar Moreau, Adam Walker, Sean Shibe, Jean Rondeau, Lucas and Arthur Jussen, Guy Johnston and Sarah Wegener.
Embracing the challenges of contemporary music and fearless about the complexity of a new score, Catherine Larsen-Maguire also works closely with living composers, and has given several world and national premieres; in 2021 she conducted the world premiere of Alexander Goehr's 'The Master Said' with the BBC National Orchestra of Wales. The same year, at the Musikfest Berlin, she gave the premiere of Cathy Milliken's 'Night Shift' with Ensemble Modern, and a year later conducted the Scottish Ensemble, Ensemble Resonanz and the Trondheim Soloists in the premiere of Erkki-Sven Tüür's 'Deep Dark Shine'.
She also conducted the world premiere of Gordon Kampe's 'Gefährliche Operette', the American premiere of James MacMillan's Oboe Concerto, the Spanish premiere of Joey Roukens' 'In Unison' and the German premiere of Bent Sørensen's 'Evening Land'. She has also worked with composers including Brett Dean, Helen Grime, Charlotte Bray, Mica Levi and Michael Zev Gordon, and contemporary ensembles including Ensemble Modern, Klangforum Wien, Ensemble Musikfabrik, Ensemble Resonanz, Ensemble Ascolta and the 10/10 Ensemble of the Royal Liverpool Philharmonic.
Her work with other youth orchestras with which she has recently collaborated include the Young Israel Philharmonic, the Orchestra of the Luebeck Hochschule and the Underground Youth Orchestra in Athens; she has given masterclasses in Germany (University of the Arts), Brazil (University of São Paulo, Femusc Festival), Israel (Jerusalem International Conducting Masterclass), Spain (Real Conservatorio Superior de Granada) and Mexico (Queretaro Festival). She was a jury member for the Besançon Competition (2017- 2021), and from 2014-16 held a guest professorship in conducting at the University of the Arts, Berlin
Born in Manchester and now based in Berlin, Catherine Larsen-Maguire read music at Cambridge University, followed by studies at the Royal Academy of Music in London and the Karajan Academy in Berlin. She turned her focus exclusively to conducting in 2012 following a successful career as a bassoonist, which included 10 years as principal at the Komische Oper Berlin.
You can learn more about Catherine by visiting the website below, or by following her on social media.
> Website: https://larsen-maguire.com/
> Instagram: @larsenmaguire
Photography: © Miguel Barreto