Jazz Orchestra Summer Tour 2019: Scotland, Northern Ireland & Éire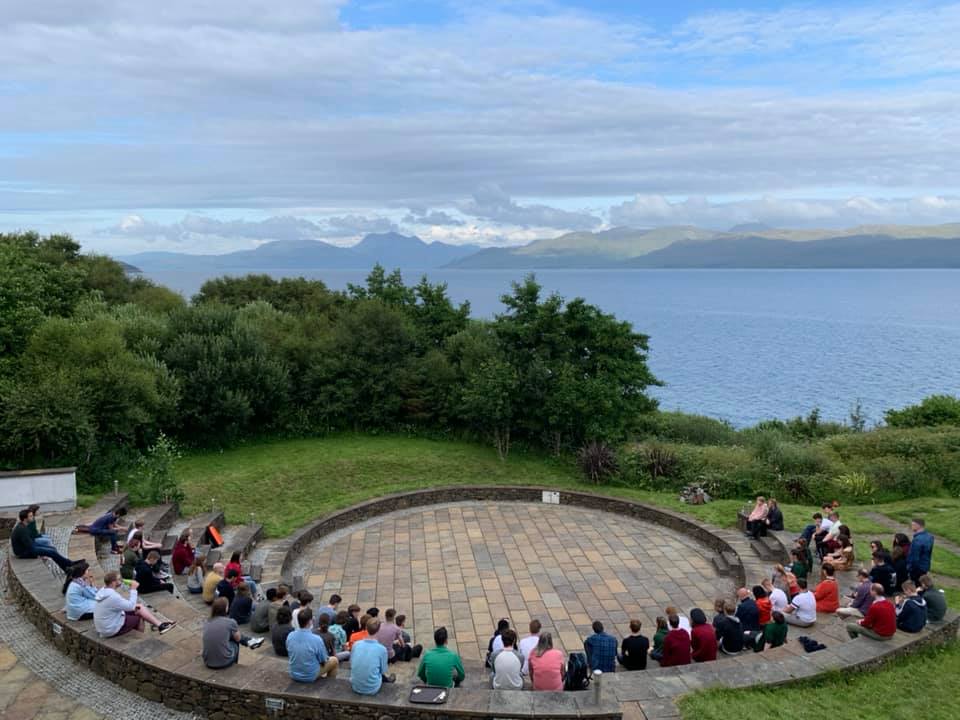 The NYOS Jazz Summer School took place once again at its spiritual home of Sabhal Mor Ostaig on the Isle of Skye.
This is where we ended our summer tour back in 2012, encouraged to do so by our then guest artist, composer and trombonist Rick Taylor. The audience at that final gig, Rick's music and the creative community vibe he had cultivated around him there convinced us, almost immediately, to move the entire summer school there the following year, and there it remains to this day.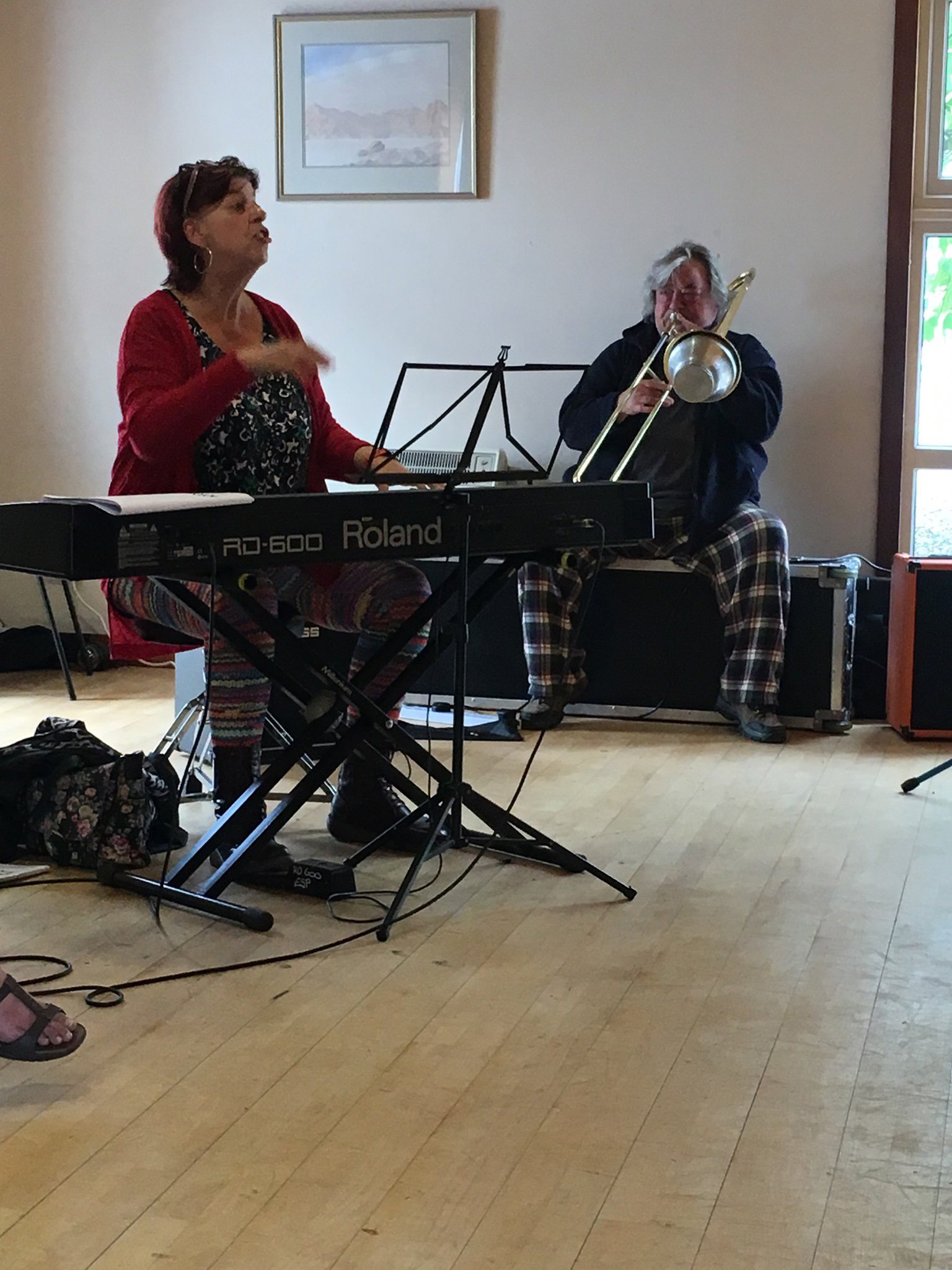 Rick sadly passed away in June this year aged just 60. The music world lost one of its most beautiful souls, a man of spirit, wisdom and love, but his presence remained with us on the course and brought us all even closer together during our time on Skye. The first image above shows everyone sitting in the stone ampitheatre taking a little time out in silent reflection to remember Rick and below is the cairn we built in his memory.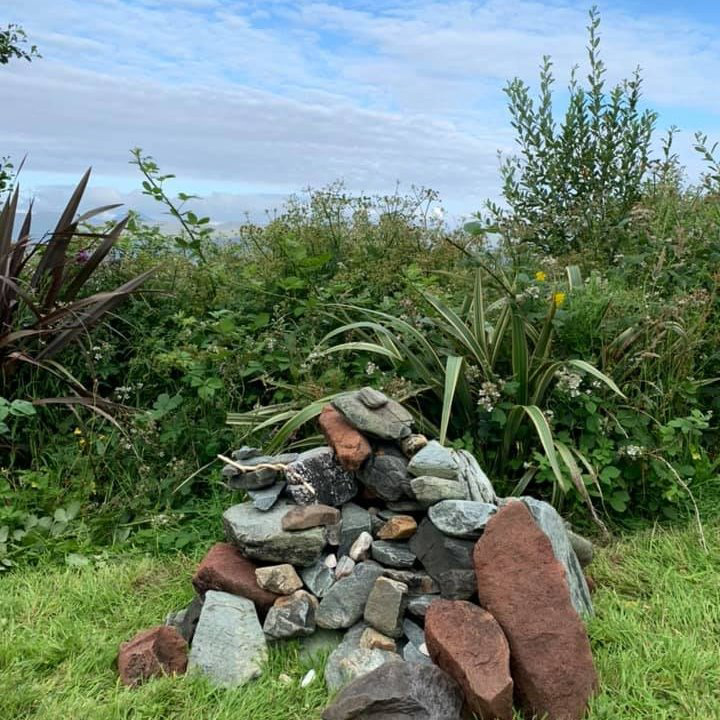 Rick would have hated any moping about for his sake, so the summer school carried on in his memory and fuelled by his spirit. The level of playing and togetherness on this year's summer school was second to none. Each and every combo brought its 'A' game and Jazz Access led by course Director Jules Jackson reached new heights. This all bode extremely well for what was shaping up to be one of our best Jazz Summer Tours ever.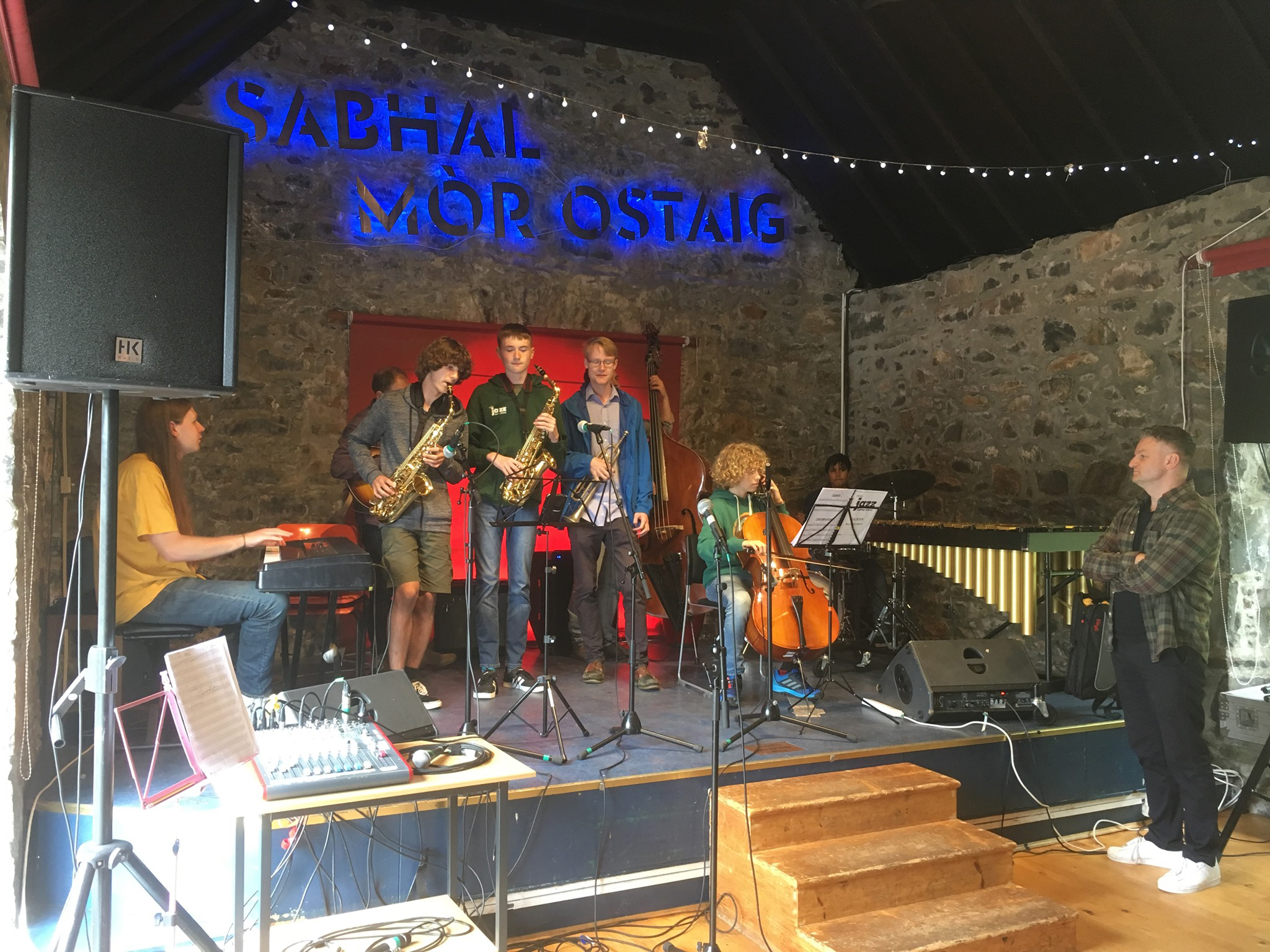 Gordon McNeil Combo
Liane Carroll Combo
Nicolas Dover Combo
Percy Pursglove Combo
@NYOScotland Jazz Summer School concert ending with an @IainBallamy extravaganza played by a stellar group of our jazz ambassadors! Including three star @BirmConsJazz alumni. THANK YOU ALL 💥💥💥🎵❤️✔️ pic.twitter.com/bPb0AtpXxp

— Andrew Bain (@Baindrums) July 18, 2019
The summer school would be nothing without Malcolm, Andrew, its amazing tutors and pastoral staff, but one person more than any other is the glue that holds everything together. Sadly, 2019 marked her last ever year at the helm of the NYOS Jazz Programme. Step forward Jazz Ensembles Manager Corinna Gregory. After nine- and three-quarter years of organising and managing everything Jazz at NYOS, she bid us farewell and we wish her all the very best for the future.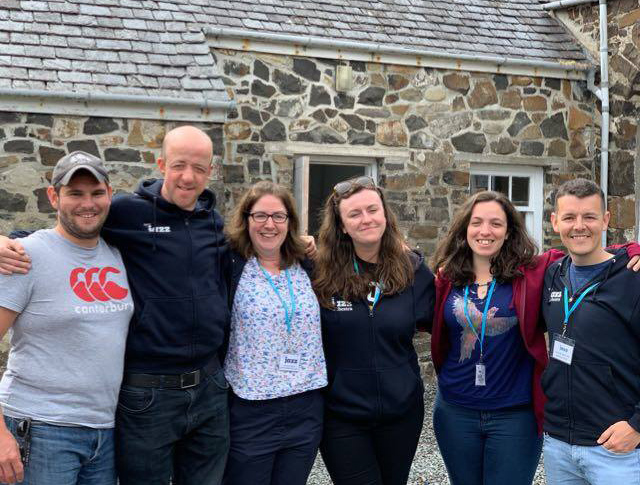 Today, everyone on our Jazz Summer School paid tribute to Jazz Ensembles Manager @corinna_gregory as she sets sail for pastures new. One of our longest serving members of staff and a WOnderful member of the NYOS team. We wish you all the very best Corinna. Here's to the future! pic.twitter.com/G8CYxTuoxd

— NYOS (@NYOScotland) July 18, 2019
As NYOS marked 40 years of nurturing Scotland's talented young musicians in 2019 the Jazz Orchestra geared up for its biggest tour to date and teamed up with a very special guest artist indeed. Joining our flagship Jazz Orchestra on its five-date summer tour of Scotland, Northern Ireland and Éire was acclaimed British-Bahraini trumpeter and flugelhorn player Yazz Ahmed.
Yazz Ahmed teams up with NYOS Jazz Orchestra to play 'psychedelic Arabic jazz'https://t.co/w87sHDinMD @nyoscotland pic.twitter.com/59ZqQr7Y7F

— Scotsman Arts (@scotsman_arts) July 18, 2019
Each concert on the summer tour manifested as two distinct parts. The first half, led by Director/Conductor Andrew Bain, opened with a fitting tribute to the late Scottish Jazz icon Duncan Lamont. As the Orchestra provided the big band backing to his wonderful Carnival of the Animals including Fanfare, Monkeys and Elephants.
The final suite of an emotional first half was another fitting tribute, this time to the late, great Rick Taylor. A wonderful tutor, composer and trombonist, and an even more beautiful human being. Andrew and Malcolm had found his Suite from 2012 in the archive and painstakingly arranged it and brought it back to life as a work of two parts for jazz orchestra entitled High Society and My Island Heart. The Jazz Orchestra did you proud Rick!
The second half was all about Yazz! This time Director Malcolm Edmonstone lead the Orchestra through arrangements of Yazz Ahmed's distinctive blend of contemporary jazz with her Bahraini musical heritage, sometimes simplistically labelled "psychedelic Arabic jazz". The audience were enveloped by beautiful soundscapes, sometimes serene, sometimes funky, but always thought provoking.
The concerts and tour proved to be a challenging and contrasting mix of styles and eclectic extremes, but the class of 2019 never missed a beat. That sense of togetherness fostered on the summer course shone through and the unity on stage was there for all to see.
You know when you hear a great concert. But when you get stopped in work by colleagues and sound engineers who want to express their sheer joy about a concert , you know it was one of the special ones. @NYOScotland Jazz Orchestra was one of those.

Go see them play. pic.twitter.com/WJECL80CYy

— Christopher Barr (@barrchristopher) July 23, 2019
Review: NYOS Jazz Orchestra, The MAC Belfast
"NYOS Jazz Orchestra played with a mixture of brio and discipline that would be the envy of older, more professional big bands. With the guidance and mentorship of spirits like Rick Taylor, Duncan Lamont, Nikki Iles, and current directors Andrew Bain and Malcolm Edmonstone, the NYOS Jazz Orchestra is an incubator for excellence." Ian Patterson, All About Jazz, 30 July 2019 Continue reading
Best of luck to our wonderful Jazz Orchestra and @YazzAhmed1 making their debut tonight at the prestigious @sligojazz Festival. If you are in the area pop along it's going to be an amazing gig at the @HawksWellSligo. You won't be disappointed. https://t.co/iEL9A4Xdv9 pic.twitter.com/tJ8eBJMSwi

— NYOS (@NYOScotland) July 24, 2019
@NYOScotland @YazzAhmed1 @HawksWellSligo @sligojazz Brilliant Evening at Sligo Jazz Project in the Hawks Well. The amazing Scottish Youth Jazz orchestra highlighting compositions and orchestrations by fellow Scots and the enchanting Yazz Ahmed. Discovered "La Saboteuse" tonight. pic.twitter.com/cvHm0CaxYh

— Des Power (@Des_Power) July 24, 2019
NYOS Jazz Applications for 2020 open on Monday 23 September. You will be able to apply online from that date by following this link: NYOS Jazz Applications 2020