Orchestre Français des Jeunes (OFJ) Exchange Trip Blog By Tom Wilson
What a fantastic month I've had! Travelling Europe to play such great music with musicians of such a high standard has been a great pleasure to take part in and has really benefited me, I think in terms my musicianship and my cultural understanding of France. Perhaps even my French has improved a little too!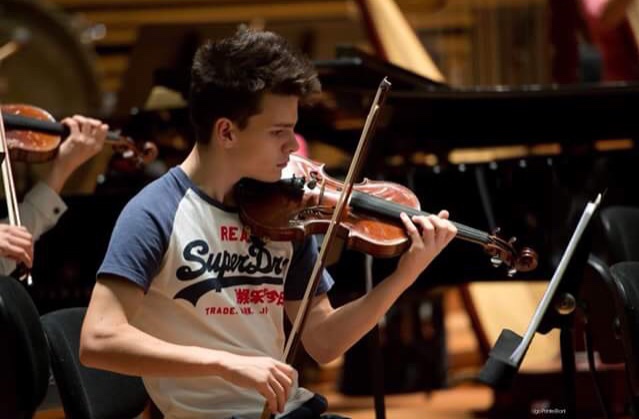 Admittedly I was quite apprehensive about going off to France by myself for a month, but after the first day or two, I'd already gotten to know the names of a few people and found that they were all incredibly friendly and that language wasn't gpoing to be a problem between us. The first couple of weeks was spent in the North-Eastern town of Lille where we would rehearse our chamber music repertoire at the Lille Conservatoire in preparation for the concert before moving on to our symphony orchestra music in preparation for the tour. The chamber music workshop consisted of an A and B orchestra - I was in orchestra B and we were playing Haydn's Symphony No.88 in G major and extracts from 'Dardanus' by French baroque composer J.P. Rameau, which was a new experience for me, being a chamber music virgin. However, I actually really enjoyed the workshop and found something really appealing about the style of early classical music. By the time the concert came I felt as if I'd gotten to grips with it all.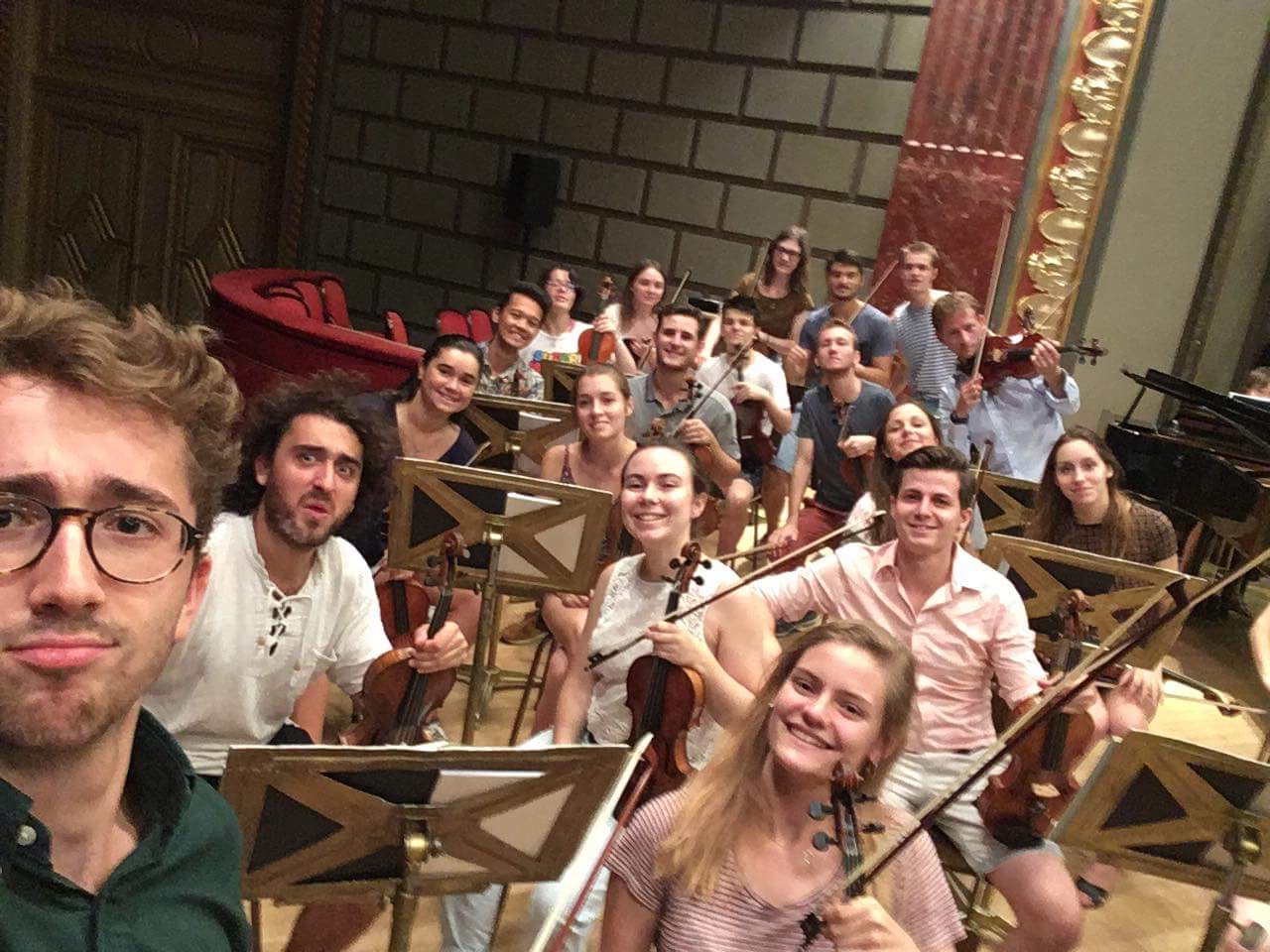 With that out of the way, it was time to begin symphony orchestra rehearsals at the Nouveau Siecle where we would prepare Tchaikovsky 4th Symphony, Saint-Saens Violin Concerto No.3, Bartok violin concerto No.2, Stravinsky's 'Chant du Rossignol', 'Une Barque sur l'ocean' from Ravel's 'Miroirs', 'Crimson' by contemporary composer Samy Moussa, and Debussy's 'La Mer' which was fortunate for me as we'd played as part of the most NYOS Symphony Orchestra summer tour programme. So it was one of the only pieces that I'd been able to thoroughly practice. However, our sectionals tutor Jan was excellent and I soon got to know my part even better. On his last day, Jan invited the whole section out for a drink and paid for everything out of his own pocket, which really summed up what a nice guy he was.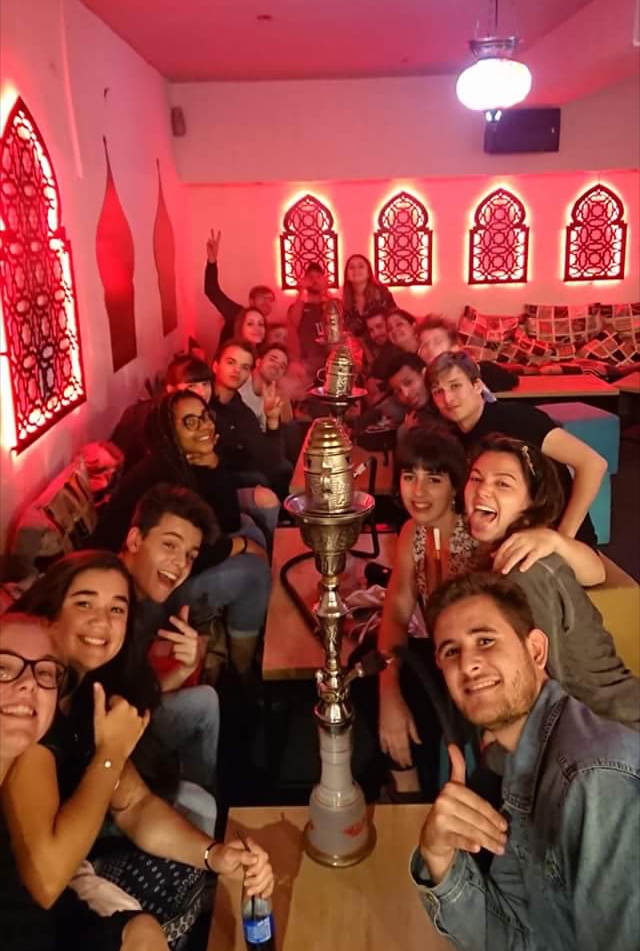 It was an early 5am start for us when we headed off to the airport to begin our tour. I was still incredibly sleepy during the whole journey, but tiredness obviously wasn't a problem for the boisterous (as ever) brass section who whipped out their instruments at the airport for a wee quick jam! Our first stop was Romania's capital Bucharest where we'd play the Ravel, Stravinsky, Saint-Saens and Debussy at the atheneum, which had some amazing architecture. The same went for the whole of Bucharest in fact, which we were able explore and get a quick glimpse of in our free time. The food there was wonderful too. On our first night we all ate at a local restaurant and the couple who owned the place gave us a lovely demonstration of some traditional Romanian music and dance, which we found really entertaining.
After a successful concert in Bucharest, we were off to the town of Sinaia up in the mountains where we spent approximately 5 days. This gave us a great chance to investigate some of the shops, bars, traditional Romanian market stalls and explore the castle that Sinaia is famous for.
Our concert was in Brasov - a city not far from Sinaia where we played the same music from our concert in Bucharest apart from the Bartok violin concerto (which I wasn't playing in) replacing the Saint-Saens, which went very well despite athe low turnout. Our coach on the way back to Sinaia was full of music as Aramis, who had his guitar with him, played some jazz with the Soloist. It was a really nice way to kill some time on the journey, even if it meant not being able to have a nap. Our next concert at the Casino Sinaia was in my opinion, the best one as we played all tour. The Ravel, Bartok and the Tchaikovsky all went down well and I was particularly excited about playing the atter as it was one of my favourite pieces from the enitire programme. Also, the good thing about not playing in the Bartok was that we could watch the soloist from backstage. He even broke a string during the first movement, but kept on playing till the end of the movement without missing a beat, like a true professional.
The next day consisted entirely of travelling, which I hoped wouldn't result in me being sick. We were off to Montreux, Switzerland on our next stage of the tour where we would stay in a nearby town called Leysin, and as you could imagine we were all shattered after 16 hours of traveling in planes and coaches. We were welcomed at the hotel with dinner, and I think it's safe to say that the food there was superior to anything else we'd had on the entire trip. The hotel itself was something quite spectacular with amazing views of the surrounding mountain landscape. Our concert the next day was at the montreux music and convention centre which was right next to Lake Geneva where we got some good group photos. Here we played the Moussa, Saint-Saens and Tchaikovsky which all went down very well. I also got the chance to see my dad at the end of the concert who had flown all the way over from Scotland just to see us perform!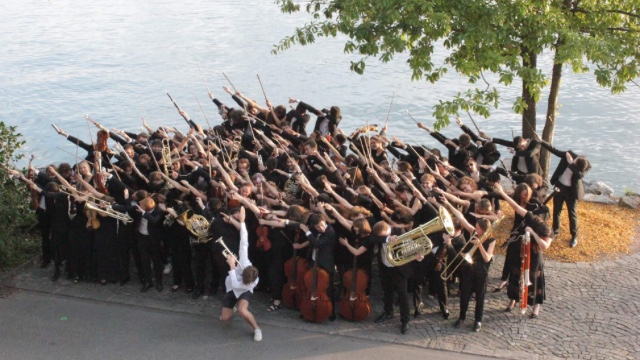 Our final concert was back in Lille, which felt strange after being away, for what felt like such a long time, but there was a great atmosphere at the concert as the Nouveau Siecle was pretty much packed out. We finished with the Moussa, Bartok and Tchaikovsky, which truly was a grand way to end such an enjoyable course. This was followed by a visit to the Nouveau Siecle bar after the post-concert reception had finished, and then a visit to the nightclub after the bar closed which left me getting back at about 0400 in the morning!
Overall, I would say that my Orchestre Français des Jeunes (OFJ) and NYOS experiences were very different, partly because I was in a foreign country alone without knowing much about the language and culture, and partly because of the physical difference of not actually being based on any sort of campus similar to Strathallan where we stay with NYOS. I definitely feel though, that it's been a very beneficial experience as well as fun, and even if I've not returned to Scotland being a fluent French speaker, I've had the chance to play some of the world's most spectacular music with France's very best young musicians and made some great friends over the past month who I hope to stay in touch with. I've really enjoyed myself during this exchange and I'd recommend that for anyone who gets the chance to apply for something like this, GO FOR IT! Sometimes stepping out of your comfort zone is no bad thing.
Merci beacoup OFJ for having me!