NYOS Symphony Orchestra 40th Anniversary Spring Tour 2019
NYOS Symphony Orchestra comprised ninety-one students this year aged between 14 and 25, with a lot of new members in the orchestra including a number of students who progressed along our classical education pathway from Senior to Symphony Orchestra.
The Orchestra had the pleasure of working with conductor Elim Chan and pianist Steven Osborne. Elim brought so much great energy to the course and worked wonders throughout the week. We even had some fun mixing up where the players sat during a few of the rehearsals!
It was a joy to work with Steven Osborne, and it is testament to his humility as an artist that he happily took the time to chat with students about his experience of being in a similar ensemble and the importance of youth orchestras in general. Our course tutors also deserve special mention for all the help and support they provide; we even had a few new faces in to help out!
On day three of the course Osteopath, Andrew Patterson came to speak with the orchestra about warming up and preparing the body for a full day of rehearsals, and then warming down at the end of rehearsals to help relieve tension and relax.
The good health & wellbeing programme continues today with @NYOScotland Symphony Orchestra up at @StrathallanSch. Thank you to Osteopath Andrew Patterson from the @FrameworkClinic for the pre rehearsal stretching regime, some information about posture & how to remain injury free pic.twitter.com/ifZEgYfyfw

— NYOS (@NYOScotland) April 11, 2019
Treating ourselves to a wee bit of culture tonight. No not a pot of yoghurt but a night with the National Youth Orchestra of Scotland at their 40th Anniversary Concert! @NYOScotland

— Douggie B-W MBE #FBPE (@douggie_ward) April 12, 2019
The Symphony Orchestra's 40thanniversary spring tour began at the ever-impressive Usher Hall where we were joined by a passionate Edinburgh audience keen to hear our flagship Orchestra perform alongside two current RSNO collaborators.
The following night in Glasgow had an even greater attendance, as the NYOS audience, boosted by RSNO subscribers packed out the Royal Concert Hall, all keen to catch a glimpse of RSNO Principal Guest Conductor Elim Chan alongside RSNO Artist in Residence 2019/20, pianist Steven Osborne. Neither audience were to be disappointed.
Internationally acclaimed Scottish pianist Steven Osborne opened both concerts in blistering style performing Rachmaninov's notoriously difficult 3rd Piano Concerto with immense power and control.
Steven then treated us to a wonderfully contrasting encore. More Rachmaninov, but this time something "soft and quiet", a Prelude based on the notion that "you can never have too much Rachmaninov" especially when performed by such a supremely talented musician.
Elim Chan is one of the most exciting conductors of the younger generation, it's not hard to see why Elim is already widely admired. She displays a rare blend of exhilaration, sensitivity and calm. Truly a sight to behold.
The mutual appreciation and affection from Orchestra to conductor was apparent for all to see, as the Orchestra followed her pin point direction with near telepathic gusto. Elim instilled composure during the Rachmaninov, encouraged passion and imagination throughout the Scottish premiere of Andrea Tarrodi's Liguria and harnessed the unbridled joy, passion and enthusiasm of a talented youth orchestra to deliver a majestic rendition of Mussorgsky's Pictures at an Exhibition in Ravel's glorious orchestration. What a way to end our spring season. Bravo one and all!
If you would like to relive this wonderful live performnace you can! CLICK HERE to visit BBC iPlayer and listen again to BBC Radio Scotland's Classics Unwrapped, first boadcast on Sunday 21 April and presented by Jamie McDougall. We would like to extend our heartfelt thanks to Jamie and the Classics Unwrapped team for supporting NYOS and continuing to champion Scotland's talented young musicians.
The Edinburgh performance was tremendous! 👏👏👏

— Sandy Matheson 🇪🇺 (@sandymatheson10) April 14, 2019
Fabulous performance all round. Good to hear such young talent flourishing 👏👏

— Alan Battison 🏴󠁧󠁢󠁳󠁣󠁴󠁿🇪🇺 (@AlanBattison) April 13, 2019
"I have never heard Pictures played so well. Ever. By anyone. Well done NYOS, you are a testimony for youth music." Charles Stokes, Edinburgh49
Read the review in full HERE
I had the chance to enjoy this @NYOScotland concert again last night - remarkable playing by @stevenosborne and such supportive conducting by @itselimchan. The band were immense - we MUST ensure continued access to tuition for our talented youngsters #excellence #music https://t.co/MiUfpm49Ab

— Michelle Thomson (@MichelleThomson) April 14, 2019
And you gave us all a tremendous and beautiful experience to remember for a long time! Thank you for your music Steven!

— Elim Chan (@itselimchan) April 14, 2019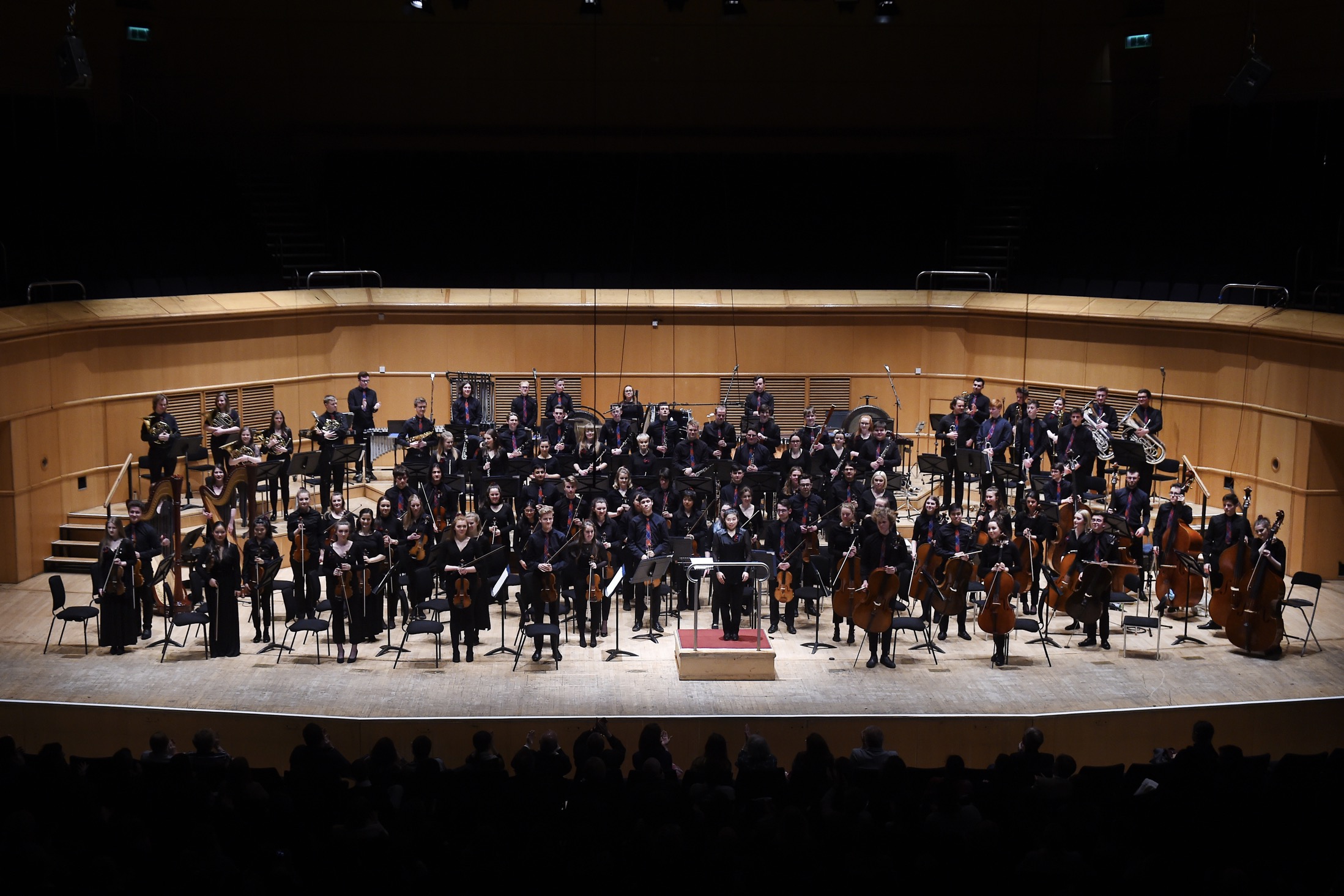 To view more images on our website click HERE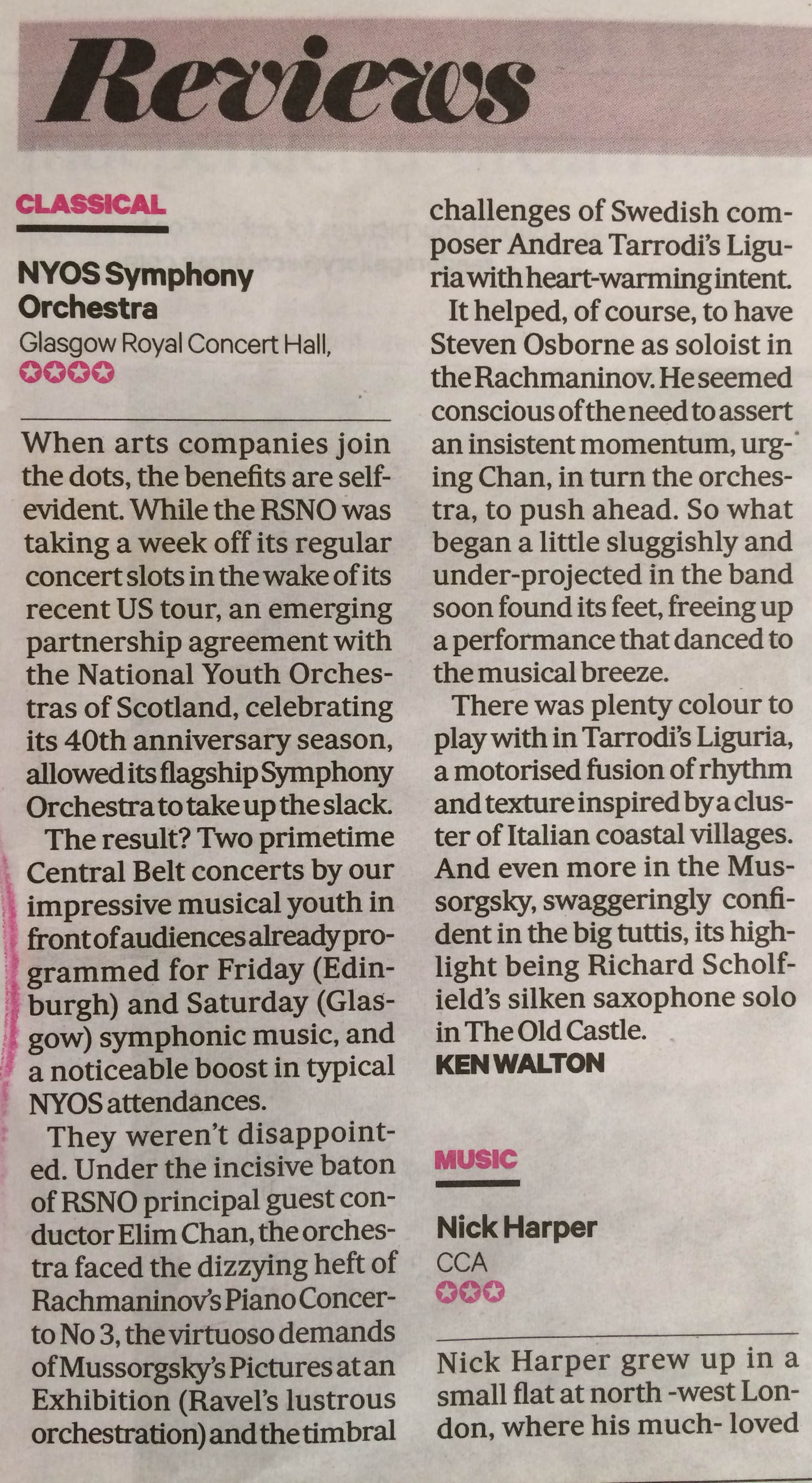 CLICK HERE to listen again to NYOS Symphony Orchestra's 40th Anniversary Spring Concert LIVE from Glasgow Royal Concert Hall on BBC Radio Scotland's Classics Unwrapped.