NYOS Senior Orchestra Spring Course & Concert 2018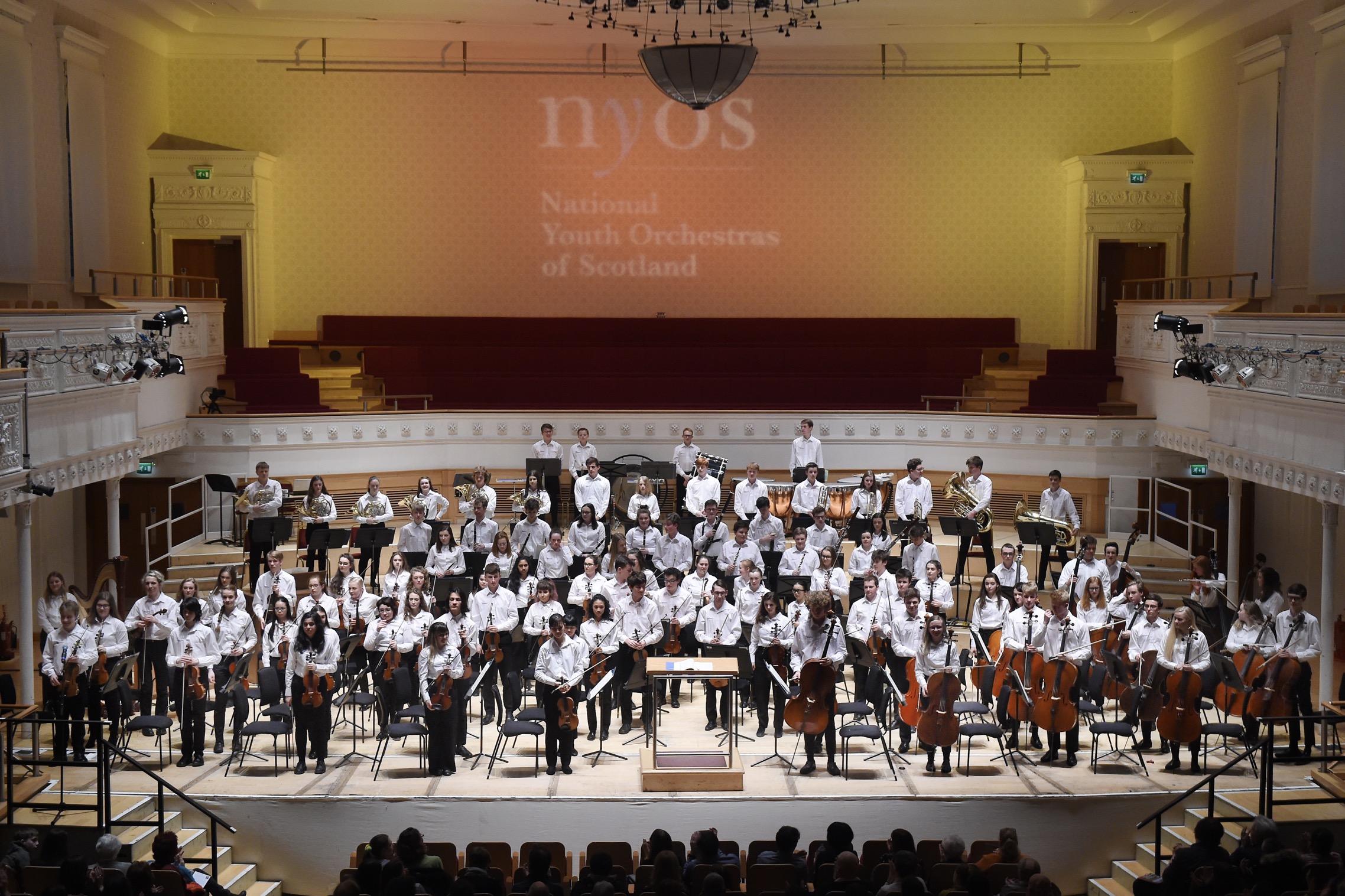 "The spring course was a massive success! There was a wonderful buzz around Catherine and all that she did to inspire and engage the young musicians. The students who spoke about the pieces did a brilliant, articulate job. It was one of the most interesting and uplifting features of the concert." Jean Johnson, Clarinet Tutor
There were several new members of NYOS Senior Orchestra this spring, which meant that the first few rehearsals and sectionals were quite quiet. But the tutors and conductor Catherine Larsen-Maguire did a great job of bringing them out of their shells, so by the third day of the course, there was a great energy in the room.
One of the great successes of the week was the student conducting session. Catherine invited students to conduct a movement from Elgar's 'Enigma' Variations, and then helped prepare eleven students for the session. Everyone got a chance to conduct through the piece and then rehearse it for a few minutes. It really helped get students enthused and involved, and there was an excitement in the room that hadn't been there before. Catherine plans to have a similar session in the summer.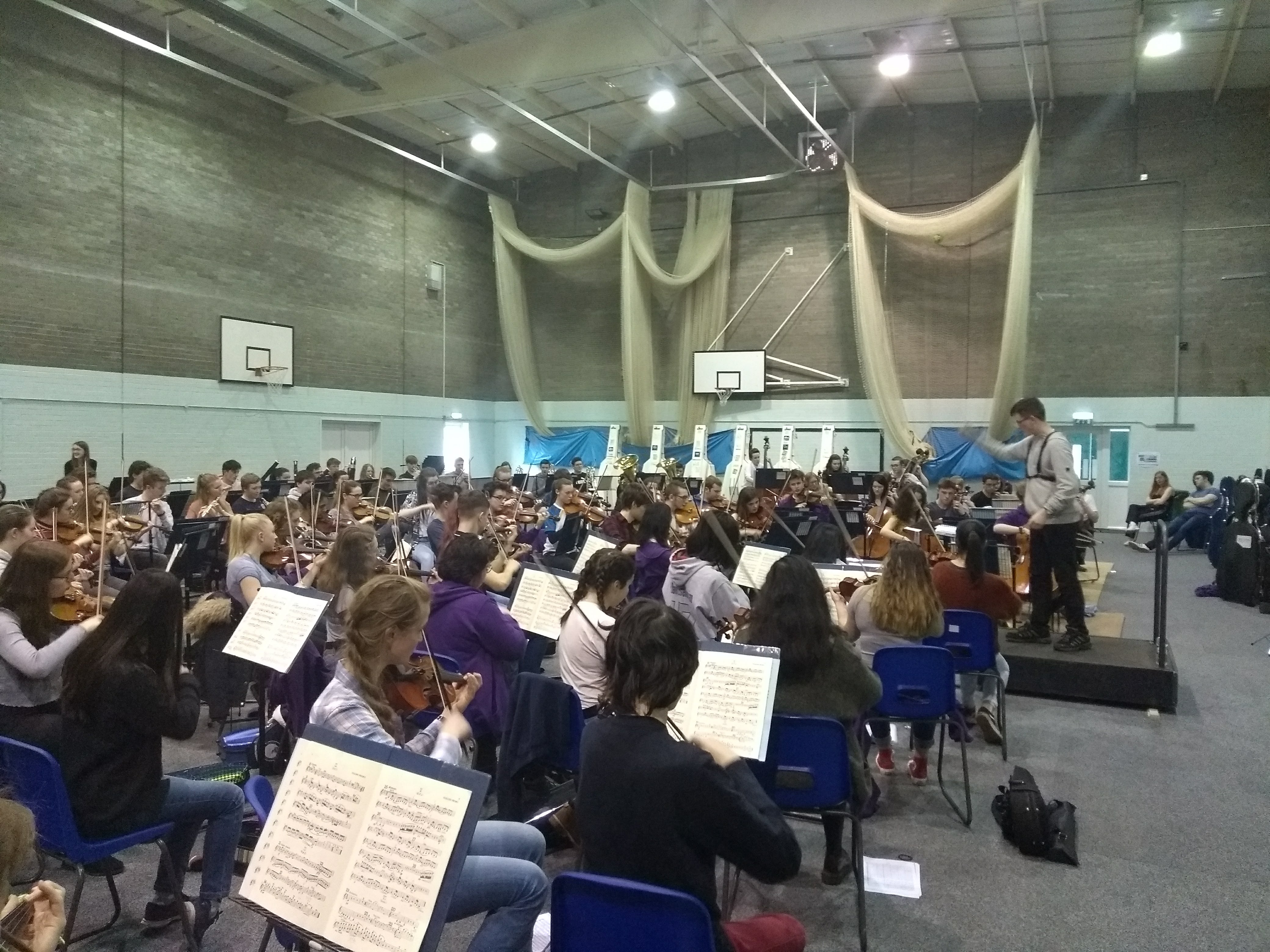 Our sectional tutors on the Senior spring course were excellent. We had several new tutors join us this year, but they took to the programme quickly and led some excellent sectionals. The quality of their instruction was reflected in the orchestra's final performance.
We were delighted so many students volunteered to speak before each piece during the concert. Straight away, six students came forward and were enthusiastic and ready to take part. The talks were eloquent, insightful and funny – one of the highlights of a fantastic concert performance.
Before the concert in Glasgow, the percussion section, led by tutor Kate Openshaw, put on a great pre-concert performance of Steve Reich's Music for Pieces of Wood and Paul Goldstaub's Six Slick Stix Click Licks. The fact that the students prepared two challenging pieces in a short period of time is testament to how well they worked together as a section.
The concert was a huge success, and the Senior Orchestra members played phenomenally well. The students hard work and preparation from the previous week was there for all to see, along with a willingness to be creative and expressive in the moment. Catherine led the group expertly and with great energy, and the orchestra responded in kind.
Wonderful concert this evening with @NYOScotland Senior Orchestra. Great performances and repertoire. Inspiring to hear the students talking about the music. pic.twitter.com/kFCn54kqRw

— Diana Morton (@dianajmorton) April 8, 2018
"They were so professional and marvellous in every way and seemed like such a united and joyful group under Catherine's leadership. It was a real pleasure to hear them play such fine and moving interpretations. There was also a sense that a country/nation which has young people of this calibre is one with a very positive future. Thank you so much to you, your colleagues, tutors, conductor and all involved for all the hard work and support that goes into producing such a memorable event." Parent of a Senior Orchestra member
To view more images from the NYOS Senior Orchestra concert just click here
To book your tickets for the NYOS Senior Orchestra summer concert please visit the Ayr Gaiety box office or call 01292 288235
⚡️ @NYOScotland Senior Orchestra and conductor @CatherineLMag continued our spring season with its course at @StrathallanSch in Perthshire followed by a wonderful concert at @CHGlasgow, all lovingly curated here in this Twitter Moment, enjoy!⚡️ https://t.co/rbdplxegGI

— NYOS (@NYOScotland) April 10, 2018