NYOS Junior Orchestra Spring Course & Concert 2018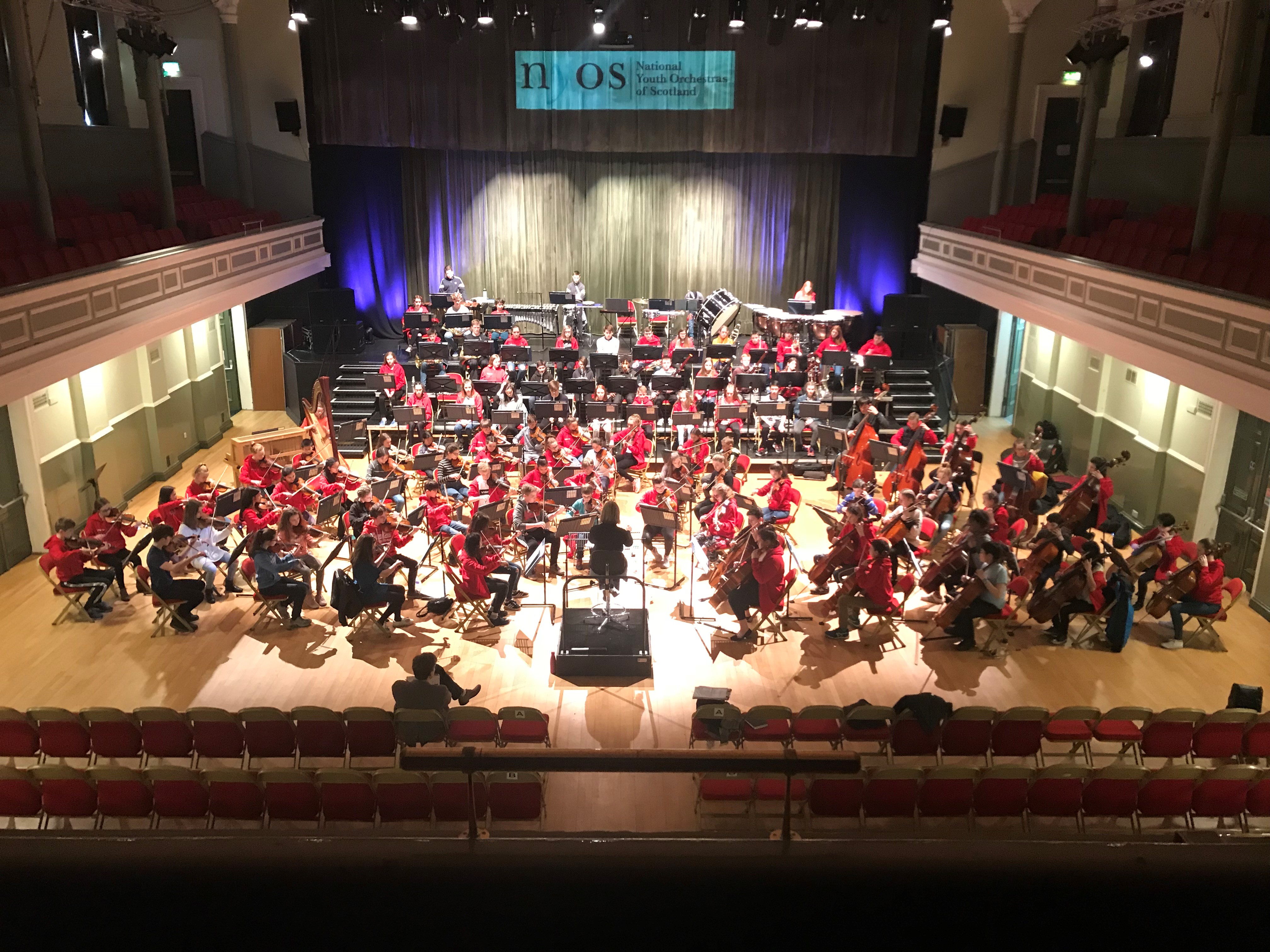 During the NYOS Junior Orchestra course we had birthdays, morning music activities, April Fool's Day pranks, a talent show and a whole lot of rehearsing, all culminating in a fantastic concert performance delivered by some exceptionally gifted young musicians.
Leaving a legacy at @NYOScotland... 😉 https://t.co/iQAV51M98n

— holly mathieson (@hollyjmathieson) April 1, 2018
A huge thank you must go to the fantastic team of tutors who guided our students through all the music preparation and to the pastoral staff who helped make the non-rehearsal time so much fun, and it was also great to see a lot of new faces in the orchestra this year.
One daughter dropped off at Strathallan School for her first @NYOScotland residential #PeaceForDadTaxi

— Denny Ford (@DennyFord5) March 30, 2018
"Just a wee note to thank you SO much for organising the NYOS Juniors course. Our daughter absolutely loved it. We got into the car at 7.30pm after the concert and she talked non-stop about her friends, the social staff, the music, the food, for four and a half hours until falling asleep at midnight, suddenly mid-sentence! She's still buzzing two days later and determined to apply for your jazz course too as soon as she's old enough.
Big thanks to the lovely Aileen too for being so supportive and to Holly and all of the fantastic tutors for such a great concert. Really looking forward to the next one." Parent of 2nd Violinist
Great to hear @NYOScotland Juniors tonight in Stirling. Great work from all concerned. #Janacek #Mendelssohn #JohnMaxwellGeddes pic.twitter.com/uotRW358OC

— Bach Ens. Edinburgh (@BachEnEdinburgh) April 3, 2018
The NYOS Junior Orchestra spring course culminated with a wonderful performance at The Albert Halls in Stirling, where eight young volunteers from different sections of the orchestra, gave short introductions providing some background to each piece and some insights into the course itself, including what they had learnt musically.
The orchestra played in front of a capacity crowd in Stirling performing beautiful renditions of Dances of Threave in memory of the composer John Maxwell Geddes, Part II of Janáček's The Cunning Little Vixen Suite, the inspirational The Blue Planet by American composer Peggy Stuart-Coolidge and Mendelssohn's Hebrides Overture (Fingal's Cave).
The grand finale was, the now traditional, NYOS Junior Orchestra encore and our youngest instrumentalist gave a blistering performance of Glazunov's Autumn, from The Seasons to send friends and family away with a 'spring' in their step.
The programme this year has been carefully designed to open up the world of nature in classical music to our youngest NYOS members. Conductor Holly Mathieson has played a huge part in this and we are all delighted to get the chance to work with her again this summer in her final year with this orchestra and will continue our nature theme by welcoming to the stage, NYOS alumni and soloist Ben Burnley to perform a Double Bass Concerto by Anthony Ritchie called Whalesong.
"Nature has provided inspiration to artists of every genre since our ancestors first articulated their lives creativity through images, movements and sound. We have a beautiful selection of pieces - some well-known; others less so - to provide our players with a range of challenges and musical styles, including a piece very dear to my heart: Whalesongfor solo Double Bass and orchestra by fellow New Zealander (and my ex-composition professor), Anthony Ritchie. New Zealand has a special relationship with whales, taking their protection and conservation very seriously. Anthony's piece articulates the reverence we feel towards them with tremendous tenderness and depth. I'm delighted to have NYOS alumnus Ben Burnley coming back for the summer course to play it with us." Conductor Holly Mathieson
To book your tickets for the NYOS Junior Orchestra summer concert please visit the Glasgow Life Box Office or call 0141 353 8000
⚡️ @NYOScotland Junior Orchestra & @hollyjmathieson kicked off our spring season in style with its course @StrathallanSch Perthshire followed by a sold out concert at the Albert Halls in @CultureStirling lovingly curated in this here Twitter Moment⚡️ https://t.co/gYn5YC843a pic.twitter.com/XCfiCOy6vC

— NYOS (@NYOScotland) April 6, 2018