NYOS Symphony Orchestra Spring Course & Concerts 2018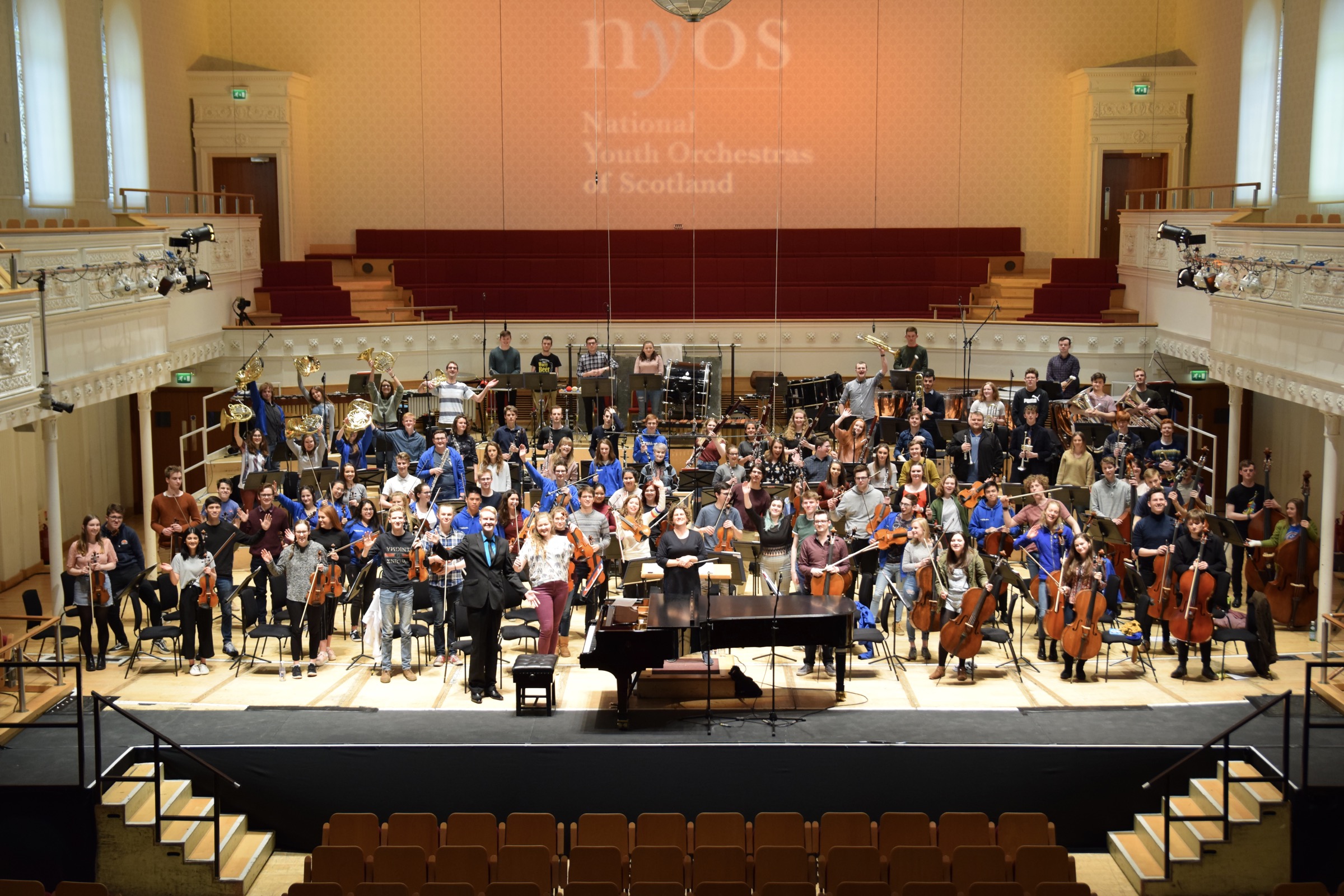 NYOS Symphony Orchestra continued to explore The Power of Nature in style with conductor Rebecca Miller and pianist James Willshire performing a World Premiere and giving a phenomenal performance of Stravinsky's riot worthy score The Rite of Spring.
Ahhh, they look innocent... but they play a SAVAGE Rite of Spring. @NYOScotland Symphony Orchestra sounding epic. Concerts tomorrow @HorsecrossPerth & Sunday @GCHalls with @james_willshire and a world premiere by @JayCapperauld #NYOS2018 pic.twitter.com/qPh5DDoc33

— Rebecca Miller (@rmconductor) April 12, 2018
This year the Symphony Orchestra spring course comprised ninety-nine students aged between 14 and 25 and three brand new tutors all of whom had been appointed to the Royal Scottish National Orchestra over the past few years, highlighting the calibre of tuition open to our young instrumentalists. Introducing Chris Hart – Principal Trumpet, Peter Dykes – Principal Oboe (and NYOS alumnus!) and Margarida Castro – Associate Principal Double Bass all with the RSNO.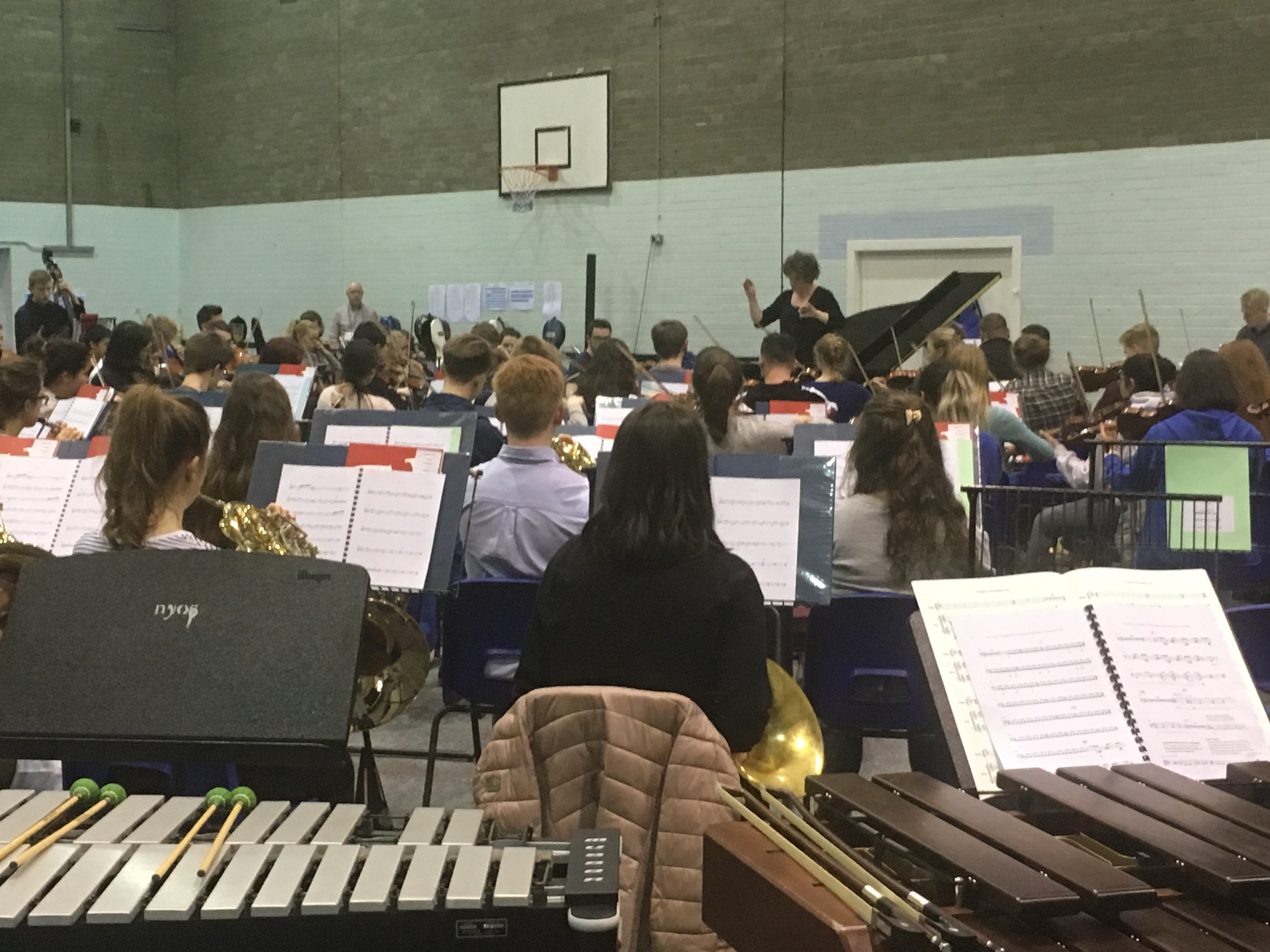 A huge thank you must go to all our tutors who guided the students through some extremely difficult repertoire and to the pastoral staff who helped make the non-rehearsal time fun and relaxing. One of the great successes of the week at Strathallan School in Perthshire was our brand-new health, wellbeing and leadership sessions led by Yorkshire Young Sinfonia founder David Taylor, Double Bassist Una McGlone and world-famous mezzo-soprano Karen Cargill. Students were treated to a breathing workshop, a workshop dealing with performance anxiety and a session on being an entrepreneur in the music industry.
Today we're heading north to #Scotland to see out friends at @NYOScotland... wonder if they decent tea 🤔... pic.twitter.com/KSn4sJ3cbG

— Yorkshire Young Sinfonia (@yysinfonia) April 14, 2018
Scottish composer Jay Capperauld was in residence with the Symphony Orchestra throughout the week to work on his new piano concert Endlings. Jay's new piece together with Judith Weir's enchanting piece Forest and Stravinsky's The Rite of Spring pushed the orchestra to near its limit, but it was a challenge they relished and delivered upon with two superb performances in Perth and Glasgow.
YUGE CONGRATULATIONS to @NYOScotland & @james_willshire for incredible performances tonight! Superb commitment, skill, & communication on stage. And big thanks to the fab staff, esp the extraordinary Ronnie, who surprised me w/ my first ever dressing-room-G&T! @JayCapperauld

— Rebecca Miller (@rmconductor) April 13, 2018
The Symphony Orchestra sounded incredible in both Perth Concert Hall and Glasgow's City Halls thanks in part to the amazing direction by the formidable American maestro Rebecca Miller. The new piano concerto by Jay Capperauld performed by the magnificent pianist James Willshire was spellbinding, full of amazing sights and sounds. Judith Weir's Forest was enchanting and grew organically from the violas across the rest of the orchestra, and finally, Stravinsky's The Rite of Spring was simply off the scale, utterly bombastic and a joy to behold.
Stunning @NYOScotland concert this afternoon - a bold, captivating, aurally-fascinating programme of Weir, Stravinsky and @JayCapperauld. Bravi @ZeKoolOne, @rmconductor and team - an inspiring afternoon! pic.twitter.com/9kNxy205UU

— Michael Bawtree 🇪🇺 (@MichaelJBawtree) April 15, 2018
"Jay Capperauld's Endlings is a hugely ambitious piano concerto and a major work. Using recordings of the natural world, it is an eloquent appeal for endangered species that requires virtuoso technique of members of the orchestra as much as from the soloist, with pizzicato slides from the strings, precision bowed and struck percussion and eloquent exchanges between leader Amy Birse and the pianist." Keith Bruce, The Herald Scotland
Excellent piece. Really evocative and performed with great poise and confidence by all involved. A privilege to be there tonight! Well done!!

— Basso Continuo (@ContinuoBasso) April 13, 2018
"NYOS Symphony rose to the challenge of Stravinsky's Rite of Spring with skills beyond their years. From those opening bars on bassoon, the wind and brass players took their turns in the spotlight with the composure of professionals, while the ensemble work in the string sections was exemplary." Keith Bruce, The Herald Scotland
⭐️⭐️⭐️⭐️⭐️ A very well deserved 5* review @heraldscotland for @NYOScotland Symphony Orchestra, @rmconductor & the ace pianist @james_willshire I'm so proud to have been part of this incredible experience & to work with such ace young musicians 👏 https://t.co/4QKnW4Giyj

— Jay Capperauld (@JayCapperauld) April 17, 2018
Listen again this Sunday, 23 April from 9pm to BBC Radio Scotland's Classics Unwrapped to hear the first half of the concert including Judith Weir's Forest and the first ever broadcast of Jay Capperauld's new piano concerto Endlings. Tune in the following week from the same time to hear NYOS Symphony Orchestra perform Stavinsky's The Rite of Spring in all its riotous glory. Not to be missed!
https://www.bbc.co.uk/programmes/b0b0b89m
To view more images from rehearsals visit our Facebook Gallery
To book your tickets for the NYOS Symphony Orchestra summer tour please visit our event page here
⚡️ @NYOScotland Symphony Orch continued to explore the Power of Nature in style with conductor @rmconductor & pianist @james_willshire giving the World Premiere of @JayCapperauld's Endlings and a bombastic rendition of Stravinsky's Rite of Spring ⚡️ https://t.co/TeA8jpD5bH

— NYOS (@NYOScotland) April 16, 2018