C Duncan creates new work for NYOS and BBC SSO
28.08.2020
From Monday 27 July, members of NYOS's Junior, Senior and Symphony Orchestras took part in a week of online coaching to help them rehearse and remotely record a new work, Dance from a Distance, written specially for them by Mercury Prize nominated musician and composer C Duncan (Christopher Duncan), commissioned by the BBC Scottish Symphony Orchestra.
Tune in to BBC Radio 3's 'Afternoon Concert' today (Friday 25 September) to hear the WORLD PREMIERE! Programme starts at 2pm and Dance from a Distance will be premiered around 3.25pm. Listen Live here. The music video will be live on here shortly afterwards.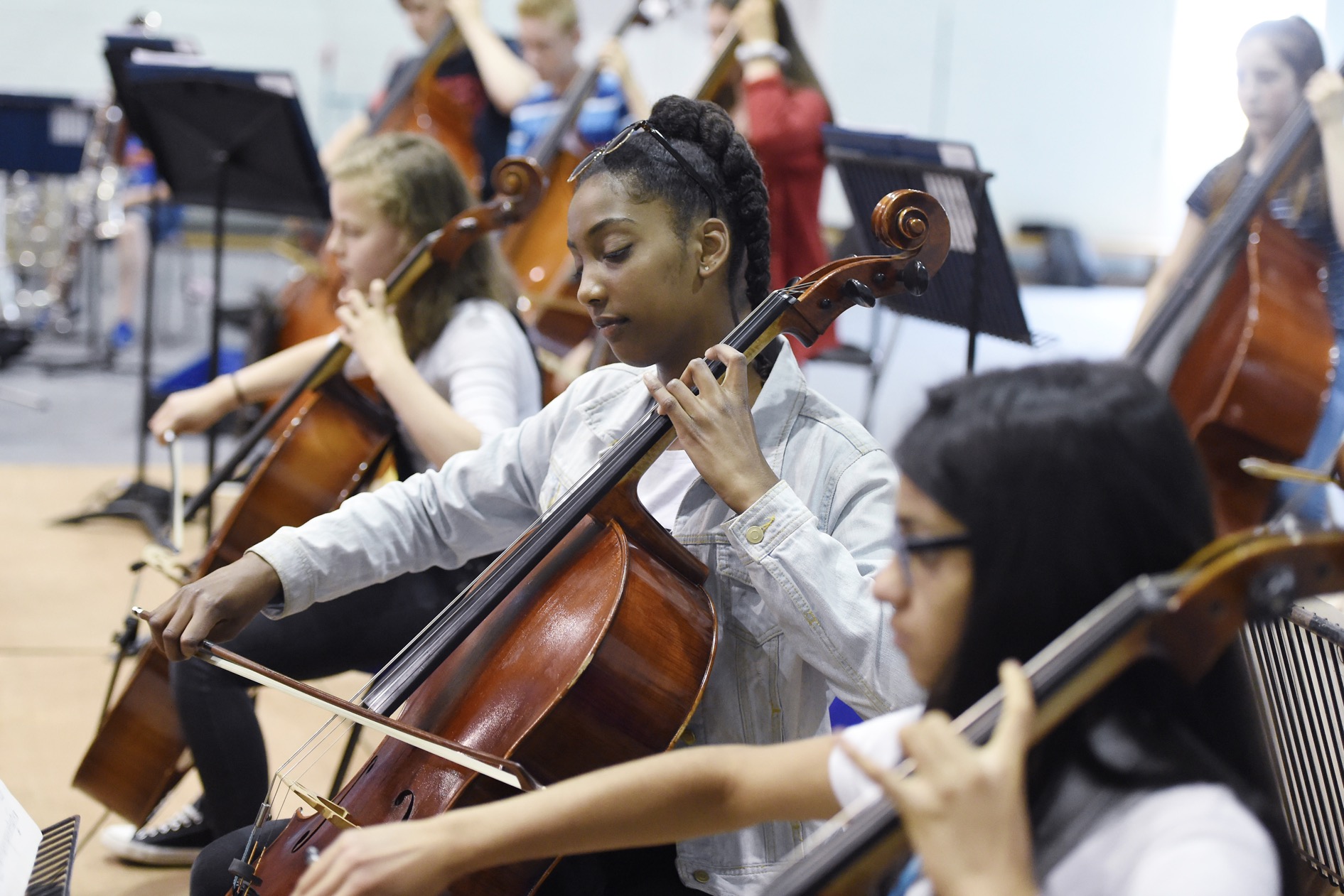 The work is a creative response to the restrictions still in place for musicians, and its parts are written to match the different ages (8 – 25) and skill-levels of NYOS's members. NYOS and BBC SSO players will remotely record their own parts before the final mix and film is created by Duncan and posted online next month. Read the full press release here
During the online workshops BBC SSO players have been sharing their expertise on topics like leadership and tips about having a career as a professional musician.
The collaboration takes place in lieu of this summer's NYOS courses and you can view rehearsal footage and read some of the ongoing feedback below from our students taking part:
This short clip and comment is from Rhea Fitzgerald, violin, NYOS Junior Orchestra.
"Dance from a Distance is a piece full of joy and inspiration. Whenever I hear or play the piece, I feel like dancing to it."
Emily Barron, Clarinet, NYOS Junior Orchestra
I have really enjoyed the past few days working with the NYOS staff as well as members of the BBC Scottish Symphony Orchestra. I had the opportunity to work with Joanna, a clarinettist with the BBC, I found this a great experience as she demonstrated good ways not to just warm up our instruments but our bodies as well. Joanna also went over some of our orchestral excerpts for NYOS auditions and talked about different ways to practice them for a successful audition. At the end of the session we were able to ask Joanna questions. I was curious to find out what her favourite concert venue is, which is the Royal Albert Hall, a venue I dream of playing in one day.
These online sessions with NYOS, in conjunction with the BBC SSO have been amazing and beneficial, but I cannot wait to be playing in a live orchestra soon, and I am looking forward to participating with NYOS in years to come.
Briona Mannion, Leader, NYOS Symphony Orchestra
A huge thank you to all of the BBC SSO players who have taken the time to talk to NYOS members online over the past week!
Hearing directly from professionals about professional life is something that's always extremely valuable to students and I'm sure we will remember and carry their advice with us in years to come.
Thank you also to C Duncan for giving us some insight into his new work "Dance from a Distance" - I hope our recording of it will lift a few spirits until we are able to return to concert halls!
NYOS has worked tirelessly this summer to provide the very best musical opportunities to this year's cohort, from opportunities to collaborate with professional orchestras, to receive the benefit of our tutors' expertise in tailored online sessions, and to remain engaged with their peers in these challenging circumstances. This has only been possible thanks to the generosity and longstanding support of our funders, Friends, and Chair Sponsors. We would be exceptionally grateful if you would consider making a donation to NYOS to ensure we are able to continue to nurture Scotland's next generation of musicians.