NYOS 2022: Spring & Summer Season Highlights!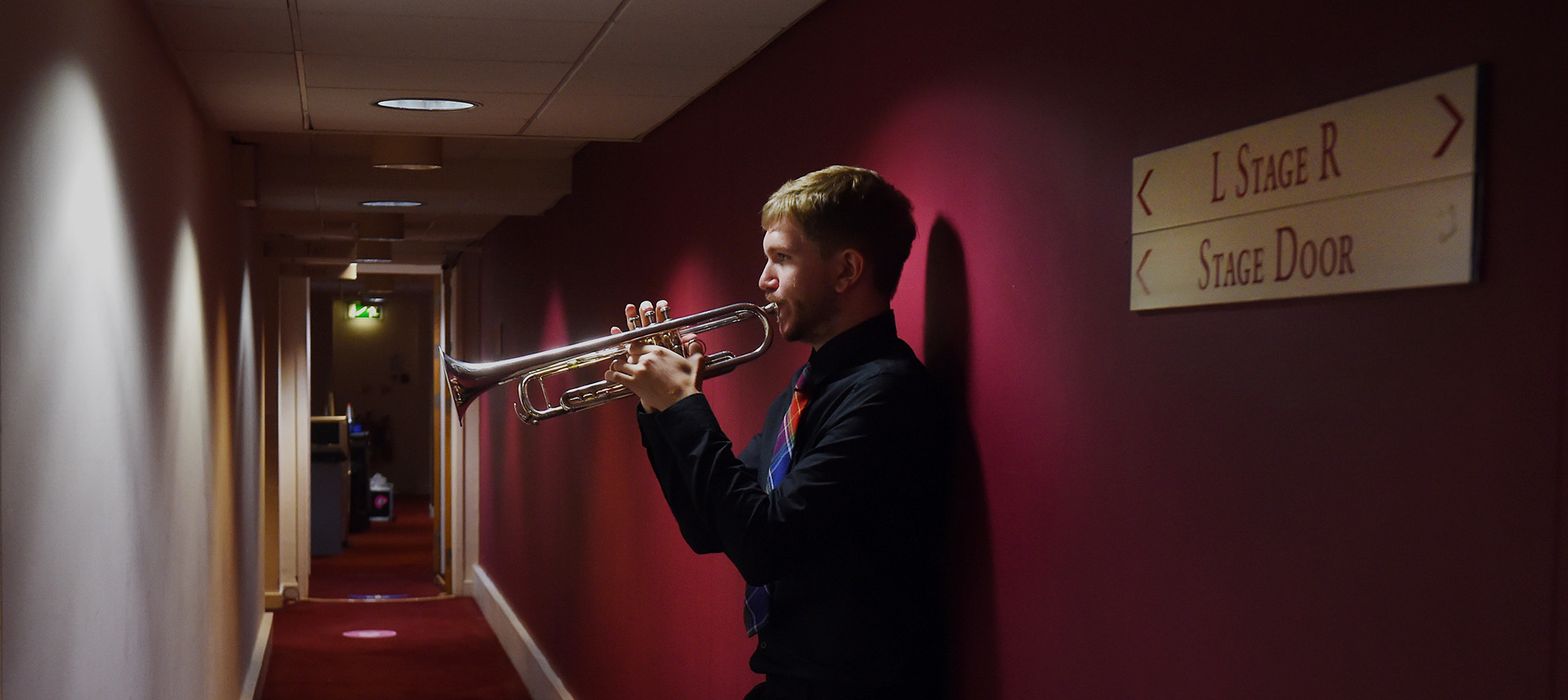 We are back!
Applications for the 2022 NYOS Classical and Jazz Pathways are now closed and will open again in August 2022. For late applications please email ensembles@nyos.co.uk.
We have been delighted by the response from our young players in the face of unprecedented challenges, and we are thrilled that in-person courses and live performances will return in 2022.
Our courses offer Scotland's most promising young musicians opportunities to learn from world-class tutors, develop specialist jazz skills from an international network of renowned jazz musicians, and play under the baton of some of the most eminent conductors in the industry. Check out our spring and summer season highlights below.
For late applications please email ensembles@nyos.co.uk
2022 SPRING & SUMMER SEASON HIGHLIGHTS
In spring 2022 NYOS Symphony Orchestra welcome award-winning British conductor Karem Hassan to the podium alongside the outrageously talented saxophonist Jess Gillam.
In spring the Orchestra will be performing a blistering orchestral suite drawn from Shostakovich's most controversial, and long-censored, opera Lady Macbeth of the Mtsensk District. In a classic case of Soviet doublethink, the work was initially lauded by critics and government officials alike, yet just two years later it was denounced as 'bourgeois, coarse, and vulgar' in an article rumoured to have been written by Stalin himself.
In summer, NYOS Symphony Orchestra perform Daphnis et Chloe Suites no. 1 & 2. Perhaps the pinnacle of Ravel's harmonic and orchestral innovations, these suites are drawn from his 1912 ballet Daphnis et Chloe. In his words 'a vast musical fresco', and a relentlessly inventive workout for the entire orchestra, from the fluttering woodwind and harps marking the breaking of the day, to the riotous closing bacchanale.
CLICK HERE FOR CLASSICAL COURSE INFORMATION
We are thrilled to confirm that NYOS Jazz will return to the Sabhal Mòr Ostaig campus and its breath-taking surroundings on the Isle of Skye. Our Summer School, Access and Jazz Orchestra courses will be led by Director of Jazz at NYOS, Andrew Bain, alongside a handpicked tutoring team of renowned jazz musicians and educators from the UK and beyond.
Following the summer courses on Skye, the Jazz Orchestra will tour venues across Scotland including Inverness, Aberdeen and the Central Belt. The Orchestra also marks its 30th anniversary in 2022 during the autumn course.
CLICK HERE FOR JAZZ COURSE INFORMATION
We are delighted to announce Alice Farnham as conductor of NYOS Senior Orchestra in spring 2022 alongside the supremely talented trumpet soloist, Aaron Akugbo. In spring the Orchestra explore the dark waters of Rachmaninov's Isle of the Dead, and in summer our teenage Orchestra welcome Jamie Phillips to the podium alongside accordion soloist, Ryan Corbett performing Václav Trojan's enchanting, Fairy-Tales for Accordion & Orchestra.
In 2022 both NYOS Senior and Junior Orchestras also explore the works of Florence Price. Part of a greater movement within the classical music sector to re-evaluate long-neglected figures and ensure that a full diversity of voices is heard on the concert stage. NYOS Senior Orchestra perform Concert Overture No.2 one of her later works that uses three African American spirituals as its basis.
CLICK HERE FOR CLASSICAL COURSE INFORMATION
In 2022 NYOS Junior Orchestra returns with a bang! We are thrilled to welcome back inspirational conductor Natalia Luis-Bassa to work with the Junior Orchestra in spring and summer. Natalia and the Orchestra will also be joined in the summer by former Leader of NYOS Symphony Orchestra and rising star, Iona MacDonald as soloist.
Our youngest charges will perform repertoire from the Slavic dances that honour the noble heroes of Russia's past in Borodin's Symphony No.2, to the Finnish folk music that inspired Sibelius' Karelia Suite. We also pause for thought during Florence Price's tone poem – The Oak, a dark, unsettled work at turns melancholic and agitated, a chance to reflect.
CLICK HERE FOR CLASSICAL COURSE INFORMATION
CLASSICAL APPLICANTS KEY INFORMATION
Applications open: Friday 20 August
Application closing date: Tuesday 28 September
Audition video deadline: Monday 25 October
JAZZ APPLICANTS KEY INFORMATION
Applications open: Friday 20 August
Application closing date: Tuesday 28 September
Audition video deadline: Monday 18 October
Second Round Auditions: 20 & 21 November
If anything is currently preventing you from applying to or auditioning for NYOS please do let us know. Whether it is lack of access to a musical instrument, a suitable device, or poor internet connection, we can help. We understand the obstacles young musicians may face and will endeavour to accommodate all applicants needs as best we can. If you have any questions or require further support with your classical OR jazz application, please contact the NYOS Ensembles Team via email at ensembles@nyos.co.uk.
NO STUDENT WHO SUCCESSFULLY AUDITIONS FOR ANY NYOS ENSEMBLE WILL MISS OUT DUE TO FINANCIAL CIRCUMSTANCES
The bursary application form will be made available to all successful applicants. Each case will be assessed individually and in the strictest confidence. Evidence of household income may be requested. Please contact bursaries@nyos.co.uk if you have any questions.
Click to view and download the Directory of Trusts and Foundations
Click to view and download the Local Authority Contact List