Our 40th Anniversary concludes with the Symphony Summer Tour 2019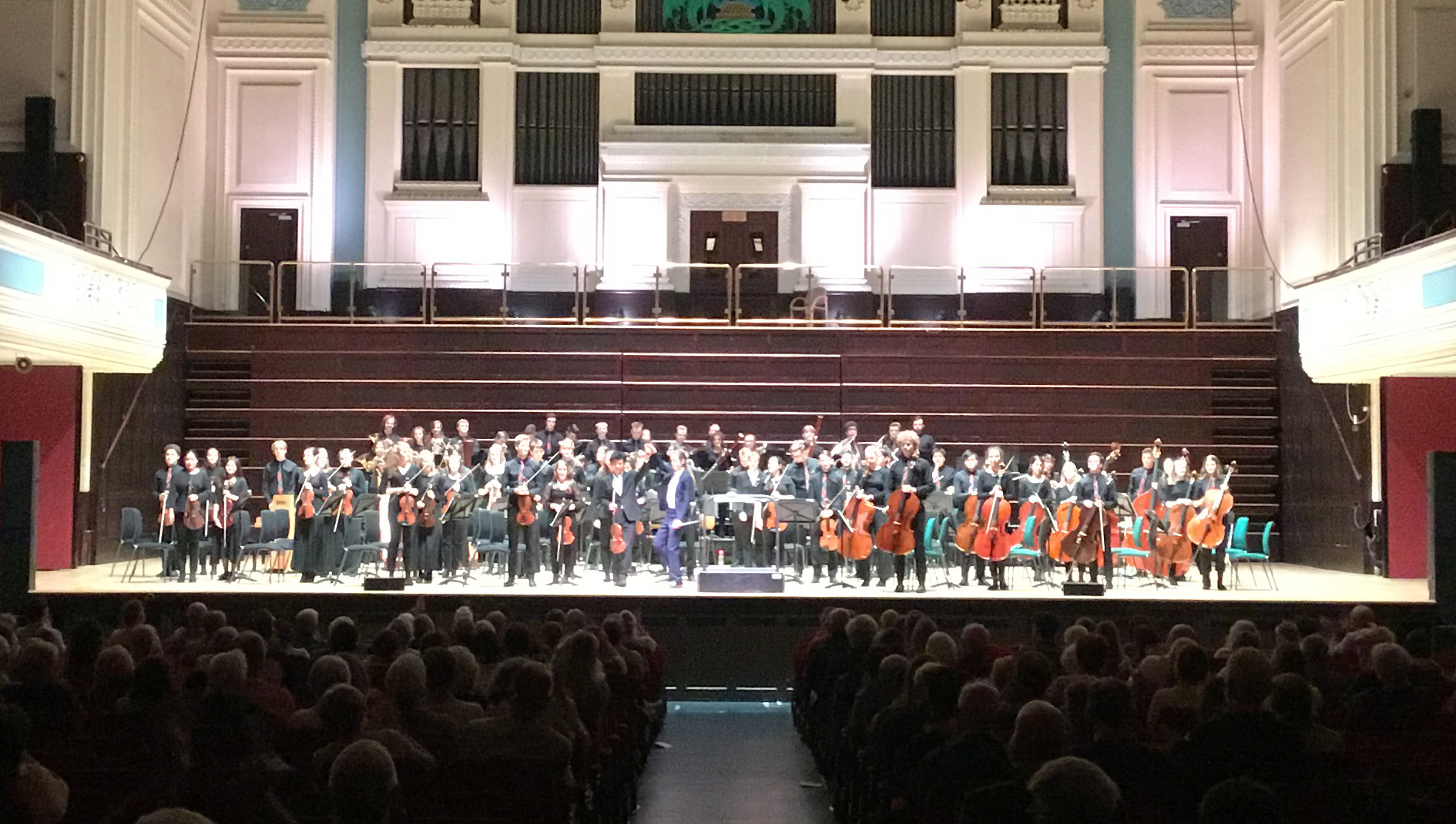 As the dust settles on our 40thAnniversary celebrations we can reflect on what was a very exciting Symphony Orchestra Summer Tour of Scotland, visiting Kirkwall, Dundee and Stirling. Special thanks to Northlink Ferries for supporting and transporting all 100 of our talented young musicians from Aberdeen to Kirkwall. We enjoyed great hospitality on board and tried to repay this with a wee, impromptu performance on deck for our fellow passengers.
@NYOScotland Symphony Orchestra Brass Section surprising fellow @NLFerries passengers with a wee impromptu performance en route to Kirkwall. You can hear the full Orchestra tonight from 7pm at the @pickyorkney. 🎶🖐️🖐️touching 🖐️🖐️reaching out... 💎 🚢 #NYOS40 #SummerTour pic.twitter.com/QpIT2gIiJm

— NYOS (@NYOScotland) August 7, 2019
Being treated to some tunes on board the MV Hrossey from @NYOScotland who are travelling to #Orkney as part of their Symphony Orchestra Tour! Performing at 1900 Wed 7th Aug @pickyorkney #NYOS40 #SummerTour #ProudSponsors pic.twitter.com/52lFc9N9sW

— NorthLink Ferries (@NLFerries) August 6, 2019
We were joined at our summer school and on tour by the Australian born, award-winning conductor Jessica Cottis and all the members of the Orchestra immediately warmed to her precise yet laid back style. We were also joined on tour by the supremely talented First Concertmaster of the Berlin Philharmonic, Daishin Kashimoto, so we knew this was going to be a tour to remember.
The concerts opened in arresting style with Bacewicz's Overture for Orchestra, a vividly orchestrated piece underpinned by scurrying string motifs and bold brass calls, punctuated with sonorous, and occasionally shrieking, woodwind. We were delighted to help shine a light on this relatively neglected work, which will hopefully grow in prominence due to its inclusion in BBC Radio 3 '10 Pieces' this year.
The drama increased with Daishin Kashimoto's intense and introspective reading of Shostakovich's Violin Concerto No.1, a work at times tumultuous, poignant and bittersweet. The orchestra rose to the considerable rhythmic challenges posed in the dialogue between players and soloist, crescendoing to an electrifying climax.
The final piece in the programme was Bartok's aptly named Concerto for Orchestra, one of the defining orchestral tour de force of twentieth century, from duetting flutes to fugal brass and racing strings, it is a virtuosic workout rarely matched in the repertoire. The orchestra captured the folk-like energy of the music, playing with momentum and passion to the closing bars of an exceptionally challenging programme.
Review: The Caird Hall Dundee, 8 August 2019
"It is no exaggeration to mention these excellent youngsters in the same breath as an adult professional outfit. They're every bit as good, and there will be more than one seasoned pro looking over their shoulders as the next rank of Scottish instrumental superstars come marching on." Garry Fraser, Dundee Courier Continue Reading
@NYOScotland and @scotgov are delighted to welcome @carnegiehall's National Youth Orchestra delegation from 🇺🇸 to 🏴󠁧󠁢󠁳󠁣󠁴󠁿 Always a privilege to host international music ambassadors to @CairdHallDundee to perform, showcase talent and collaborate 🎻🎺🥁🎼 #NYOUSA #ScotlandIsNow pic.twitter.com/Eq4ZRH1wbm

— ScotGovAmericas (@ScotGovAmericas) August 8, 2019
Our last concert and our final performance with exceptional soloist Daishin Kashimoto. Your rendition of Shostikovich's first violin concert will live long in the memory. I think everyone enjoyed that, including the orchestra. Bravo 👏🏼🎻 #NYOS40 pic.twitter.com/RYtSvmW2uV

— NYOS (@NYOScotland) August 9, 2019
That's all folks! NYOS Symphony Orchestra conclude our 40th Anniversary celebrations with another rousing rendition of Bartok's Concerto for Orchestra. Huge thanks to maestro @JessicaCottis, soloist Daishin Kashimoto & all our talented musicians. Here's to 40 more! 🥂 #NYOS40 pic.twitter.com/kmJLaINBab

— NYOS (@NYOScotland) August 9, 2019
Review: NYOS Symphony Orchestra, The Albert Halls, Stirling: Four Stars
"Here's an irony. While instrumental education in Scotland is at crisis point, why is it we can field a full-scale national youth orchestra as good as this? No room to answer that here; simply to report that Friday's rip-roaring concert in Stirling – the final leg of the NYOS Symphony Orchestra's three-concert summer tour – proved that somehow, somewhere we are producing musicians ripe and ready to pursue professional careers in music should they choose to do so."
Ken Walton, The Scotsman, August 2019 Continue Reading
NYOS Classical Applications for 2020 open on Monday 19 August. You will be able to apply online from that date by following this link: NYOS Classical Applications 2020