Senior Summer Course & Concert 2019
We were treated to some fantastic hot weather during the Senior Orchestra summer course. Some of our sections, including bassoons, were even able to free themselves from the gloomy classroom to practise outside in the sunshine. This may well have been the moment when the same section acquired a mysterious new member.
What are the bassoon section of @NYOScotland Seniors trying to tell me ? pic.twitter.com/3sK9IUq7GM

— Fraser. (@frasercontra) July 16, 2019
The Senior residential course is always lots of fun and very welcoming. You could say its a gnome from home 🙄 https://t.co/gk5pguw8SK

— NYOS (@NYOScotland) July 17, 2019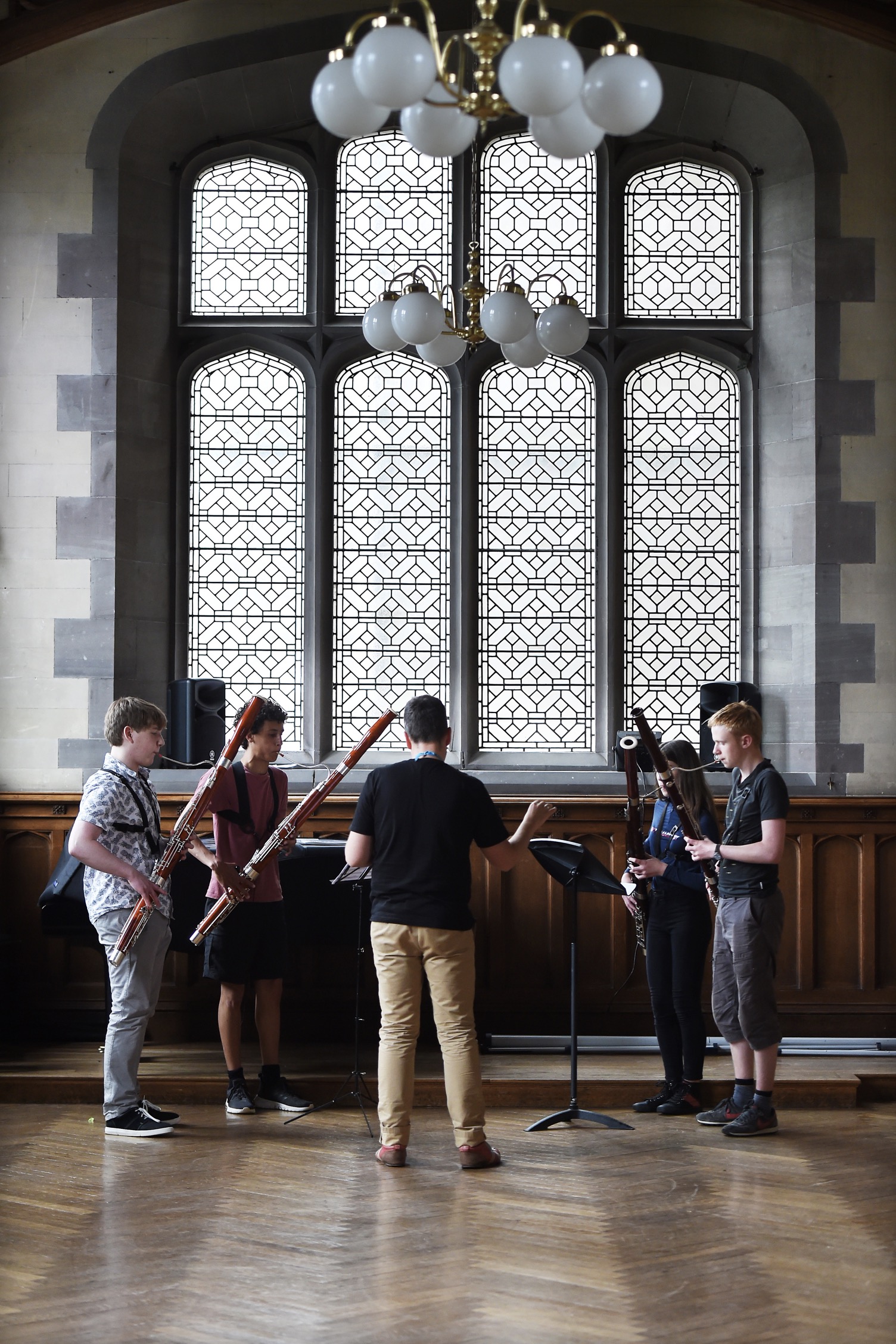 We also had a fantastically high calibre of tutors on the course, including musicians from the BBC Scottish Symphony Orchestra, Royal Philharmonic Orchestra, Scottish Ballet, Scottish Opera and the Royal Scottish National Orchestra. Being able to work closely with these exceptional tutors each day is of enormous benefit to our young students. Firstly in sectionals and then in larger ensembles. They build and develop their sound towards full rehearsal and finally the concert performance with renowned conductors and world-famous soloists. This year the fruits of all that labour were there for all to hear.
The summer concert at Perth Concert Hall opened with Andrzej Panufnik's Concerto Festivo written as a colourful, celebratory work for the 75thanniversary of the London Symphony Orchestra. Even with such exalted comparison NYOS Senior Orchestra performed superbly under the purposeful direction of conductor Dionysis Grammenos.
The Senior Orchestra were then joined on stage by soloist Alexey Stadler in Schumann's often neglected Cello Concerto. Alexey's exquisite playing was ably accompanied by the responsive Orchestra keen to show off all they had learned.
In the second half the Senior Orchestra threw themselves into the drama of Kabalevsky's Symphony No.2 with some exceptional performances, showing a real maturity in their playing with a variety of colours and moods.
The concert ended with, as conductor Dionysis Grammenos announced "something nice to go home with" as the Senior Orchestra produced a brilliantly coloured and incisive Glinka (Overture to Ruslan and Ludmilla). It was a joy to watch the young players enjoy themselves so much.
Great concert by @NYOScotland Seniors last night in @HorsecrossPerth - great to see so many GYO players in the Orchestra! #nyos #perth #concert pic.twitter.com/q6LMhSGAFY

— GYO (@GrampianYO) July 21, 2019
Review: NYOS Senior Orchestra, Perth Concert Hall
"It was genuinely astonishing that these under eighteens could generate so much excitement in their performance… we could certainly feel it in the audience as the orchestra pulled off a spirited encore." David Smythe, Bachtrack, July 2019 Continue reading