NYOS Junior Orchestra Summer Course & Concert 2018
NYOS Junior Orchestra had a very special visitor on the summer course this year and followed that up with an inspired concert performance with soloist Ben Burnley in front of a capacity crowd in Glasgow.
The only sad note of the evening was this being conductor Holly Mathieson's final time leading our youngest instrumentalists in concert.
Picture the scene, 100 eight to sixteen year olds sit nervously in a large gym hall in rural Perthshire awaiting the arrival of Orchestra Patron and classical music mega star, Nicola Benedetti. 'Nicky', as she is now affectionately known to all 100 starstruck youngsters worked with the string section and then the full orchestra on the final day of the course giving them some top training and performance tips.
What a musical treat!

NYOS Junior Orchestra Patron @NickyBenedetti 🎻 came to work with our 8-15 year olds today and gave them some top tips for their concert tomorrow #NYOS2018 #YOYP2018 pic.twitter.com/3LaMc893lM

— NYOS (@NYOScotland) July 19, 2018
To view more photographs from Nicola Benedetti's visit to NYOS Junior's summer course just follow this link to our Facebook gallery
NYOS alumni and former Symphony Orchestra Principal Double Bassist Ben Burnley performed as soloist with the orchestra in Glasgow, and also took the double bass section for a special masterclass on the new and strange techniques he was using in Anthony Ritchie's 'Whalesong'.
'Little and Large': below is a photograph of soloist Ben Bunley alongside our smallest Junior Orchestra member Eilidh Hong.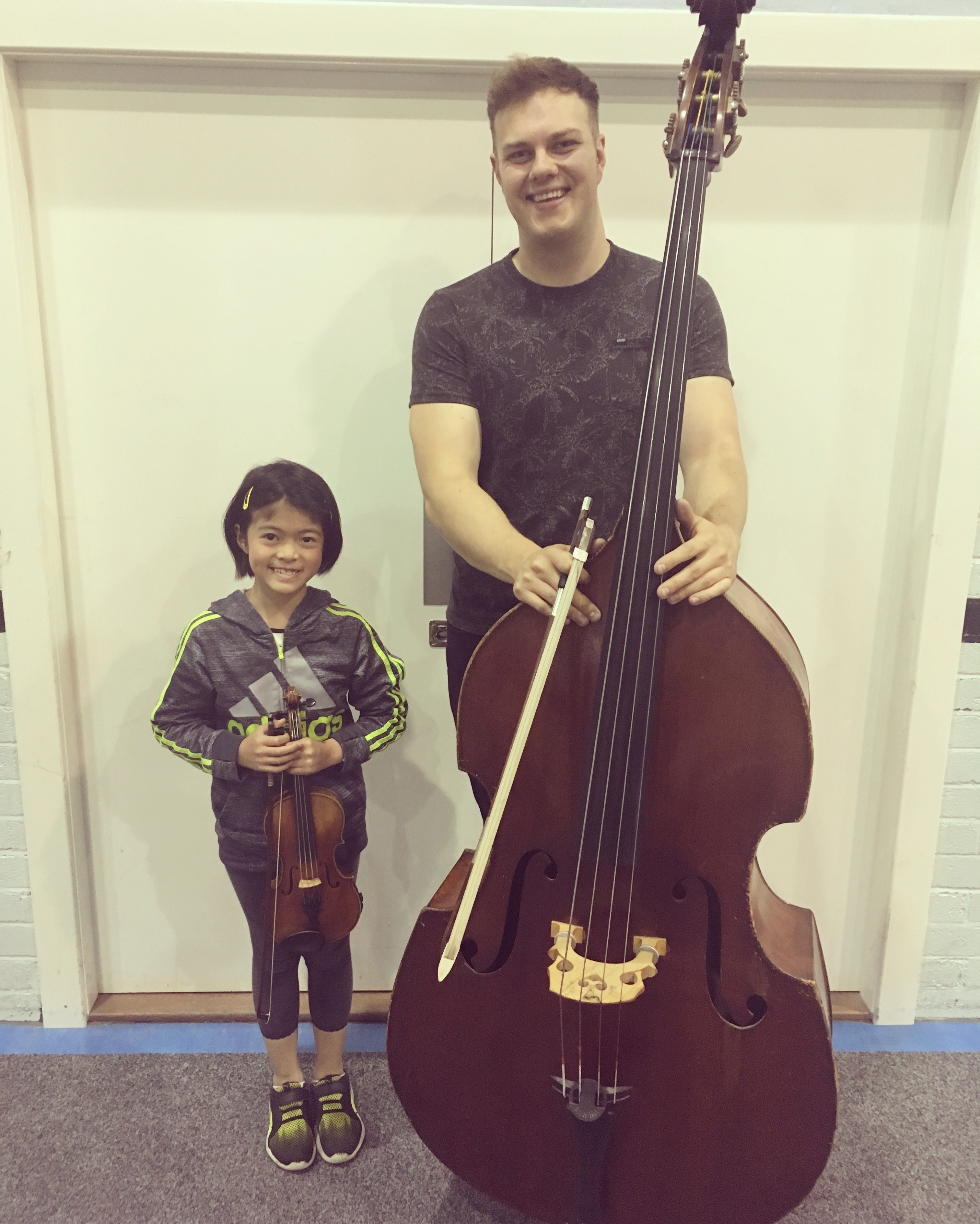 On the course, everyone enjoyed the glorious sunshine with football, rounders and lots of team games. A special prize was awarded to the student who could do the best impression of New Zealand conductor, Holly Mathieson.
Of the many weird and wonderful ways the @NYOScotland Junior Orch have decorated my podium over the last 4 years, this week's is the most tasteful, for sure! Thanks, you wee champions. I love working with you, and will miss you! pic.twitter.com/VoRtpMKX6w

— holly mathieson (@hollyjmathieson) July 18, 2018
The New Auditorium at Glasgow Royal Concert Hall was packed, with extra seats required to accommodate latecomers. The capacity audience of mainly friends, family and supporters only added to the already warm and welcoming atmosphere as conductor Holy Mathieson led our youngest musicians for the final time.
FOUR STARS from The Herald Scotland
"WHETHER or not any of them pursue a career in music, the young talents of the National Youth Orchestra of Scotland's Junior Orchestra have had a fine role model for what that can be in their conductor Holly Mathieson, whose last hurrah Friday's concert was."
"Flute and clarinet had also been on top form in the Grieg opener of 'Morning' from Peer Gynt, and those may well have been different players as lead duties were shared around." Keith Bruce, The Herald Scotland, July 2018
"It was followed by the UK premiere of Anthony Ritchie's single-movement double bass concerto, Whalesong, with NYOS alumnus Ben Burley as soloist. Mathieson's fellow New Zealander (and composition teacher) drew on field recordings for what is a highly evocative piece, superbly played by the youngsters." Keith Bruce, The Herald Scotland, July 2018
To read this review in full click here
Ok so my daughter just performed with the amazing Junior @NYOScotland at a packed Royal Concert Hall and did her first solo piece with them. So bloody proud x
Well done to all the staff who made this memorable evening possible #NYOS2018 pic.twitter.com/ijZuLVUtFj

— Denny Ford (@DennyFord5) July 20, 2018
We would like to take this opportunity to give special thanks to conductor Holly Mathieson. She has worked with and inspired our youngest musicians to play beyond themselves for the past four years, with amazing results and well-deserved, rave reviews. We are so sad to bid Holly farewell, but also excited to watch her career develop and flourish.