NYOS Junior Orchestra Spring Course & Concert 2019
Our 40thAnniversary year began with our youngest charges making their way to Strathallan School in rural Perthshire for the NYOS Junior Orchestra spring residential course. Eighty-three students, many of whom were away from home and playing in an orchestra for the very first time.
We feel it is important to foster an ethos of hard work on every course, but also one of fun and good wellbeing. Each morning the Junior spring course began with fun recreational activities. A chance to play with new friends and the perfect way to set up for a day of rehearsals.
Recreational activities were interrupted one morning by a rather random occurrence, as a huge hot air balloon came in to view and preceded to land directly outside the dining hall, much to the delight of the students.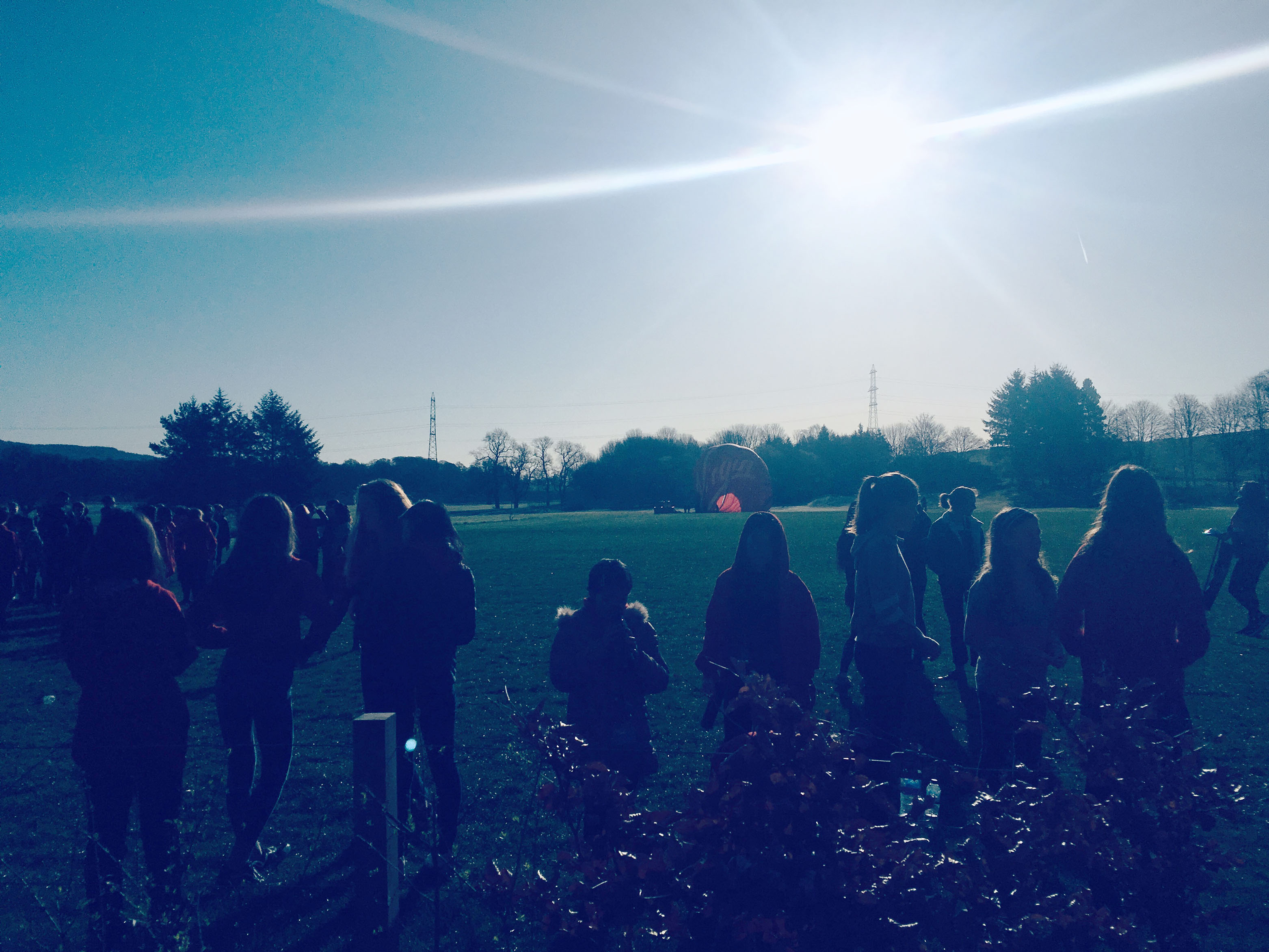 As has become an annual tradition at the Junior Orchestra spring course, a special 'April Fools' Day' video was recorded, with conductor Jon Hargreaves introducing a very 'rare' version of Brahms Hungarian Dance No.5 performed by the course tutors on the instruments of the 'original instrumentation', just as Brahms intended!
Half an hour away I conduct @NYOScotland junior orchestra at #RSNO centre after an amazing few days of rehearsal. The focus and energy of these musicians is truly astonishing (and you should hear the sound!). 😊

— Jon Hargreaves (@JonHargreaves5) April 2, 2019
Rather fittingly, the very first concert of NYOS' 40th year opened with a wonderful rendition of Malcolm Arnold's Anniversary Overture at Glasgow Royal Concert Hall's new state-of-the-art auditorium. Our youngest musicians aged between 8 and 15 years old had come together in just five days to deliver the opening piece with poise and panache.
Following the overture, new conductor, Jon Hargreaves spoke to the audience, keen to emphasise the hard work and dedication of all the instrumental tutors on the Junior Orchestra spring course, with whom he said, he owed a great debt of gratitude for bringing many constituent parts to his rehearsals as a fully formed unit.
Bravo @NYOScotland Juniors and HUGE kudos to the pastoral staff and instrumental tutors who helped enable this evening's concert. #teamwork #grateful #celebration https://t.co/nbV5vIaPVB

— Jon Hargreaves (@JonHargreaves5) April 2, 2019
After the conductor's introduction, the students had the chance to speak to the audience as volunteers stepped up to the microphone to deliver very witty and informative introductions to each piece. A lesson in musical history and comic timing as much as anything else.
The concert ended on a wonderful high. Saving the best to last with the now traditional Junior Orchestra encore that left an already enthusiastic audience almost dancing out into the aisles with a superb performance of Brahms' Hungarian Dance No.5. Bravo one and all!
Fabulous concert tonight from @NYOScotland Junior Orchestra featuring @gstounjunior Katie P on the French Horn pic.twitter.com/KPQUYLSvvq

— Lisa Kerr (@TheLisaKerr) April 2, 2019