Junior Orchestra Summer Course & Concert 2019
After completing the small detail of a final school term, NYOS Junior Orchestra were back! Together again and ready to kick off the second half of our 40thAnniversary year. This time with a brand-new conductor at the helm. Maestro Natalia Luis-Bassa, a product of the world famous El Sistema in Venezuela. Natalia joined our youngest members for their summer course and concert and with her she brought vitality, imagination and lots and lots of fun. She was a breath of fresh air.
@ZeKoolOne @NYOScotland #perth #40years thank you for inviting me! I had a great time! pic.twitter.com/vp9lUHf6zD

— Natalia Luis-Bassa (@NataliaLuisB) July 7, 2019
Natalia immediately set the Orchestra at ease. Our young musicians thoroughly enjoyed working and rehearsing with her, and Nick, of course. Or, 'Nick the Stick' to give him his full title. Natalia's baton, also known as 'Nick the stick' or 'he who must be obeyed'.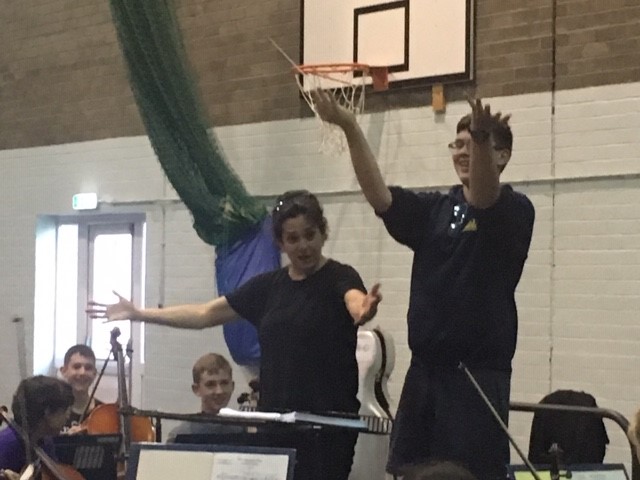 Lots of activities were planned throughout the week, including a conducting masterclass with Natalia, a musically themed scavenger hunt, a spaghetti construction competition and a ceilidh, where the students were piped in by cellist and fellow member, Isabel Gilmore. A collection of our young musicians also formed a ceilidh band to play for everyone comprising three violins, one viola, one cello and THREE people on ONE piano.
NYOS Junior Orchestra opened its summer concert in Perth with its encore from the spring, Brahms Hungarian Dance No.5 and their familiarity with the piece resulted in a very confident performance. This confidence continued to grow into the second piece of the night, Walton's Coronation March, Crown Imperial. They fully captured the bright enthusiasm of this difficult work and its tricky rhythms.
This wonderful opening led to the introduction of Mark James as soloist. Mark, who was last year's Principal Trumpet of NYOS Symphony Orchestra performed Arutiunian's Trumpet Concerto and the students enjoyed playing alongside him immensely. During the course Mark was able to give the students some top tips for their concert performance. They would do well to heed his advice as Mark played with a fine lyrical clarity throughout bringing the first half to a rousing conclusion.
Amazing concert, Mark James trumpet concerto was outstanding 🎺 Bravo 👏 @NataliaLuisB https://t.co/llzazrwhKI

— Catherine Ridge (@catherine_ridge) July 7, 2019
All the hard work throughout the year had led to this point. The second half of the summer concert and NYOS Junior Orchestra's first ever performance of a full symphony in concert! Dvorak's radiant Symphony No.8 was a great choice. The Junior Orchestra performed a truly exciting rendition. The French horns were excellent, with lyrical strings and well-balanced woodwind. To top it all off Dvorak's colourful Finale was gloriously realised. Bravo one and all!
Proud parents of Samuel Kluzniak, double bass @NYOScotland tonight in Perth. Great music, conductor, venue.... what is not to like. Thank you NYOS. It's been a busy 2 weeks! pic.twitter.com/QAmMP3eISB

— Laura Kluzniak (@LKluzniak) July 7, 2019
Review: NYOS Junior Orchestra, Perth Concert Hall: Four Stars
"This Summer Concert marked the first time NYOS Junior Orchestra had been asked to play a symphony in its entirety. Dvorak's Eighth may not be the composer's longest, but it is still a major undertaking. Under the baton of Natalia Luis-Bassa, the young ensemble was plainly unfazed by the task" Keith Bruce, The Herald Scotland, 8 July 2019 Continue reading