NYOS Jazz Orchestra (The National Youth Jazz Orchestra of Scotland) is Scotland's foremost youth jazz ensemble that performs throughout the UK at high profile jazz venues and festivals.
Under the direction of Malcolm Edmonstone and Andrew Bain, NYOS Jazz is for talented young musicians. It provides education, performance experience and the opportunity to learn from and play with world class soloists. To date, the Jazz Orchestra has undertaken new commissions, made studio recordings, performed at International Festivals (including the BBC Proms and the London Jazz Festival) and has worked with international guest artists Liane Carroll, Iain Ballamy, Mike Walker, Iain Dixon, Chris Batchelor, Mark Lockheart, Jacqui Dankworth and Duncan Lamont.
NYOS Jazz applications are now closed and will open again in September 2019.
If you are an instrumentalist or vocalist aged between 14 and 25 and have links to Scotland i.e.
born in Scotland
living in Scotland
studying in Scotland or;
with Scottish family
Standard: Open to instrumentalists and vocalists (ABRSM Grade 6 or equivalent) MUST be a competent/experienced improviser (Qualification as a guide only)
"Spines were tingling and the audience was in raptures as ensemble pieces, sublime solos and frankly very groovy jazz of unbelievable quality was laid in front of us"
Shetland Times
NYOS Jazz Orchestra with Guest Artist Jason SinghStirling
31 October 2018 / 19:00
Tolbooth, Stirling
1 November 2018 / 19:00
BBC Quay, Glasgow
Information & Booking ›
Conductor
Andrew Bain & Malcolm Edmonstone
Programme
NYOS Jazz Orchestra presents a profusion of cool jazz in two parts.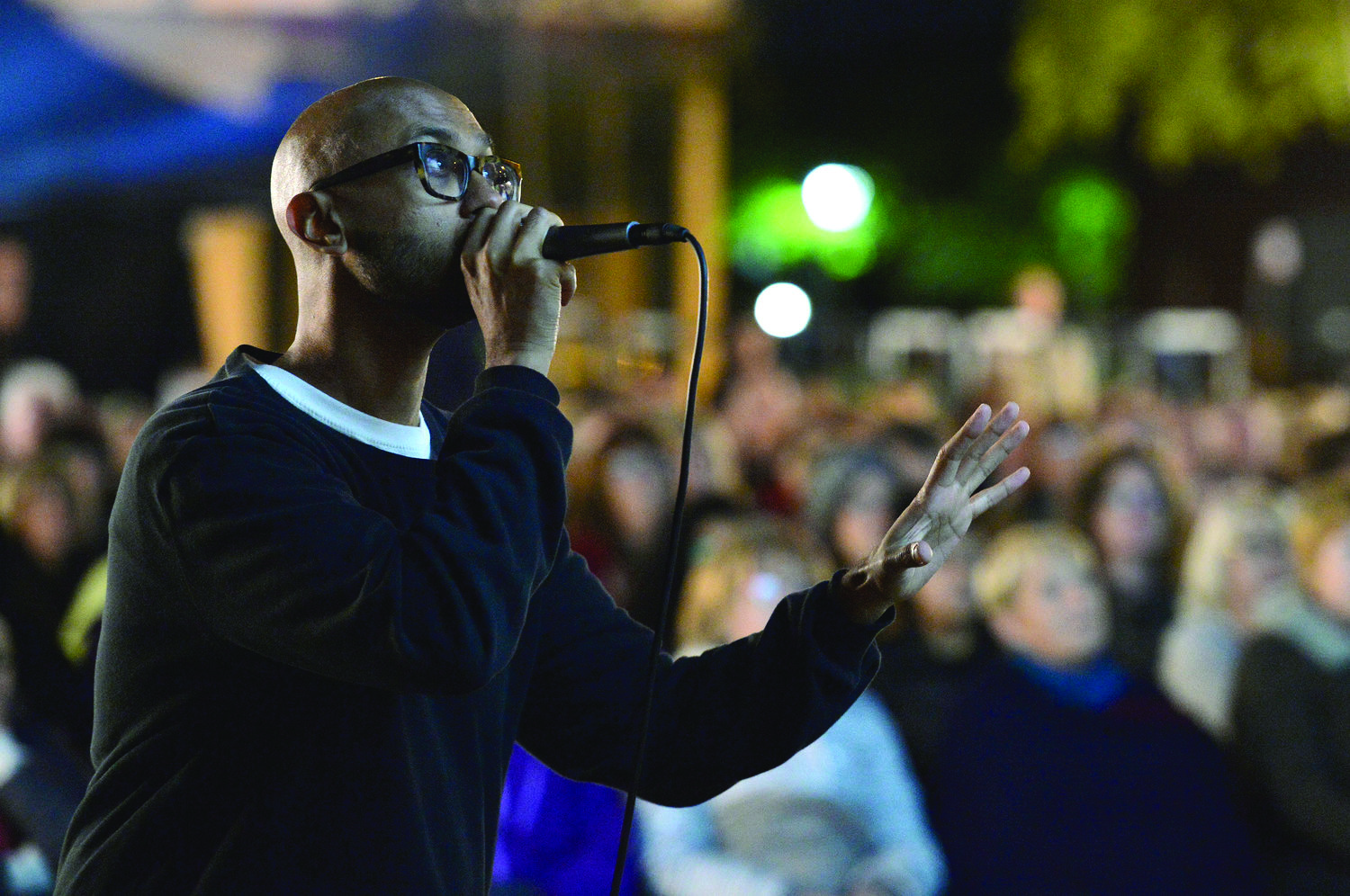 Local talent shone on stage at the weekend as the NYOS jazz orchestra came to Aberdeen.

The outstanding ability of every musician was more than evident as the youths played to the enchanted audience at the Lemon Tree.

"After two hours, I was sad the evening had come to an end"​
By Rebecca Buchan, Aberdeen Press & Journal, Monday 23 July 2018
Download
One of my all time favourite albums is Donald Fagen's post Steely Dan 1981 debut solo album, The Nightfly. Well, Malcolm Edmonstone has taken the album and arranged it for the NYOS Jazz Orchestra performing a 'big band' rendition from start to finish (with five brilliant vocalists) conducted by Andrew Bain in Edinburgh's brand new Rose Theatre on Rose Street.
By Mark Gorman, Gibberish
View
The strong jazz connections between Birmingham and Scotland are manifested this week with no fewer than seven "ex-pat Scots Brummies" included in the National Youth Jazz Orchestra of Scotland (NYJOS) performances at the Wiltshire Music Centre near Bath on Thursday and a late night Prom at the Royal Albert in London on Friday.
Peter Bacon, The Jazz Breakfast,2 August 2016
View
Now into its third decade, the National Youth Jazz Orchestra of Scotland was more than due a Proms platform for its all-round excellence. Falling into three parts, this late-night event accordingly played to the musicians' strengths.

First was a showcase for Iain Ballamy (who last appeared at these concerts as a member of Loose Tubes nearly thirty years ago) – his tenor saxophone incisively to the fore in the moodiness of 'All Men Amen', then taking on a rather more whimsical feel in 'Emmeline' with its appealing scenario of a dialogue between the suffragette and an ape.
Richard Whitehouse, Classical Source, 5 August 2016
View
20 instrumentalists, 7 singers, 2 directors, and 2 soloists. That's all it took to create an hour of jazz I will never forget.

I urge you to listen to the beginning of Prom 28 to get an idea of the atmosphere that graced the RAH last night. It didn't take very long to be transfixed on the beyond impressive tone and technical quality of Iain Ballamy, the tenor saxophonist soloist. I have always loved Big Band music, but haven't really indulged myself in all different types of jazz, which last night opened my eyes to.
Seb Hill, More Musc Blog, 6 August 2016
View
This was a single set but with three contrasting parts. As a centrepiece, Andrew Bain (interviewed HERE in the run-up to this concert) directed Ellington's Such Sweet Thunder, thoughtfully, bringing out all the contrasts in mood and feel. The loudest applause went to Helena Kay for her Johnny Hodges alto feature Star-Crossed Lovers. Trombonist Richard Foote was another strong soloist. Either side of them were soloists performing carefully crafted arrangements by Malcolm Edmonstone. The first mini-set featured the infinitely musical and infinitely modest Iain Ballamy , and by complete contrast the closing mini-set brought the megawatt joyous energy-boost of Liane Carroll. A happy occasion!
Sebsatian Scotney, London Jazz, 6 August 2016
View
The late-night jazz and world music Proms have been a very mixed bag over the past 20 years or so. Sometimes it has felt as if the programmers have been politely going through the motions. This concert, though, was a triumph. If anyone doubted that jazz is a universal language, the sight of a young saxophonist who looked like an extra from a Harry Potter film channelling the spirit of Johnny Hodges supplied an emphatic response.
Clive Davis, The Times, 9 August 2016
View
The late-night Prom which followed saw the National Youth Jazz Orchestra of Scotland to make their Proms debut. Conducted by Andrew Bain, led by pianist/composer Malcolm Edmonstone, and beefed up by the maturer talents of Liane Carroll and Iain Ballamy, those gifted young musicians held forth exuberantly for seventy unbroken minutes.
The Scotsman, Monday 8 August 2016
View
Cottiers Theatre became the church of jazz on Thursday as NYOS Jazz Orchestra's annual summer tour brought the young musicians together with that most beguiling of saxophonists, Iain Ballamy in this former place of worship.
Rob Adams, The Herald Scotland, 17th July 2015
Download