Travelling Dreams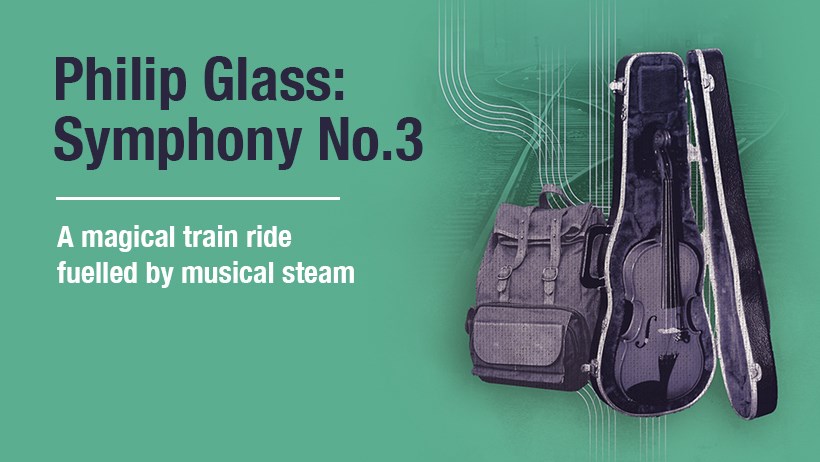 29.01.2021
Philip Glass Symphony No.3 Movements III and IV Featuring Scottish Ensemble and senior members of the National Youth Orchestras of Scotland.
A train emerges from the darkness. Passengers rest, quietly look out the windows, and dream their own worlds into existence. The landscape outside twists, turns and renews. Slowly, the hum of the urban world starts to appear.
In this 15-minute music video, the pulsing throb of the final two movements of Philip Glass's Symphony No. 3 subsumes the rhythm of the train-tracks and takes you on a train ride fuelled by musical steam. This film was created in Covid-19 secure, socially-distanced conditions in Autumn 2020 at 16 Nicholson Street Gallery in Glasgow.
Scottish Ensemble have been supporting the next generation of pre-professional string players to explore new ways to perform and share the classical repertoire. This amazing collaboration gave seven of our own young players the opportunity to experience the process of creating a short film and to be part of a cutting-edge digital piece.
Our young musicains were thrilled to be 'on board' with such a bold and imaginative work. It is exactly this type of meaningful project, created through partnership working, that we aim to deliver, to encourage and insprire future generations of talented young musicians in Scotland and beyond.
While free to view, this film required significant investment to create. If you enjoy the film, please consider making a donation to the National Youth Orchestras of Scotland, or Scottish Ensemble.
Support NYOS Support Scottish Ensemble
Don't miss this one! Bravo @ScotEnsemble @NYOScotland Inspirational playing from memory @ZeKoolOne Philip Glass Symphony No. 3: Travelling Dreams https://t.co/X63yG0BY02 via @YouTube

— David Smythe (@Cloagfarm) January 28, 2021
All aboard! @ScotEnsemble @NYOScotland @philipglass https://t.co/U2hl7h3LDB

— VoxCarnyx (@VoxCarnyx) January 29, 2021