Symphony Orchestra Spring Course 2021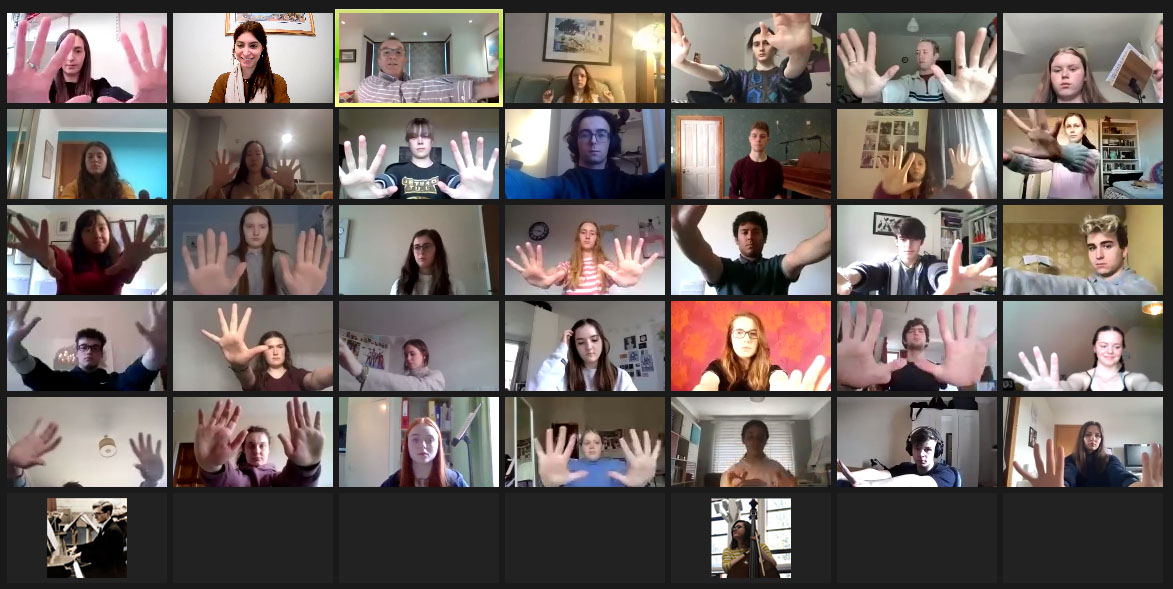 30.04.2021
NYOS Symphony Orchestra was our fourth and final spring course to launch completely online this year and we were delighted to welcome our flagship orchestra back on Monday 12 April 2021. We were joined by internationally renowned conductor and Music Director of the English National Opera, Martyn Brabbins. Martyn was due to join us in 2020 prior to the pandemic and has kindly stepped in to lead both the spring and summer Symphony Orchestra courses this year. After meeting the conductor, tutors and pastoral staff the musicians went straight into their first sectional rehearsals.
The last spring course launched today, NYOS Symphony Orchestra online! The students have met conductor Martyn Brabbins, the wonderful tutors & the pastoral staff. Here we have Leader Zoe Hodi & Co-Leader YoonSeo Oh, raring to go in their first sectionals. #nyos2021 #nyossymphony pic.twitter.com/hwgLlFY6gy

— NYOS (@NYOScotland) April 12, 2021
The course ran for four, full days and each day was packed with a variety of sessions including health & wellbeing, practical workshops, Q&A's, and masterclasses with some very special guests.
All NYOS courses offer a variety of sessions including masterclasses, Q&As with special guests, workshops and wellbeing. This afternoon NYOS Symphony Orchestra is working on physical health and performance with Andrew from the @frameworkclinic 🙏💪 #nyos2021 #nyossymphony pic.twitter.com/AqyYsNohAB

— NYOS (@NYOScotland) April 13, 2021
During our first Q&A session Symphony Orchestra members were given a behind the scenes look at how a world-famous professional orchestra is managed with the Royal Scottish National Orchestra's (RSNO) Chief Executive, Alistair Mackie, and Head of Orchestra Planning, Ewen McKay.
Next on our very special guest list was Music Director at the RSNO, conductor Thomas Søndergård, interviewed by RSNO Assistant Principal Oboe, Peter Dykes. During this session students learned what it was like to lead a world-renowned symphony orchestra and also what it takes to become a professional touring musician.
On the penultimate day of the Symphony Orchestra spring course all our classical musicians were invited to attend a very special masterclass with the one and only Nicola Benedetti. Nicola is Patron of our Junior Orchestra and long-term friend and collaborator of NYOS. During the masterclass Nicky worked closely with orchestra Leader, Zoe Hodi and Co-leader YoonSeo Oh. We were treated to Zoe and YoonSeo's performances and Nicky provided tips, feedback and some words of wisdom for all the musicians to absorb.
All our classical students were treated to a brilliant Masterclass with the one and only @NickyBenedetti as part of the Symphony Orchestras' spring course. It was wonderful to see Nicky work closely with the Leaders and offer advice to all sections of the Orchestra. #NYOS2021 pic.twitter.com/HlsQLkPWcp

— NYOS (@NYOScotland) April 15, 2021
Under normal conditions our Symphony Orchestra members would have prepared for and performed in their end of course concert tour, which forms a special part of the overall Symphony Orchestra experience at NYOS. Our more senior students learn what life is like as a touring musician while performing at some of the best venues around Scotland and beyond. It is disappointing therefore, that we are unable to go on tour and perform in front live audiences this year. However, Symphony Orchestra members will star in their very own short music video. We have employed a small team of audio engineers and videographers to help students record audio and video of themselves performing remotely. These will then be edited together to produce a short film. It may not be a replacement for live performance or touring, but the presentation and technical skills our students are learning for this type of performance outcome are just as important, especially as the performing arts landscape evolves and changes to meet new demands.
That's all folks! NYOS Symphony Orchestra spring course has been immense! Hard work but hugely rewarding! Special thanks to all involved including conductor Martyn Brabbins and our very special guests @NickyBenedetti, Thomas Søndergård and @AlistairMackie1 #NYOS2021 #nyossymphony pic.twitter.com/VB7jFBOgFC

— NYOS (@NYOScotland) April 15, 2021
We would like to thank everyone involved with the Symphony Orchestra spring course. Our Ensembles Team delivered a fantastically varied and meaningful course under difficult circumstances. Special thanks also to conductor Martyn Brabbins, our wonderful tutors, pastoral staff and our very special guests. But most of all we'd like to thank our Symphony Orchestra members (and those who supported them at home), without whom there would be no course and no music. Thank you one and all! Watch this space for the music video and we'll see you all again in the summer!
Course Feedback
"The course was definitely worthwhile, and the sectionals were very beneficial, even if we weren't there in person. It reminded me that we are all going through this together." - Symphony Orchestra student
"The course was fantastic and very much worthwhile. It helped me improve my ensemble skills, something I have not been able to work on for a long time." - Symphony Orchestra student
"I learnt a lot of new technical things in the sectionals. It was also very nice to have some connection with other young musicians. I found the wellbeing session particularly useful and have started to incorporate the warmup movements before and after my practice sessions and already notice a reduction in pain and strain." - Symphony Orchestra student
". . . the course was able to offer a varied range of experiences and sessions. I particularly enjoyed the sectionals and how our tutor Chris (strings) helped us to bring out the highly expressive and theatrical character of the piece. Plus, it was very fun to play off of the other musicians (nearer to actually playing with someone in real life). QnA's, Masterclasses and wellbeing sessions were all fantastic. All the guests were very interesting and insightful, and I learnt a lot from them." - Symphony Orchestra student