Jazz BopCamp 2021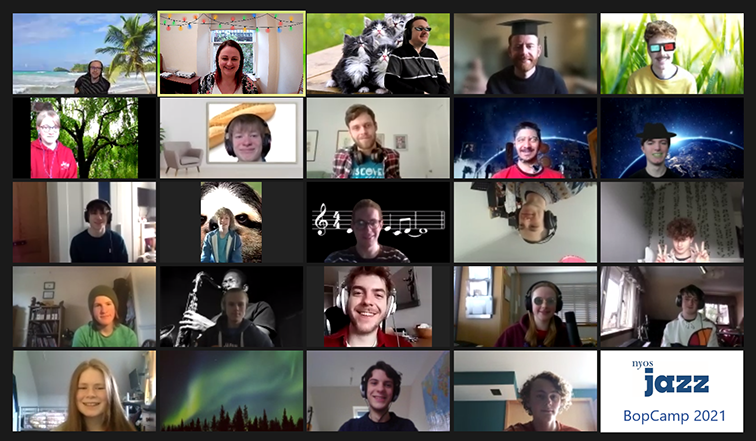 30.04.2021
NYOS Jazz BopCamp was the second of our four spring courses to launch completely online this year and we were delighted to welcome our young jazz musicians back on Tuesday 6 April 2021. BopCamp is made up of three small bands of intermediate, improvisation students who, within a normal face-to-face year, work on multiple charts, are taught advanced jazz and improv theory, and then perform a small, informal concert for friends and family at the end of the course.
Director of Jazz at NYOS, Andrew Bain, and course manager, Jill Dykes, wanted to capture as much of the energy from the normal programme as possible and put it into our digital course, and they were both delighted to put together a varied and meaningful course online, that worked extremely well.
The course ran from 10am to 5pm each day with a mix of group sessions and small band sessions. Each morning a different tutor would lead on a specific topic and their group would be given a new chart to record using the online studio application Soundtrap. This online studio software enabled users to create an almost real-time collaboration with one another while recording their charts.
Just like any other year, we were delighted to end the course with a small informal concert (online) for friends and family during which we were also joined by some very cute pets! Overall, it was a great three days, and the course has been a huge success. We'd like to say a special thanks to our Director of Jazz, Andrew Bain, course Manager Jill Dykes, and our amazing tutors Jules Jackson and Steve Hamilton. Together as a team they produced a fun and engaging course under difficult circumstances, and we'd like to congratulate them on a job extremely well done. But most of all we want to thank our young musicians (and those who supported them at home), without whom there would be no NYOS Jazz courses and no music. The future of jazz in Scotland is indeed bright. Thank you one and all!
Course feedback
"The last few days were so much fun and made me super happy. Thank you for all the effort you guys put in. Everyone had a blast, and I will look back on the BopCamp 2021 as a happy memory'' - BopCamp student
"X really enjoyed himself and said he was really impressed with the way the technology all worked, as well. Thanks, too, for inviting us to the end of course concert. What a treat! Everyone did such a great job. Please pass on all our thanks to Steve and the crew, as well. In all, a real triumph in the face of adversity! Congratulations!'' - Parent
"Really great course thank you very much! I'm looking forward to being back in the Summer!''- BopCamp student
"Thank you so much for BopCamp! I've not seen my son X as upbeat as this since before lockdown, so thank you all so much. The tuition X has received over these last 3 days has given him his spark back. He also found it useful speaking with the others in his combo and Jules about studying music as he's trying to decide on what route to take. Please also pass on my thanks to Andrew, Jules and Steve (and anyone else involved!) for bringing fun into their week and leaving a big positive impact on their young lives'' - Parent