European Federation of Youth Orchestras MusXchange Winter Project - Final Blog Post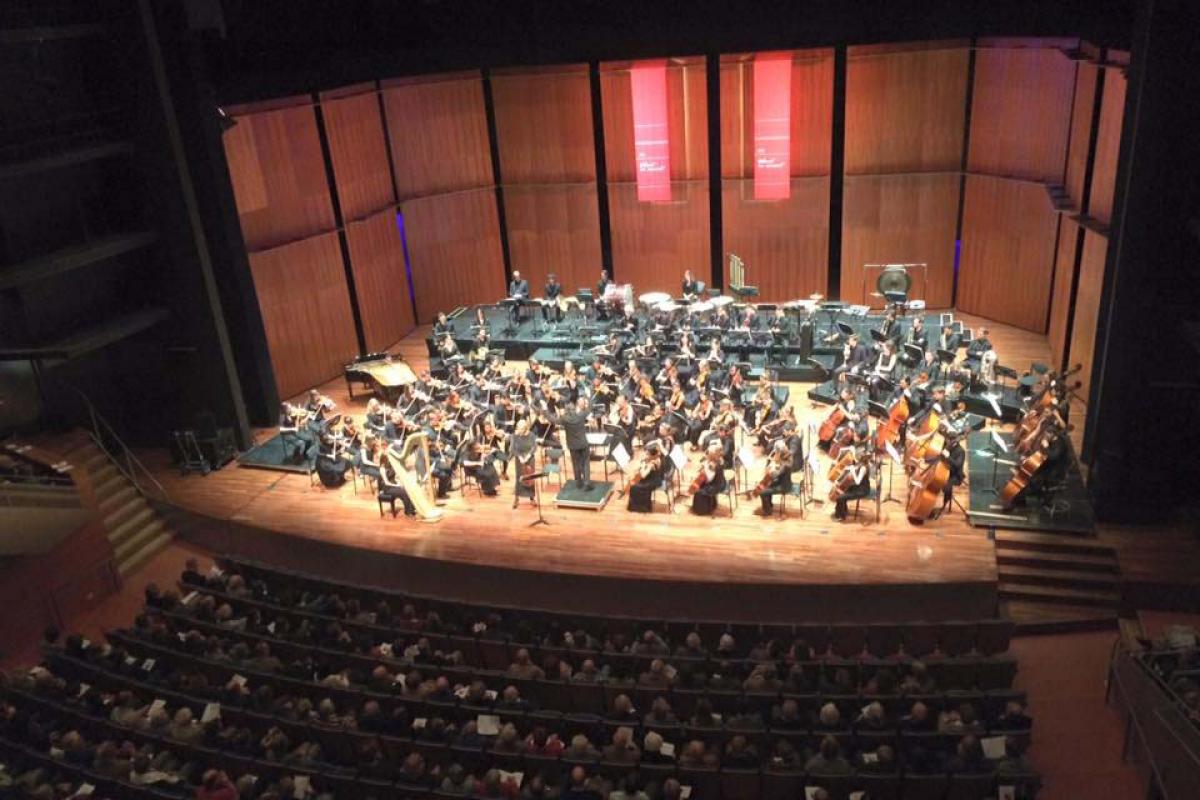 26.01.2016
Our fortnight with the Nationaal Jeugd Orkest has sadly come to an end. We had such an amazing time touring the Netherlands and performing in some of its finest halls, from Amsterdam's Muziekgebouw to De Dolen in Rotterdam. At our final concert in De Doelen, we received a mighty 1700-person audience and standing ovations after every piece we played!
Our programme was particularly vivid and evocative of certain images and themes. 'Chase' by young Dutch composer Joey Roukens, is a short, high-energy work inspired by 1970s car chase film music. Berlioz's 'Harold in Italy' is a 4-movement symphony with a viola obligato, which was played beautifully by Isabelle van Keulen. Like in Symphonie Fantastique, Berlioz uses a theme that appears throughout the whole symphony (idée fixe), introduced by the viola solo. He uses a different scene for each movement : Harold in the Mountains ; March of the Pilgrims ; Sérénade ; Orgy of Brigands. Van Keulen created wonderful colours and tones in the obligato part, interweaving in and out of the symphonic texture with great sensitivity, always in dialogue with the orchestra.
To finish we played Mussorgsky's 'Pictures at an Exhibition', orchestrated by Ravel. This is a 10-movement suite that depicts an imaginary tour of an art exhibition. The walking between each picture is represented by a promenade theme. Among the paintings is a 'Gnome', 'Unhatched Chicks in Their Shells' and a witch's 'Hut on Fowl's Legs'. Conductor Etienne Siebens had a very sharp ear for detail and worked us very hard on sound, articulation and rhythm to bring these pictures to life. He inspired and unified every single person in the orchestra, and was determined to keep 'polishing the diamond' throughout our 6-concert tour.
During the tour, we stayed with a lovely host family in Apeldoorn: Clary and Auke and their two daughters. Their welcome and hospitality was second to none, and we felt at home the moment we arrived! On our free days, we visited Amsterdam, Rotterdam, and the Kröller-Müller Museum and the Het Loo Palace in Apeldoorn. The Kröller-Müller Museum is situated in the middle of beautiful nature park and holds a wonderful collection of modern art, including the world's second largest collection of Van Gogh's. Towards the end of our stay, Auke celebrated his birthday. As a present we played to him some wild Scottish Reels, and the Skye Boat Song with one of his daughters.
We were extremely happy and grateful to be part of this exchange as proud representatives of NYOS. A huge thank you to everyone for their friendship and effort to welcome us. We hope to see you all again in the future, whether that be in Scotland, the Netherlands or somewhere else in the world!
Lots of Scottish love,
Elanor Gunn and YeYe Xu